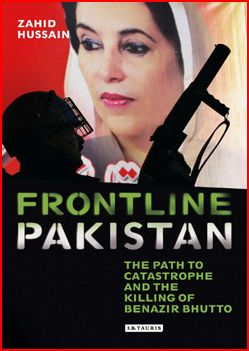 The Arabic translation of Newsline's senior editor Zahid Hussain's best-selling book, Frontline Pakistan was launched in Beirut, Lebanon and became an instant hit. A riveting account of the nexus between Islamic militants and the intelligence establishment, Frontline Pakistan has also done excellent business in India. The book also featured on The Wall Street Journal's year-end books list, where it was included as one of the 10 best books written about Asia.

After the assassination of Benazir Bhutto, Hussain added an extra chapter to the second edition of the book, dealing with the mysterious circumstances surrounding the PPP leader's death. It was also given a new subtitle: The path to catastrophe and the killing of Benazir Bhutto. The cover picture was retooled to include an image of the slain leader.
Frontline Pakistan, published by I.B. Tauris, has been lauded critically, garnering acclaim from noted writers William Dalrymple, Seymour Hersh and Ahmad Rashid. Apart from writing for Newsline, Zahid Hussain is also the Pakistan correspondent for The Times, The Wall Street Journal and Newsweek.
Nadir Hassan is a Pakistan-based journalist and assistant editor at Newsline.
Next