By Deneb Sumbul
The Super Savari Express offers a welcome opportunity to check out Karachi's landmark.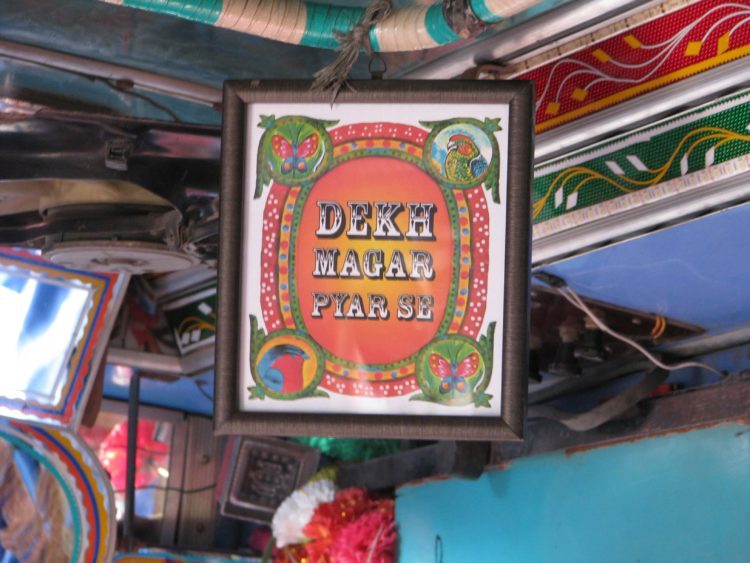 A tour with the Super Savari Express (SSE) starts bright and early around 8 am aboard a technicoloured public mini-bus with turquoise doors — the "bride of Karachi," with its heavily embellished, ornamental decor, complete with Pushto music. For a more bona fide ride, your enthusiastic tour guide invites adventurous sightseers to climb onto the roof, just the way many of Karachi's denizens do.
Certain sites on the tour are drive-bys and others are explored on foot — the itineraries are changed frequently and never completely set. Tour groups are of about 25 people, and our group consisted of mostly Karachiites — one of them on his second SSE jaunt — some Lahoris, and a European family. The half-day bus tour took us to a typical dhaba for a breakfast of parathas, omelettes and tea. Of course, the conservative male customers who usually frequent the locale couldn't resist staring at the mixed group of men and women enjoying their repast – but "they are getting used to it" said our tour guide.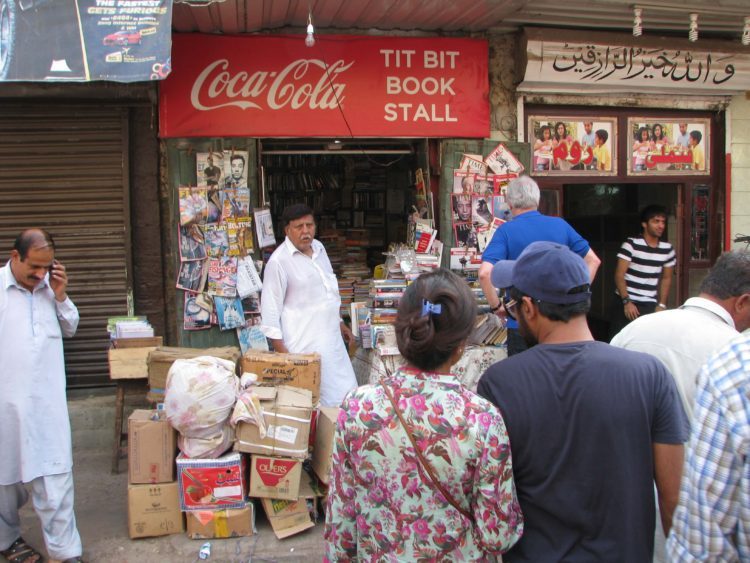 A few of us couldn't resist visiting the Tit-Bit bookshop next door and had to be shepherded out. To ensure that the group stays together, a couple of assistant guides walk behind. They also have a car cruising along in case of any mishap or emergency, complete with a first aid kit.
Walking around Saddar's closed stores on a Sunday, you will also discover an alternative market, where cloth-sellers set up shop, displaying materials of all kinds right on the road.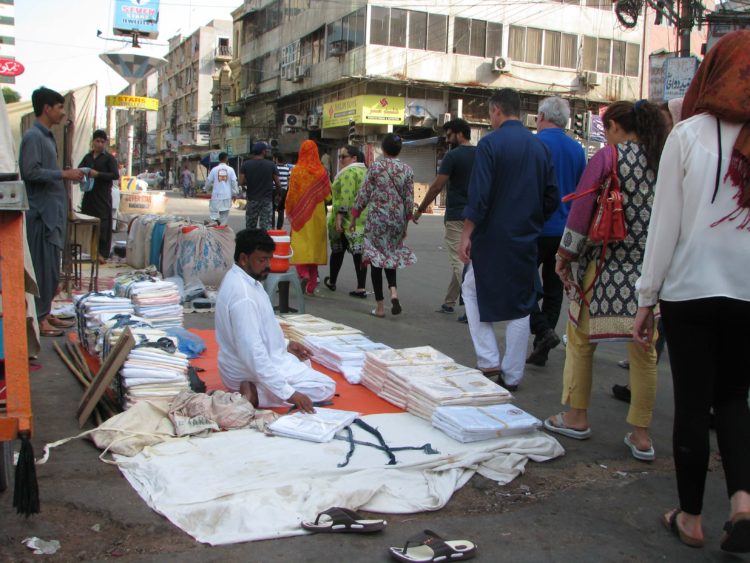 An early morning start during the weekend is probably the best time to venture forth for five hours of sightseeing, as the city is still in slumber and roads are deserted. This is a chance to take in the city's hidden treasures — which are actually in plain sight, but get missed out on regular days. Many city dwellers don't venture beyond their own comfort and safety zones, while others are too busy navigating through chaotic traffic and the city's multitudes.
The "Jewels of Saddar " trip is a guided tour of several beautiful facades of British colonial architecture. An area known as the 'heart and soul' of Karachi, Saddar was once a colonial centrepiece, with an interesting history which many of the younger generation, and even some of the older ones, may be unaware of.
Jehanzeb, our tour guide, points out, "It's the oldest part of Karachi and the richest in its history." Jehanzeb had several interesting anecdotes to share. For instance, we found out that Zaibunnisa Street is named after Zaib-un-Nisa Hamidullah, the first pre-Partition Muslim woman columnist, who later joined the daily Dawn as a political commentator and led a distinguished career as a journalist, editor and publisher.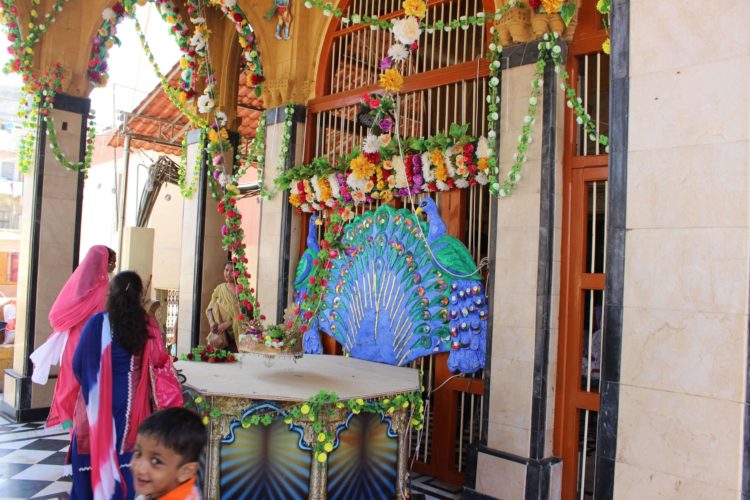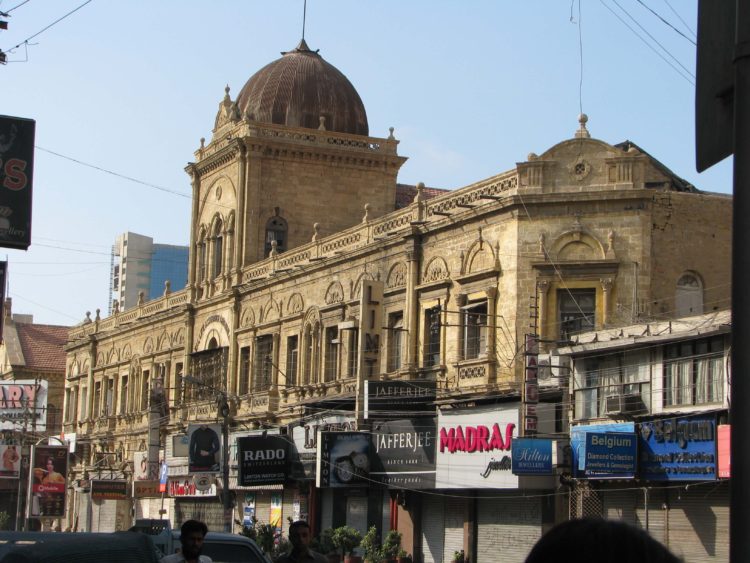 Karachi has always been a melting pot, and Saddar boasts a diverse cultural and religious mix, with its various mosques, mandirs, churches and Parsi temples. Over the last few decades, the 'city of lights' has undergone a lion's share of chaos and violence along ethnic and religious lines, making various communities suspicious of each other and protective of their places of worship. And yet, on this outing, one got the opportunity to visit some of them, even those that are usually restricted. It's amazing that in the midst of congested, squeezed-up shops, how vast and spacious, almost palatial, these sites are — with their own unique identity and with the capacity of accommodating thousands of worshippers at a time.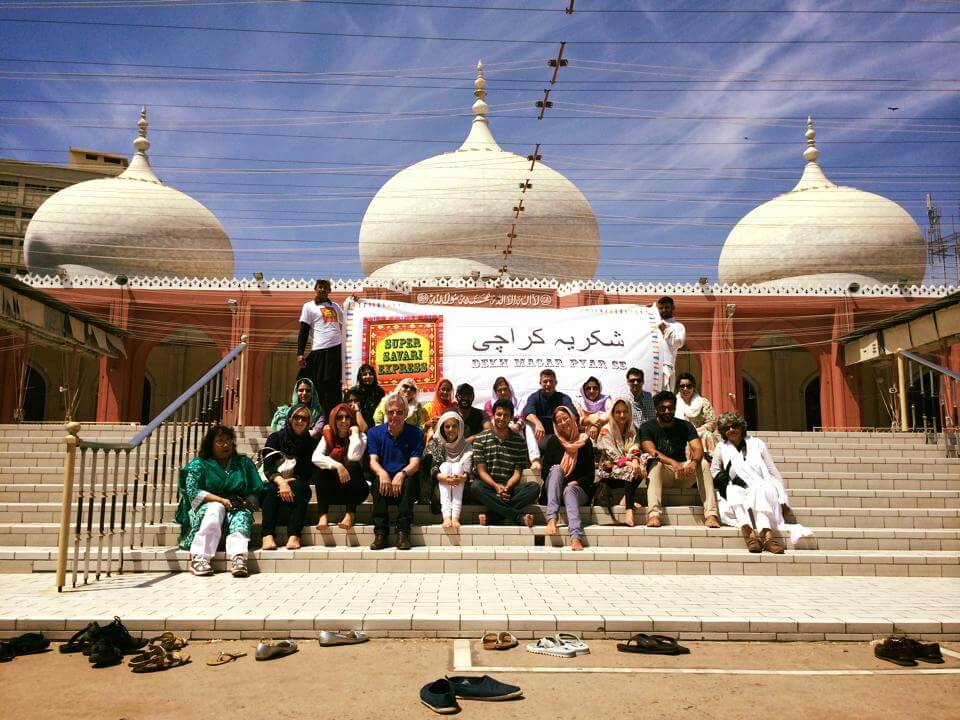 The Super Savari Express began as an endeavour to promote local tourism. It was the brainchild of Atif bin Arif, who is in the family business in the travel and hospitality industry. Just last December, Atif and a friend, Bilal Hassan, who was big on Instagram, were posting photographs of interesting sights of the city. They  came up with the idea of going beyond a virtual tour to an actual road tour.  The project took off immediately, and curious Karachiites snapped up the opportunity to learn more about the city's heritage and explore places which had been buried under an atmosphere of fear and uncertainty.
As demand grew over time, the tours and routes became more specialised, offering more variety and options such as food tours, packages for birthdays, beach trips, wedding parties and corporate outings. Recently, they took the Special Olympics team for an outing as well. They had also run tours for the Youth Development Foundation, for the 'I Am Karachi' movement — which focused on introducing the city's religious diversity to youth groups — and had people from various communities talk to them about different perceptions and misconceptions that existed.
Relying mainly on the internet's social networks for promotion, the SSE is one of the enterprises that has cashed in on the reach of social media. With people blogging and Facebooking, the word spread and tapped into a growing market. Sensing its potential and growing popularity, not just with the locals but with visitors from other parts of the country and the world, the business was registered as a company with the Securities and Exchange Commission of Pakistan (SECP).
It was initially about Karachi — now it's about Pakistan with the motto, "Reclaiming Pakistan —one city at a time." The SSE has already branched out into Lahore and Islamabad and is eventually working towards full-day tours as well as expanding to other major cities. For Karachi lovers, it is a boon; for photographers, a treasure trove and for picnickers and sightseers, an opportunity not to be missed.
This article was originally published in Newsline's October 2015 issue.
The writer is working with the Newsline as Assistant Editor, she is a documentary filmmaker and activist.
Next