Literature in the Capital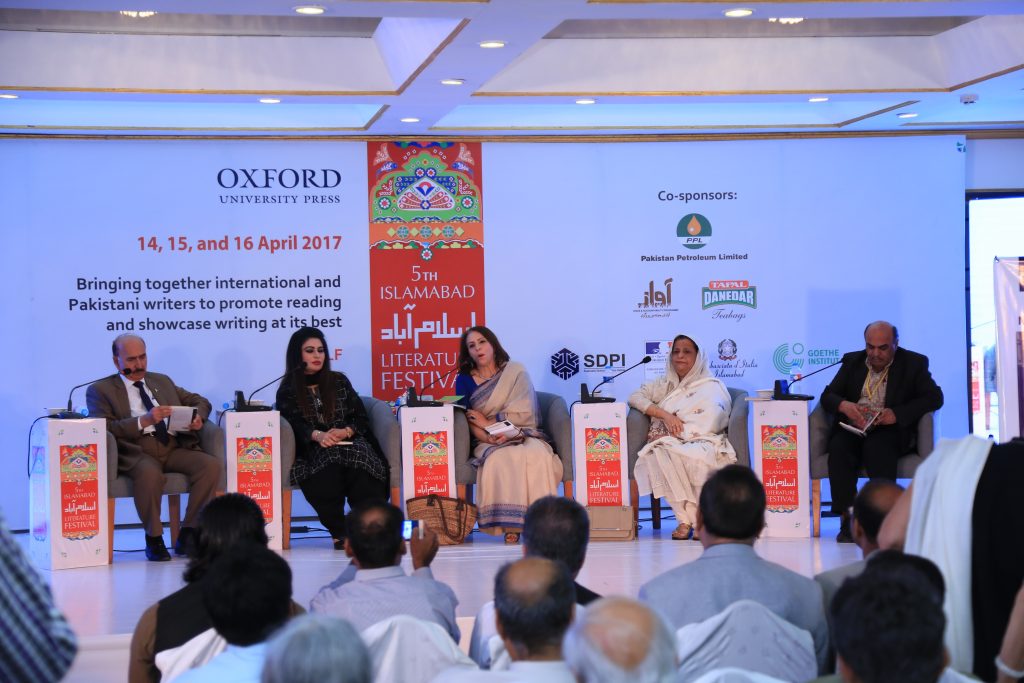 The fifth edition of the Islamabad Literature Festival (ILF) opened to a packed audience that was still reeling from the aftermath of the lynching of the Mardan university student Mashal Khan. Regardless of the themes or  topics, Mashal figured in nearly all of the sessions in one way or another.
Welcoming the audience, ILF co-organiser Asif Farrukhi said that the change in weather was the first thing he had noticed upon his arrival in Islamabad from Karachi. He described the weather in Islamabad as being "political, more than anything else."
While expressing pride over the ILF having come a long way, Farrukhi said he felt depressed by happenings outside the enchanted circle of the ILF events and programmes. In his welcome speech, he rendered the verse penned by the martyred student himself. However, said Farrukhi, the way to light from darkness was with the aid of a candle, a metaphor he used for reading books.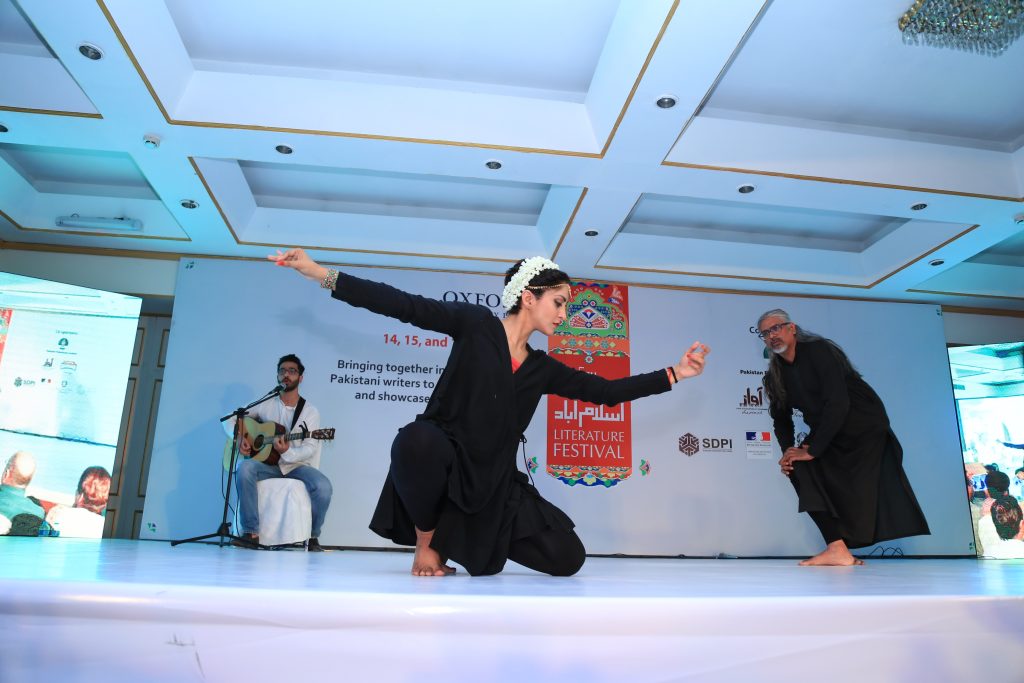 Paying homage to Mashal, performers Amna-Mawaz Khan and Imran Nafees Siddiqui gave a performance based on poet Habib Jalib's poem Zulm rahe aur amn bhi ho, sung and played on acoustics by Huzaifa Awan.
The common man is deprived of justice, while the state focuses only on high-profile cases. This sentiment prevailed at a panel discussion on judiciary and the common man and the challenges they face in their search for justice. The panel agreed that putting the blame on the judiciary alone is not enough – rather all of the state institutions are responsible for ensuring rights to citizens.
"The state has not been de-colonised yet," remarked former Awami National Party senator Afrasiab Khattak. "As a result, people are being treated as subjects, rather than citizens." Meanwhile former ANP parliamentarian, Bushra Gohar, pointed to a back-log of cases of common litigants that remained pending for decades. This kind of situation was giving way to vigilantism in the country, she maintained.
Offering a rare insight into the lives of jail inmates and the treatment meted out to women prisoners, political activist Akhtar Baloch launched her book on the first day of the festival. Titled Prison Narratives, the book chronicles the journey of an 18-year-old Baloch who was arrested for staging a hunger strike in Hyderabad against the crackdown on activists protesting against the military regime of Yahya Khan.
Initially locked up in the Hyderabad jail, Baloch continued with her hunger strike, which resulted in her being sentenced to a year-long imprisonment at the Sukkur Jail by the military courts. Talking about her struggles, Baloch said that she was inspired by the struggles of young women involved in international movements in countries such as Russia, China, Palestine and Cuba.
She mentioned the unrelenting support of her mother and stepfather in remaining steadfast to her cause. She cited prominent revolutionary writers and poets including Faiz Ahmed Faiz and Sheikh Ayaz who raised their voices against oppression and suppression of the common man.
Rights activist and academic, Farzana Bari, who moderated the panel, said "This is a rare documentation of the struggle of Sindhi women for democracy. Women's contributions tend to get excluded from the history of political movements. We need to celebrate these struggles to have a more substantive democracy in Pakistan."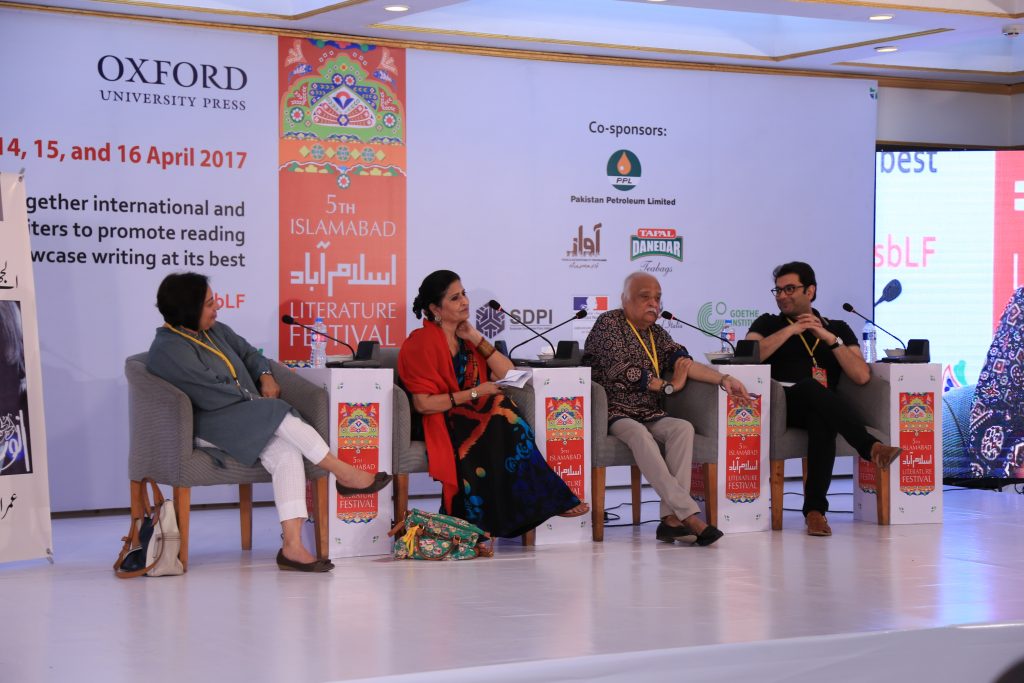 On day two of the festival, environmental journalist, Rina Saeed Khan spoke on the impending water crisis. "Pakistan has gone from being a water-surplus country to a water-stressed one and will soon have water scarcity," she said.
The panel observed that a vast majority of the country lacks access to clean drinking water and there will far less water available to future generations for agricultural or domestic use.
They cited a lack of apathy, understanding and political will to tackle this serious issue. The adverse effects of climate change, population explosion and inefficient conservation pose a threat to available water resources.
"Will there be any glaciers left 50 years from now?" questioned economist Kaiser Bengali, "Are we worried about our grandchildren who will be grandparents by then?" He pointed to agriculture using 90 per cent of the country's water, 40 per cent of which is lost to waterlogging. Bengali maintained that sugarcane and rice are water-intensive crops and they are highly exportable.
Politician Nisar Memon emphasised the importance of on pricing and measuring water, particularly in agriculture. He opposed the notion that policymakers were oblivious to the issue, saying however that the institutions needed to be strengthened.
Women are largely under-represented across political forums as noted during a session on the third day of the festival. Panelists Marvi Sirmed and Bushra Gohar agreed that the ANP was an exception in terms of including women and minorities in the mainstream party structures and decision-making processes.
Even in the Pakistan People's Party (PPP), Sirmed observed, which had given the country its first-ever prime and foreign ministers, there was a glass ceiling which barred women leaders from high-powered, key roles in the party.
Media channels need a code of conduct to act and to live by, said PPP Senator Sherry Rehman, speaking about the need to regulate channels and media houses. Speaking in a panel on the relationship between media and politics, Rehman said the two are not supposed to be on the same side.
She spoke about how the local media had transitioned over the past four decades, identifying key cut-off points during the dictatorial regime of Gen Ziaul Haq. She recalled an alignment between journalists at that time, and political parties, to return to democracy and the removal of a 'nasty and violent' dictatorship.
Responding to a question about the media's role in combating religious extremism, Rehman said media should take its responsibility, and not just consider themselves a profit-making enterprise. "Media has a responsibility to actually fight religious extremism," she said.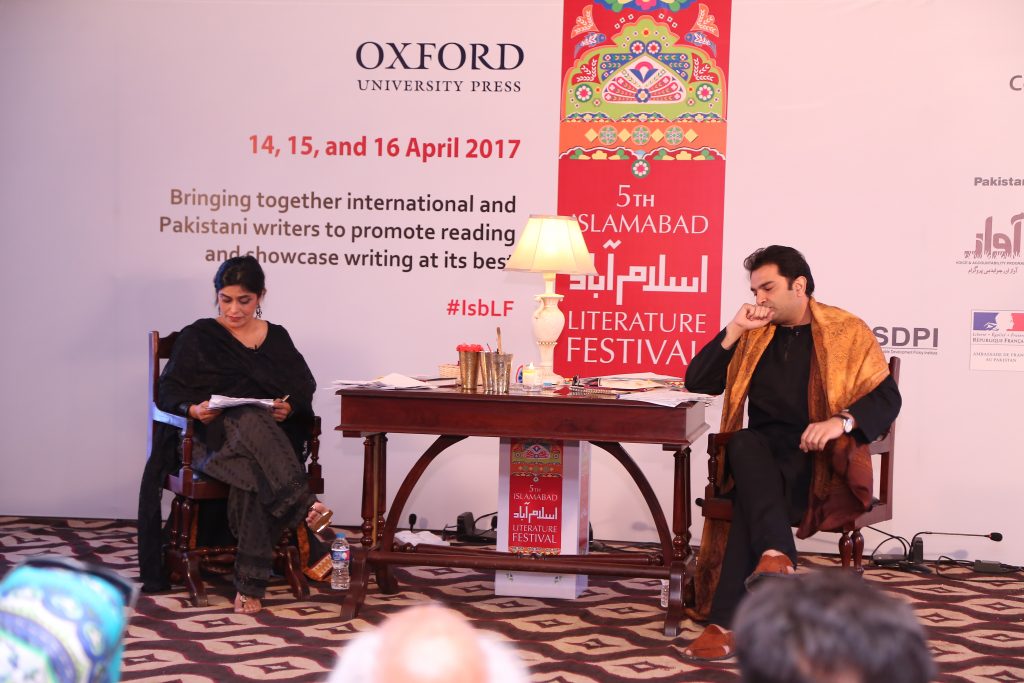 Bringing joy with his mere presence, satirist and playwright, Anwar Maqsood, enthralled audience at the launch of his biography. Aptly tiled Uljhay Suljhay Anwar, the biography has been written by his wife of 47 years, Imrana Maqsood, who shared anecdotes from their married life.
Imrana laughingly shared the trials of writing about her husband, his multi-faceted yet unassuming personality, in a way only she could.
With his incisive wit, Anwar Maqsood drew roars of laughter from the audience. The Panama verdict being the butt of many a joke, he shared fond memories of his playwriting career spanning 50 years. In a bitter-sweet trip down memory lane, Maqsood recalled a lifetime of friendship with the late actor and entertainer, Moeen Akhtar, calling him the finest actor India or Pakistan had produced.
A play chronicling the complex relationship between eminent writer Amrita Pritam with poet and lyricist Sahir Ludhianvia was one of the highlights of the second day of the festival. Nimra Bucha and Sarmad Khoosat  put in strong performances in Main Tenu Phir Milangi as the non-conformist Amrita and the egotistical Sahir. The play unfolds through a series of letters and a strong script and the chemistry between the actors made this a mesmerizing experience.
Next