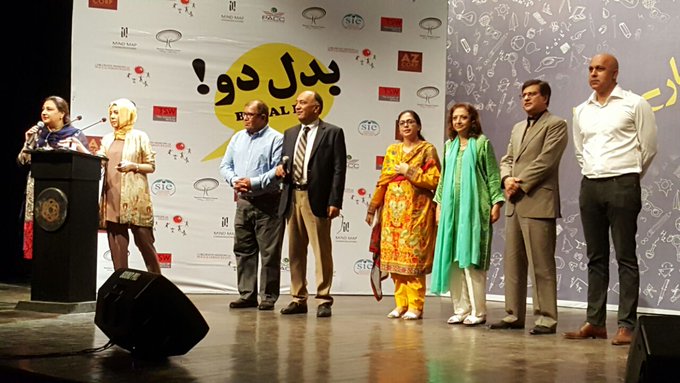 The Badal Do initiative, to improve the quality of education, was officially launched on March 25 at the Karachi Arts Council. Jointly conceived by seven organizations across Karachi, the campaign's main focus is on impacting the youth of Pakistan by changing the existing methodology of teaching. As its name suggests, Badal Do seeks to challenge the existing norms of education by transforming the conventional ways of imparting education. Seminars and training programmes for the teachers including field trips to different areas of Pakistan will be organised to enhance their knowledge and improve their teaching skills.
The motto of Badal Do, 'Ignite the Change Within', was highlighted at the launch. The event's chief guest was former Dawn correspondent and author, Zubaida Mustafa, who was received witht much enthusiasm. The audience, comprising mostly teachers from schools across Karachi, pledged to join hands to impart quality education to their students. The speakers also paid tribute to luminaries in the field of education like Professor Anita Ghulam Ali, Dr Akhtar Hamid Khan,  Sister Mary Emily and others who remain inspirational role models. Interestingly the event laid emphasis on the need to change and challenge the traditional ways of thinking, not only in education, but in other aspects of life as well.
One such programme of this campaign is 'Mein Hero', which provides a platform to highlight the noble deeds of our unsung benefactors, including teachers. To engage and motivate the teachers, this campaign will also include talks, exhibitions, theatre, songs, radio shows and journalism seminars.
The initiative is the brainchild of Azra Raza, of the Children's Museum for Peace and Human Rights (CMPHR). She highlighted the need for change in the prevailing education system by involving and motivating teachers. She was joined on the podium by the heads of six other organisations including The School of Writing (TSW), The Society for International Education (SIE), Teacher's Resource Centre (TRC), MindMap Communications, AzCorp Entertainment and the Pakistan American Cultural Centre (PACC).
The success of this campaign would heavily depend upon creating awareness among teachers and enabling them to take advantage of this opportunity. The campaign would pick up momentum as more organisations join the cause for improving the quality of education in Pakistan.
Shallum Xavier, Khurram Iqbal and Alicia Dias performed the Badal Do anthem and theatre group Zahrsss presented a motivational play.
Next