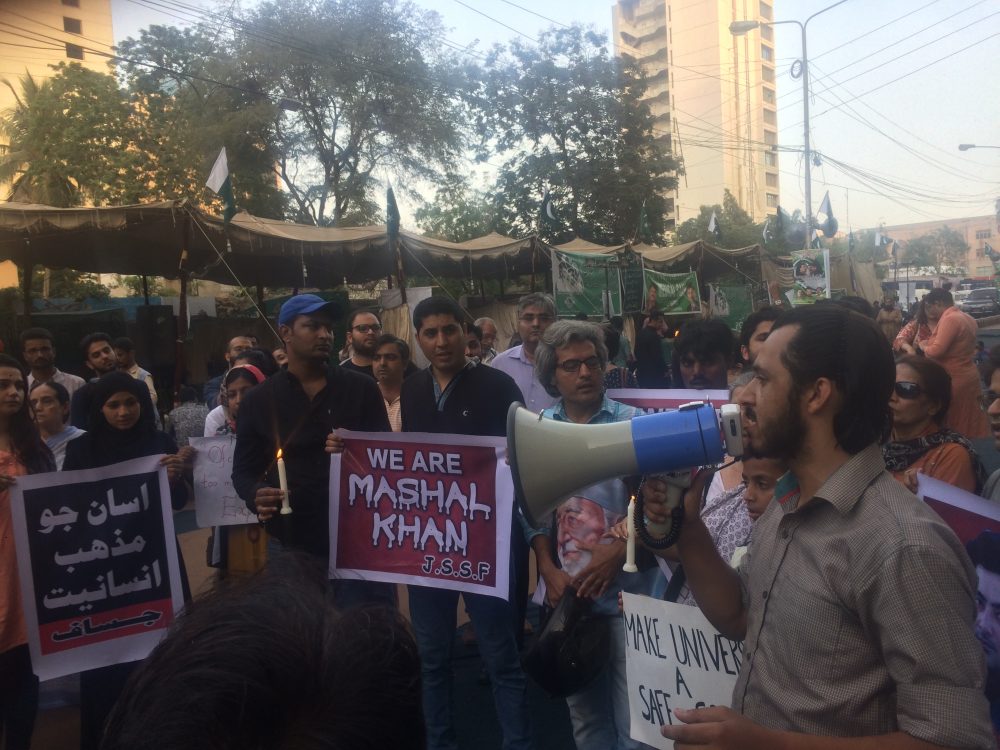 "Mey bhi tau Mashal hun!" (I too am Mashal) The line from the Urdu poem resonated with protesters who were gathered outside the Karachi Press Club on April 22, and all of them started chanting the line loudly in one voice. The protest was part of the country-wide call to gather at the same date and time to demand justice For Mashal Khan.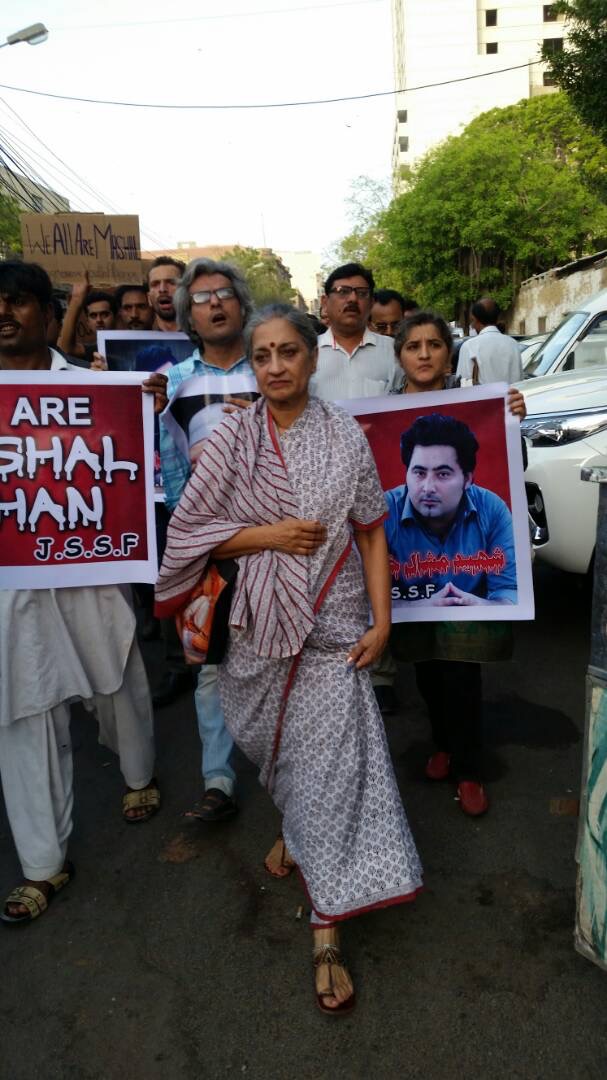 In the aftermath of Mashal Khan's brutal murder, protests have been held across the country by students, political activists and members of civil society. Demonstrations in Islamabad, Peshawar, Lahore, Karachi and Quetta were followed by those in Larkana and Hyderabad. So far, the police have apprehended 38 accused who were identified from the videos of the lynching circulating on the net.
The protest in Karachi was backed by Jiye Sindh Students Federation (JSSF), Democratice Student Federation (DSF), Awami Workers Party Pakistan (AWP), Tehreek-e-Niswaan, and National Party Pakistan (NPP),  journalists and social activists from civil society organisations.  The protest was followed by a short rally. Sheema Kermani recited the poem "Hum Rokain Ge" (We will Resist). She further said, "We should speak out against any form of violence, and we will not keep silence on the barbarism and brutality portrayed by the extremist mindset. We have to raises our voices against it, because every day comes with a new disheartening incident."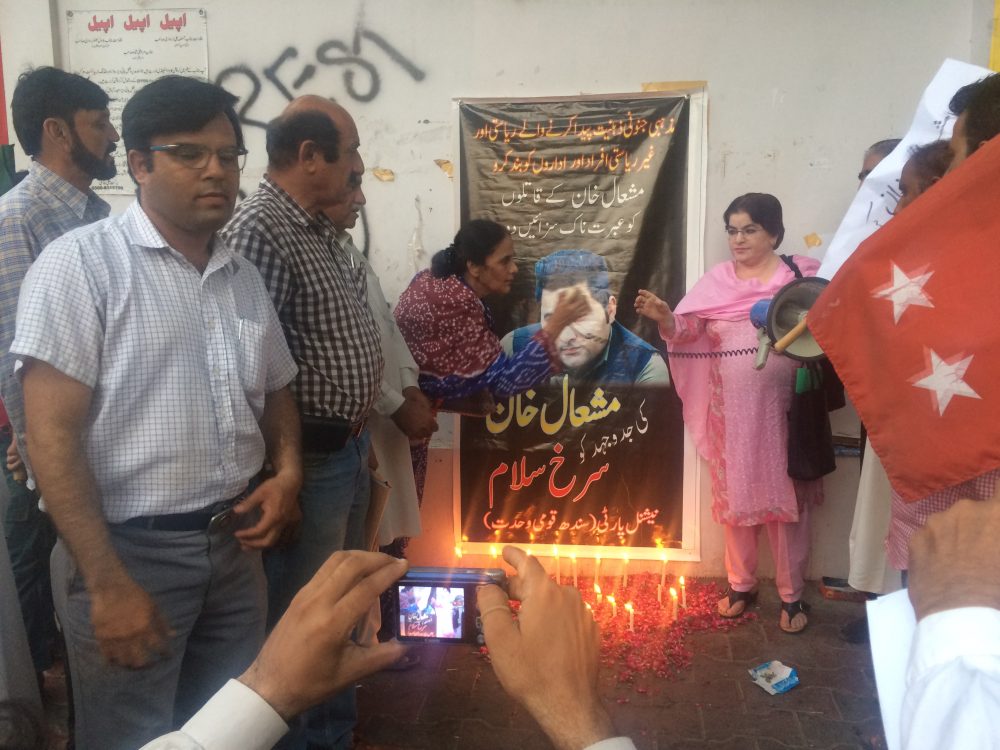 Student and political activist Anum recited the poem, "I too am Mashal" and appealed to the participants to keep alive the aim Mashal struggled and gave up his life for. He was protesting against corruption, and mismanagement in universities, and fighting for equal opportunities for poorer students, said Anum. She vowed to continue that struggle.
An activist from JSSF recited a Sindhi poem by Hafiz Nizamani and emphasized religious tolerance, harmony and pluralism, qualities which have been the hallmark of Sindhi society. Hameeda Ghungroo, wife of the late Nazir Abbasi said, "Mashal was like Nazir Abbasi, Bhagat Singh, Che Guevara, and other revolutionaries who stood up for their rights, and spoke against injustice, and laid down their lives."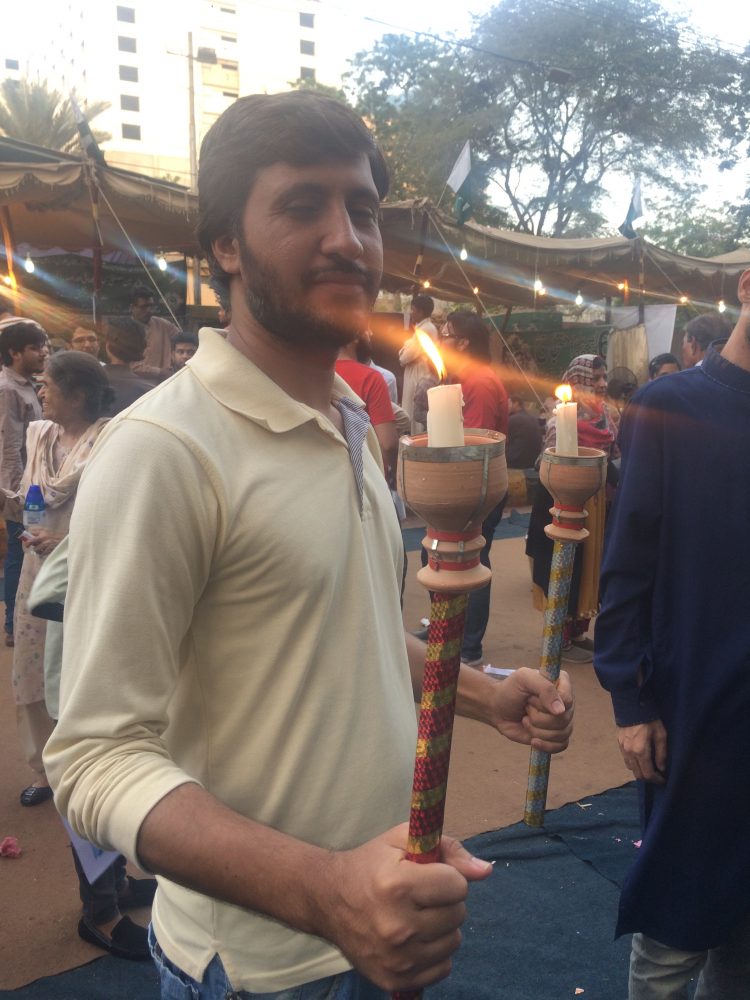 Another activist from Gilgit Baltistan, currently a student of Karachi University, recited a Habib Jalib Poem from the era of General Ayub Khan. Aabida Ali, a labour rights activist sang Faiz sahib's famous "Bol ke Lab Azad Hain Terey". The participants vowed to continue these protests until Mashal's family gets justice. The protest came to a close with torches being lit in the memory of Mashal Khan whose name means "Torch of Light".
Next