India and Bangladesh Work Together to Save the Tiger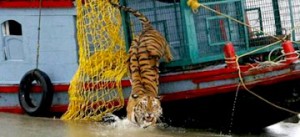 By Akash Bisht
The recent visit by Prime Minister Manmohan Singh to Bangladesh — the first official visit by an Indian prime minister in 12 years — turned out to be a hollow affair after the two countries failed to reach a consensus on the crucial Teesta water sharing pact. It was the West Bengal Chief Minister Mamata Banerjee's decision not to attend the crucial meet that eventually led to the Teesta debacle, despite the best efforts of the central government. However, one positive outcome was the decision to cooperate bilaterally for strengthening tiger conservation in the Sunderbans region.
India and Bangladesh are among the 14 tiger range countries in the world, and with a considerable portion of the Sunderbans in Bangladeshi territory, this cooperation pledge by the two countries to save the tiger and this unique ecosystem has given a glimmer of hope to wildlife conservationists across the world. An excellent tiger habitat, the Sunderbans is the largest single forest unit in the world for the Royal Bengal Tigers.
"Sunderbans is a unique ecosystem and what set it apart are the mangrove forests that dominate the landscape. The only tiger habitat with mangrove forests, it may soon be listed as one of the seven natural wonders of the world," says SP Yadav, Deputy Inspector General, National Tiger Conservation Authority​. The 'yet-to-be-signed bilateral agreement' mentions that the two countries have a common concern in the future conservation of the Sunderbans and accordingly wish to take certain bilateral initiatives for ensuring the survival and preservation of the tiger in this unique ecosystem.
To read more, visit Hardnews by clicking here.
For more on our media partnership with Hardnews in India, click here.
Next