How Germany Covers Pakistan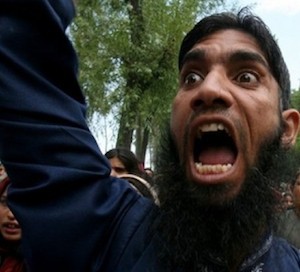 The western world seems to be redrawing the shape of the Middle East, and Pakistan is a part of it. Sadly, this geo-political redefinition has nothing to do with geography. In America, where I lived earlier, it was easy to term the lot of them ignorant idiots that needed to open an atlas. I now live in Berlin and was once asked by the online editor of a national daily to write about the Islamisation of the Pakistani media. First thought: boring. Second, I can't do it from Berlin. She later sent me an email welcoming my future pitches from "the region/the Arab world."
This year I interned at a Berlin-based, national daily for six months. The newspaper has a large circulation in Germany and is part of a huge, right-wing media conglomerate. Expecting a thorough reporting culture, I was shocked at this newspaper's often nonchalant attitude to editorialising and armchair reporting. Our Asia correspondent, based in Singapore, covered it all: Burma to Pakistan. Conversely, we had reporters in most major European cities. Much of the reporting, even from these European locations, is done at the desk by speaking to experts on the phone but, at least, they are there. Unless reporters are actually sent out into the field in Pakistan and until editors who know the region inside out challenge them, the problem of under-nuanced, incomplete and sometimes even factually incorrect journalism cannot be solved.
Many of the editors at the newspaper have visited Pakistan, some for a couple weeks a couple years ago and possibly on a conference organised by a foundation. And it is from this view, I believe, that editorials and analyses are written. Much of what is written is about extremism. While they understand that there are "people like me" in Pakistan, the whole idea is slightly problematic. The idea is to dialogue with the standard "westernised" Pakistani like me, but it comes across as Eurocentric, selfish, and creating an "us and them" difference. So, extremism and Islam aren't looked at with as much nuance as is needed.
But for a country that has very little stake in Pakistan, there seems to be some effort to increase knowledge about it. My ex-editor once mentioned how he was contemplating an op-ed on how the Kashmir conflict had its influence on the current state of our North. I don't know how that would have turned out, but I certainly appreciated the breadth of thought.
What really hit home while working there was the power of media and the danger of irresponsible reporting and writing. Most Germans seem to know Pakistan and India were the same country and had been colonised by the British. In America, it would take a PhD in South Asian studies to be able to get that fact straight. Okay, I am exaggerating. But jokes aside, at an unconscious level, despite knowing the history of the country, the average German too tends to think of Pakistan as part of the Af-Pak region. When I mention growing up with Bollywood, wearing saris or eating Indian food, there needs to be a certain mental realignment before the information can be duly processed. That has to do with how the media covers it. Hardly ever is anything reported on Pakistan unless there is an Islamist, Taliban, or Al-Qaeda angle. And, more recently, Hina Rabbani Khar. Much of what is reported is close to the Afghan border. News such as the violence in Karachi is reported to me by my personal Karachi correspondent, a woman I call mum, because international media seriously underreports it.
I wrote an opinion piece about my experience working at Newsline where women ran the show as opposed to the German publication at which I interned, which was managed mostly by men. It was happily published, but later, the editor-in-chief took issue with the piece, saying it was written by the "privileged woman" from a country of largely suppressed women. While I got mail from many women in the country who had experienced similar sexism, again many were sceptical, and I was often asked whether what I described was really the case in Pakistan.
I think with reporters like Omar Warraich, Saeed Shah and Declan Walsh, reporting for high-profile western news media such as Time, The Economist and The Guardian, the quality of reporting from the region has taken a serious upward turn. While flipping through The Economist recently, I was particularly heartened by a piece called "Lights Out." The lede to the story read, "Although Pakistan makes international news for terrorist attacks, anti-American demonstrations and its alleged support for insurgents in Afghanistan, it is the basic inability to switch on a light that is pushing this volatile country closer to the edge." Exactly my point. I think stories like these that attempt to talk about the country's other (and also grave) problems need to be reported. The solution is that editors need to be receptive to pitches like that and reporters need to be reporting what they see in the country rather than what they think the western world wants to see.
Hani Yousuf started her career at Newsline Magazine in 2006. Since then, she has completed a Master's in Journalism at Columbia University and reported and written for magazines and newspapers in Germany, the US and the South Asian region. She is now a PR consultant, based in Karachi.
Next