My Good Friend Amina Jilani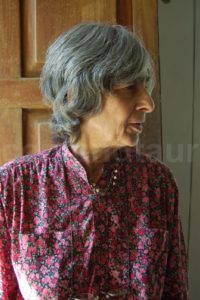 On Thursday 7th December, the columnist Amina Jilani  (1937–2017) passed away, after courageously battling with two forms of cancer, this past year.  She is best known as a fearless columnist, committed to justice, human rights, free speech and the democratic processes and she never ceased to speak out against rampant abuse of power and privilege in our society.  For the last few years, she had been writing regularly for The Express Tribune, but before that she wrote for The Nation and earlier, Dawn.  During that period she worked in the office of Ardeshir Cowasjee:  their sources of information were impeccable and extraordinary.
            Amina Jilani belonged to Bahawalpur where her grandfather was physician to the Nawab of Bahawalpur.  Her father Colonel Khursheed Jilani  was a doctor in the Pakistani army and had also served in World War Two. In 1942,  Amina and her family had been on the last ship to leave Singapore before the Japanese invasion.   At Partition, they escaped from Delhi to Rawalpindi.  Amina's mother, Dorothy Jilani, was English.  Amina was educated at a private school in England which nurtured her abiding love for horses:  she passed national exams on riding and related skills.  At one point in the early 1970's she did a short stint looking after some stables in England.  She loved to watch polo and horse-racing too, and was also an avid football enthusiast, supporting Liverpool F. C.
            She was very well travelled.  She spoke German and French fluently, having studied Modern Languages at university in Germany, and worked as a paralegal in Paris from 1974–1982. She had spent much of the 1960's in Karachi and in 1982/83 she decided to settle permanently in the city.  Dorothy Jilani, her elderly mother, was still alive at the time.  They lived together in Clifton in a flat which was filled with marvellous books.
            My friendship and that of my husband, Saleem,  with Amina Jilani dates back to this time, though all of us knew each other long before. She was really good company, well read, witty and at times, outrageously funny.  She was wildly competitive too when we would sit down, with a particular group of friends, to play that popular Q & A board game, Trivial Pursuits:  she made a lethal opponent because she could answer the most obscure questions (particular on British sports and sportsmen) that none of us could.  We would vie to have her on our team and if she was, we would spur her on "Roll the dice Amina Jilani, Roll the dice!" She would do so, with great vigor and aplomb, half-standing and half-sitting,  while she leant over the TP board. Then of course there were small gatherings at home, the trip to the beach, the New Year parties and the play "Hello, Hello"   that our wonderfully imaginative friend, the late Lubna Khan, who died so tragically earlier this year, wrote for us and roped us into performing on stage.
            All this while, Amina Jilani watched my children grow up and developed her own equation with them.  She nicknamed Kamila "The Blob", due to Kamila's fascination with a strange squidgy shapeless toy that Kamila would fling onto various surfaces;  Saman became "Amreeka"  when she  joined college in the United States.   More recently, whenever Kamila came to Karachi from London, Amina would take the two sisters out to dinner–and always to a different, but excellent restaurant.   She was very excited about Kamila's new book too: and it is only befitting that Kamila should have dedicated her British Council book launch to Amina's memory.
          Amina's courage during her illness was quite extraordinary.  She never complained.  She never spoke of any difficulties.  Instead she wanted to talk about everything else — news, politics, the movies we'd seen, the books we had read.  She was looked after with great care and affection by Ava Cowasjee and was also given the added comfort of being near the household dogs and parrot to whom she was so devoted.
        She will be greatly missed.
Next