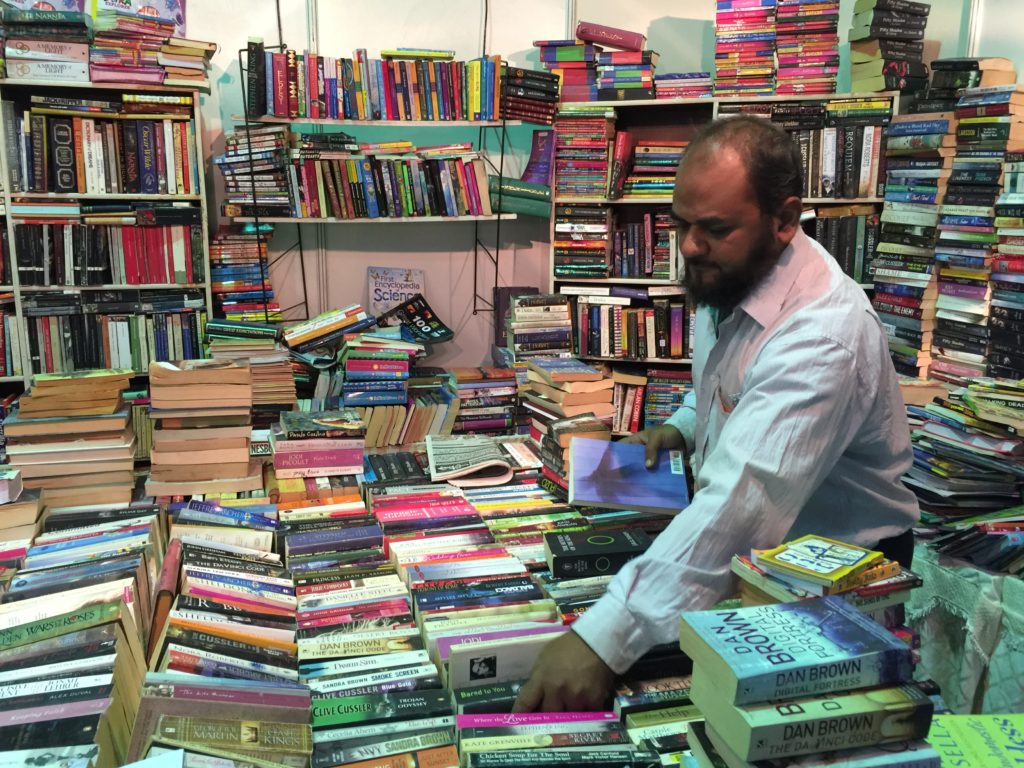 Khurram Shehzad's father opened a bookshop by the name of 'Old Books' 20 years ago in Urdu Bazaar. "He loved to read," recalls Khurram, who inherited that haven of books. Today, however, Khurram is not in Urdu Bazaar but at the Karachi International Book Fair, where he and his brother, Mohammed, have set up a stall displaying part of their collection.
"More than anything, it is good marketing for our shop," says Khurram. Other than one particularly loud and cantankerous customer, who seems to be a book dealer, the stall is very quiet and resembles a little library. It is still early hours, and Hall 1 of the Karachi Expo Centre, where the Karachi International Book Fair is held annually, is yet to fill up.
"At peak hours, this stall gets so full and busy that people waiting for their turn to purchase items get impatient and leave," says Mohammed. "Whereas in Urdu Bazaar our highest selling items are text books, here, at the book fair, it is fiction that is the most popular," he continues.
The Old Books stall has a decent collection of novels that may not be found in shops such as Liberty Books or Paramount. Among the collection is an old, leather-bound volume of Gustave Flaubert's Sentimental Education (1869) and Will Self's early short stories, Grey Area (1994).
A bunch of school children run up to the stall and ask Khurram which item is for free, to which he replies, "my prayers." Not all stall owners display such patience, let alone grasp of customer service. Some paan-eating propietors are quick to reinforce that they don't need the money — without uttering those words.
In a stall down the aisle from Old Books, a seller tells me that the reason why his leather-bound copy of Henry David Thoreau's Walden is priced at Rs 5,000, is because it is a rare, "signed copy."
One would be hard-put to find a stall of Sindhi textbooks, save for one labelled 'Government of Sindh Books,' which, incidentally has more staff members than books. The information desks at the fair are also clueless about whether there are any stalls selling Sindhi books. And so, readers will have no luck finding old treasures, such as Pir Ali Muhammad Rashidi's Uhay Deehan, Uhay Sheehan — a biographical encyclopedia of historical personalities of Sindh.
Today was the second day of the book fair, which continues until December 11, and is the 13th of its kind held in Karachi.
The writer is an Assistant Editor at Newsline. (Website: alibhutto.com)
Next