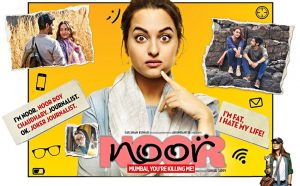 Broadcast journalist, Noor Roy Chaudhry (Sonakshi Sinha), is a small fish who is hilariously and cluelessly floundering in the sea of stories that is Mumbai. And though she dreams of doing more meaningful work than interviewing Sunny Leone, for the first half of the film, her attitude remains rather lackadaisical towards her life and profession.
But the charm of the film is that it is geared towards millennials and seeing Noor suffering hangovers, moan about being single, eat cake in bed and have a precarious time juggling family, work and her social life, was a very relatable experience.
However, if the reason the protagonist is an underdog is because she is lazy, procrastinating, entitled and unimaginative, the charm wears thin. Despite this, Noor, the film and the character are an undeniably fun experience, and credit goes to Sonakshi Sinha and Kanan Gill's  animated and enthusiastic performances. Major kudos to Ishita Moitra Udhwani, for the rapier dialogue she has bequeathed to the onscreen duo which alone makes the trip to the cinema absolutely worth it. The exchanges between the two are smart, sassy and perfectly timed and had the film maintained that tone, it could have avoided the plot holes in its second half.
When Malti (Smita Tambe), Noor's domestic helper, accidentally spills information about a black market organ trade, the film adopts a far more illogical narrative – especially given the careless way it represents journalism (for example, later on in the film Noor breaks the cardinal rule: protect the source). Also, while stumbling upon this huge story, Noor finds herself falling for a photojournalist, Ayanaka, and between investigating the story and investing in her love life, Noor does a mediocre job of both.
Her negligence with the story and the ethics of journalism causes Malti's brother to die and the cartel behind the black organ trade threatens Noor's life so she flees to London. The film wraps up with a disappointingly predictable romance between Saad and Noor and a sudden sense of duty in the heroine as she courageously flies back to India to right all the wrongs …via a Facebook video of herself rallying against the underground organ trade. The self-aggrandizing context of the films climax was wholly unnecessary and did not tie up the loose thread of the cartel's threat to Noor's life.
Noor would have done well to play to its strength as a romantic comedy instead of morphing into an ill-conceived feminist flick with a social message.
Next