The show must go on!  The popular phrase  applies more than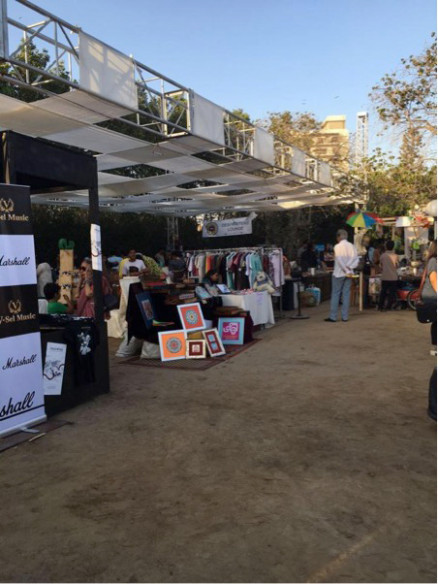 ever to a city as resilient as Karachi. Bearing in mind this philosophy, also advocated by the late founder of T2F, Sabeen Mahmud, the T2F team collaborated with patrons, supporters and those involved in creative pursuits  to organise the Creative Karachi Festival this weekend at the Alliance Francais.
Previously held in 2014, this second edition was a weekend-long affair that lasted from one in the afternoon till ten at night on each day.  "Although things were different after Sabeen's death, as it takes time for things to pick up after the founder goes, our brilliant new director Marvi Mazhar has been amazing and we've worked hard for months in order to put on this festival," explained Asad Alvi, one of the festival organizers. "The event was very well received and people were very emotional as this was Sabeen's gift to Karachi," he added.  "People came for her, for what she believed in, which is theatre, art, poetry, literature and movie-making." He also pointed out that this second edition has been more expansive as it featured 160 plus artists while last time the number was around 50.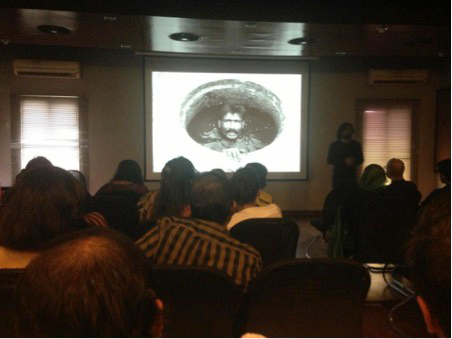 Further, this time the festival had two new additions i.e. lively panel discussions and indie film screenings. The event transformed Alliance Francais into a giant 'non-stop party in the park', with art and music seeping out of every corner — from the garden to the Upper Art Gallery, Film Room and Library. Whereas the garden was festooned with fairy lights and multi-coloured umbrellas hanging overhead, giving the venue a Mary Poppins feel, the courtyard's roof looked like the top of a delicious French apple pie, with white banners woven together to create a lattice pattern. The venue hosted an amalgamation of visual artists, film and documentary makers, writers, poets, dancers such as Suhaee Abro, Sheema Kirmani and Joshinder Chaggar, contemporary and traditional craftsmen, qawwaals such as Subhan Nizami and brothers and Saami brothers, and musicians such as Zoe Viccaji, Sara Haider and The Sketches to name a few. On both days, the music section of the festival was hosted by Ali Gul Pir of the catchy 'Saeen tou saeen' song fame. There was also stand-up comedy by Shahzad Ghias and others. The event was popular amongst families since it also featured children's story-telling as well as dramatic readings and 'Selections from Satire' by Nadeem F. Paracha. Moreover, one of the biggest attractions of the festivals was the Karachi Astronomer's Society's 'Jupiter Watch' which had people forming long queues. Of course, no good event is complete without food, and there were myriad choices from Wingitt, Chai Wala, Nandos, Dominos, Sugaries and others to take care of this.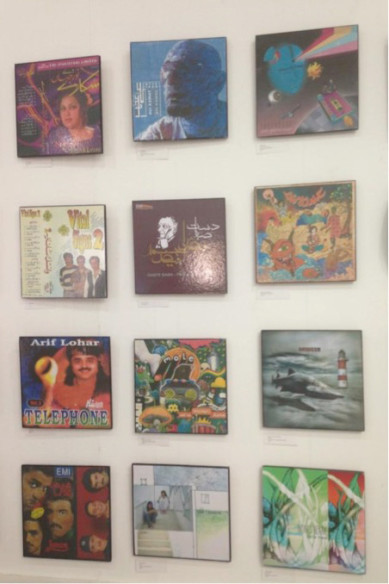 While the tremendous effort to pull off such an event was evident everywhere, three aspects of  this vibrant cultural event deserve special mention. First is, the 'Music to my Eyes' exhibition. It was a compilation of album artwork depicting the evolution of music art in Pakistan through the years. Curated and collected by Humayun Memon, Samya Arif and Sana Yasir, it was first exhibited at the Lahore Music Meet a few weeks ago. Usman Ahmed, a volunteer at the CKF and active member of T2F, said that the response to it was overwhelming."People possibly in the thousands came in to view the music covers ranging from the 60s to the modern era." The eye-catching array of coloured covers almost had an Andy Warhol-esque appeal from afar, and a closer look revealed famous personalities on these album covers, from Allama Iqbal to Arif Lohar.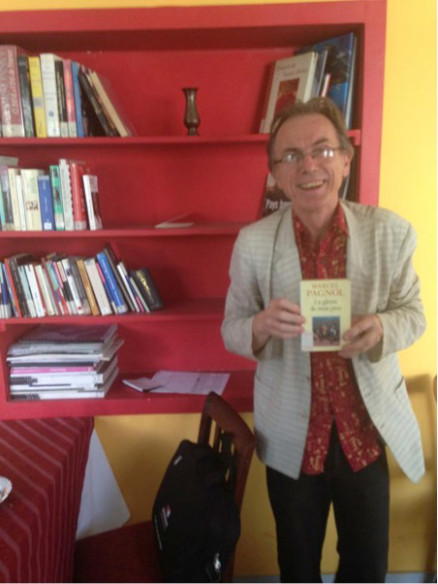 Second, was a silent film entitled 'Hellhole' by Islamabad based film-maker and photographer, Mobeen Ansari. Hearing Mobeen's life story before the film was screened was in itself an inspirational experience. Challenged with the loss of hearing when he was three years old, he later discovered the magic he could create through his lens.  He has remained drawn towards capturing 'raw human emotion.' The film correctly states, "In this city of millions, some are invisible," as it chronicles the life of a conservancy worker — more commonly known as gutter cleaners — called Pervez Masih as he goes about his daily job.
Lastly, was the talk given by Dr. Pierre-Alain Baud (a.k.a 'Pyaroo') on his book 'Nusrat: The Voice of Faith.' Pyaroo has spent the last 25 years visiting Pakistan. Residing near the French Alps, Pyaroo's first encounter with the legendary qawal was in 1985 when he was in Paris by chance, leaving the day after to pursue a PhD in Dance in Mexico. However, he attended Nusrat Fateh Ali Khan's concert that day and from then onward, there was no looking back. He told us how he and his friends managed to befriend Nusrat and was invited by him to accompany him to Italy for a week. He later became a guest of Nusrat in Pakistan and through him met with many distinguished people and had an interesting variety of experiences. One very important message he left audiences with was to  "Go back to our roots.'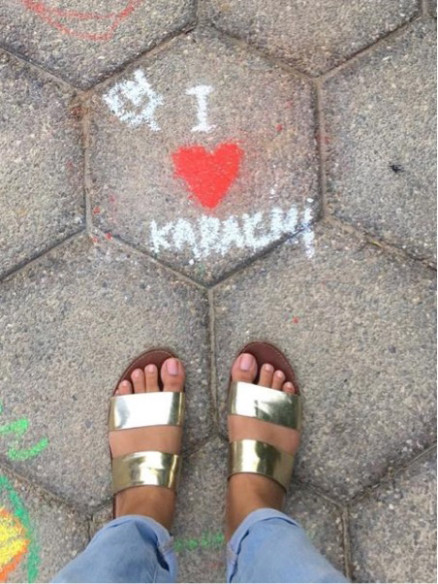 All in all, the purpose of the Creative Karachi Festival was to make Karachi a more 'creatively conscious' city as Sabeen envisaged, and the outpouring of people and success of the two day event was  testimony to that.
Next