Cover Story: The Death Diaries
On January 21, two buses were part of a convoy carrying 103 Hazara pilgrims, including women and children, who were returning from Iran to Quetta, when a suicide bomber carrying 80 kg of explosives rammed into the bus, causing it to blow up near the Dringhar/Koshak area of Mastung.  But the attack did not end there.
Seconds later, unknown gunmen attacked the blast site with gunfire, firing indiscriminately in the direction of the wreckage to add further to the death and destruction. Witnesses at the scene described a hellish nightmare as flames engulfed the wreckage of the bus. Injured women and children, who had survived the first carnage, screamed in agony, succumbing to the second attack. Arif, one of the passengers on the bus who sustained serious injuries, but miraculously lived to tell the tale said, "I saw at least 10 bodies and many injured lying in a pool of blood." When the attack ended 28 Hazaras were dead, and 37 injured, several of them seriously.
On April 8, Dr Syed Qasim Abbas, left his clinic for his home in Shah Faisal Colony, Karachi, in a chauffeur-driven car, when armed gunmen on motorcycles opened fire on the car and fled. The 45-year-old doctor and the driver sustained gunshot wounds in the ambush. They were taken to the Abbasi Shaheed Hospital where doctors pronounced Dr Abbas dead on arrival.
Despite the escalation in targeted killings of Shia leaders and large-scale bombings of Shia neighbourhoods, the Pakistani government and international community have failed to apply the lessons from cases such as Rwanda in recognising the early warning signs of an impending genocide perpetrated by sectarian terrorist groups.
According to the Convention on the Punishment and Prevention of Genocide, to which Pakistan is a signatory, a genocide occurs when a party has "the intent to destroy a religious, ethnic, or racial group, in whole or in part, and acts on that intent by killing, injuring, or deliberately causing conditions leading to the physical destruction of that group."
The Convention applies to all people, including private groups that are perpetrating genocidal acts in a country without direct assistance from the state. Under the Responsibility to Protect, all countries are obliged to recognise if such acts are taking place and take steps to punish past transgressions while preventing future acts.
The Shias' plight must be understood in the context of Pakistan's position within the larger global sectarian struggle between Sunnis, largely supported by Saudi Arabia and other Gulf states, and Shias, supported by Iran and its close allies. Pakistan walks a fine line in this conflict as it shares a border with Iran, but relies on Saudi Arabia for aid and political patronage. This international tension has domestic implications, with 20 per cent of Pakistan's population belonging to the Shia faith, amounting to nearly 25 million people who are being threatened with extermination by sectarian outfits.
Terrorist groups like Lashkar-e-Jhangvi (LeJ) have openly committed brutal murders of Shias with the self-avowed purpose of "cleansing Pakistan" of their presence. The attacks against Shias have basically taken three forms. First, high profile community members such as doctors, lawyers, educationists and judges have been targeted in drive-by shootings in Karachi. Second, Shia religious processions and pilgrims have repeatedly been targeted in mass-shooting attacks. Third, Hazara Shias have been attacked en-masse in the city of Quetta, where several car bombings have left hundreds dead in recent years.
According to statistics compiled by the Human Rights Commission of Pakistan (HRCP), in 2014,  90 people were victims of sectarian killings — both Shia and Sunni — all over Pakistan between January and August. But according to the South Asian Terrorism Portal (SATP), 156 Shias alone  have been killed this year in that same period.
The Hazaras in Balochistan, numbering about half a million people, find themselves particularly vulnerable to attack. More than 500 Hazaras have been killed in attacks since 2008, but their precarious position is reflected in the increasing percentage of Hazaras among all Shia victims of sectarian attacks. Nearly one-fourth of the Shias killed in sectarian violence across Pakistan in 2012 belonged to the Hazara community in Balochistan. In 2013, nearly half of the Shias killed in Pakistan were Hazaras.
In response to the attack on the Hazara pilgrims in January, the government temporarily suspended the bus service to prevent further attacks. But on June 9, at least 24 Shia pilgrims from Khyber Pakhtunkhwa were killed in a gun and suicide attack on a transit hotel in the Balochistan border town of Taftan. Pakistan's interior minister, Chaudhry Nisar Ali Khan, responded to the atrocity in parliament by suggesting that the pilgrims, mostly extremely poor, should find alternative modes of travel by air or ferry as it was impossible to secure the 700 kilometre bus route.
These hardships are compounded by elements within Pakistan's security agencies who appear to view the Hazara community with suspicion. Retired members of the paramilitary Frontier Corps, Balochistan's principal security agency, have described the Hazaras to Human Rights Watch (HRW) as "agents of Iran" and "untrustworthy." One former official even suggested, without evidence, that the Hazaras "exaggerated" their plight in order to seek asylum abroad and "gain financial and political support from Iran to wage its agenda in Pakistan."
This has led to a mass exodus of Hazaras from Balochistan, with as many as 30,000 leaving the province over the last five years, according to some estimates. Many have left because they believe the government refuses to acknowledge the concerted campaign against them, and is therefore not taking steps to protect them.
Sectarian groups like Laskhar-e-Islam (LI) and LeJ use various methods to terrorise Shias and force them to leave their homes, including the distribution of threatening pamphlets, as occurred in Peshawar on April 16, 2014. Further, these groups often accept responsibility for vicious attacks on Shias, and express their genocidal intent in promising future attacks. This was certainly the case when the chief of Lashkar-e-Jhangvi issued an open letter declaring that all Shias were wajib-ul-katl or "worthy of killing" in the aftermath of an attack that left eight Hazaras dead.
Despite these openly violent assertions, the government of Pakistan continues to deny the existence of a genocide against Shias. As such, there are no official statistics on the number of victims, which would be a key component in understanding the level and frequency of violence perpetrated by sectarian militants. It is difficult to assess the level of political or military support these sectarian groups enjoy.
"Being Shia has become a crime in this country," says Ali, a member of the Shia community. "And while Shias have been targeted the most, in Pakistan no minority is safe. Ahmadis, Sikhs and Hindus are all under threat just for being who they are. As a Shia person, I wake up every morning with the thought that it could possibly be my last."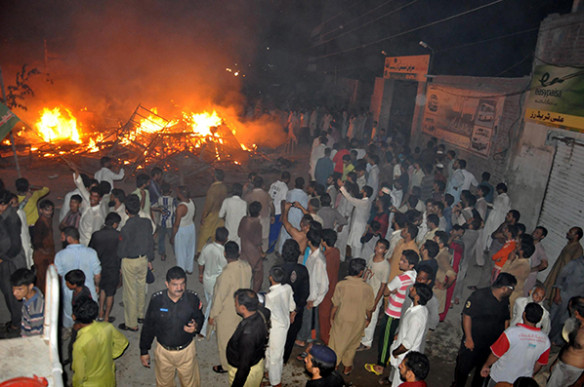 The Ahmadi community, too, has increasingly become a target of brutal attacks. Anti-Ahmadi sentiment is so prevalent among Pakistanis that even members of the community who should be hailed as national heroes are vilified. People are all familiar with the desecration of the gravestone of Professor Abdus Salam, an Ahmadi and a theoretical physicist whose work provided evidence of the Higgs boson and earned him a Nobel Prize.
The discrimination is especially appalling because it is mandated by the state. In 1974, then Prime Minister Zulfikar Ali Bhutto oversaw an amendment to the Constitution that declared Ahmadis to be non-Muslims in the hope of  securing the support of religious political parties in the upcoming elections. And as the Pakistani state formally became more Islamic during General Zia-ul-Haq's regime in the 1980s, it further curtailed the community's rights.
Ahmadis are now prohibited by law from proselytising, making the call to prayer, describing their houses of worship as mosques or even identifying themselves as Muslims. In fact, in order to obtain a passport, all Pakistani citizens have to sign an oath declaring that Ahmadis are not Muslim.
Seven Ahmadis have been killed in 2014, most recently in July when a 55-year-old woman Bashiran, a minor girl Kainat and a 7-year-old girl, Hira, were killed and eight others were severely injured when an angry mob attacked and burnt five houses, a storage building and several vehicles over alleged blasphemy.
The Pakistani judiciary has been woefully ineffective in punishing acts of terrorism, especially when the victims have been religious minorities. One need only look at the case of Malik Ishaq, a co-founder and leader of the LeJ, who has been arrested and released from jail several times, despite being implicated in the murder of hundreds of Shias. Perhaps understandably: sectarian groups often target judges and prosecutors in order to intimidate the court and its officers.
Dictator General Zia-ul-Haq is widely held responsible for creating these sectarian militant groups to use as proxies in Kashmir and Afghanistan in the 1980s. The groups have long since turned their violence inward toward Pakistan's religious and ethnic minorities.  Many fear the pattern from the 1980s may now be repeating itself as Syria witnesses an influx of Pakistanis entering the country to fight alongside anti-Shia militant groups opposing the Bashar al-Assad government. This could wreak havoc on Pakistan in the long term when these battle-hardened operatives return home and turn their guns on the nation's minorities, especially Shias.
Additionally, Prime Minister Nawaz Sharif, a Zia
protégé, has been accused of being soft on these groups while leading his socially-conservative political party, the Pakistan Muslim League-Nawaz (PML-N). This claim was given credence by the fact that the PML-N was distributing a monthly stipend to Malik Ishaq's family while Ishaq was in jail for one of his 44 different criminal charges relating to 70 murders — many of them Shias.
Disturbingly, there is growing cause for concern on account of the anti-Shia rhetoric increasingly seeping into mainstream politics. For example, Maulana Ludhianvi, the leader of the Ahle Sunnat Wal Jamaat (ASWJ), recently won a National Assembly seat. In campaigning for the seat, Ludhianvi promised, "At the moment I can raise a voice for my anti-Shia mission only at a local level and from my local mosque. But when I get the microphone in the [National] Assembly, the whole nation and the whole world will listen…"
Terrifying as those words might be, perhaps it has finally got some people thinking. Even though the administration has not openly acknowledged the potential for genocide against Shias, there are indications that the government, or parts of it, is taking note of the growing problem. For example, earlier this year, the Ministry of Interior admitted to the Senate that more than 2,000 Shias have been killed in sectarian attacks over the last five years. Similarly, the Punjab provincial police have begun targeting "sectarian outfits," which recently resulted in the arrest of suspects believed to be involved in 18 attacks that left 16 Shias dead.
Syed Ali Ahmer, a spokesperson for the Majlis-e-Wahdat-e-Muslimeen (MWM), speaking to Newsline, called for a targeted operation to specifically tackle sectarian killings.
"We want a Zarb-e-Azb-like operation against the ASWJ and all other groups involved in the killings," he says. "The entire country is affected by terrorism, why is the operation only taking place in North Waziristan? There should be a countrywide operation, especially in Karachi."
While an operation in Karachi has been well underway for over a year to rid the city of criminal elements, Ahmer believes that the Karachi operation is mere farce.
"The Karachi operation is nothing but a 'political drama' staged by parties involved in the power game," he maintains. "They just want their committees to be reinstated; they do not want peace. No one is concerned about the citizens. Both the Muttahida Qaumi Movement (MQM) and  the  Pakistan People's Party (PPP) are allies. They're just fooling the masses. They fight to hide their corrupt practices. The masses will reject them if we have free and fair elections."
Pakistan and the international community at large have a responsibility to protect populations vulnerable to genocidal acts, and the first step towards this protection is realising the scope of the problem. If the government of Pakistan were to recognise that anti-Shia attacks are early warnings of a campaign that has the potential to endanger the lives of more than 20 million Shia citizens, it could begin collecting official statistics on Shia murder rates. It could also use already existing legislation criminalising hate-crimes to prosecute members of these groups. In addition, the government could utilise the powers that were recently granted to it under the anti-terror laws to tackle the sectarian violence.
At the same time, the international community could assist with resources and scholarly advice while applying diplomatic pressure to force Pakistan's government to more vigilantly punish and prevent anti-Shia campaigns by terror groups. Failing all of these, Pakistan's Shia Community may prove to be the next great diaspora.
Hiba Mahamadi and Waleed Tariq contributed to the research and reporting for this story.
This article was originally published in Newsline's October 2014 issue as the cover story.
The writer is a journalist and former assistant editor at Newsline.
Next