Backpacker's Guide to Pakistan 2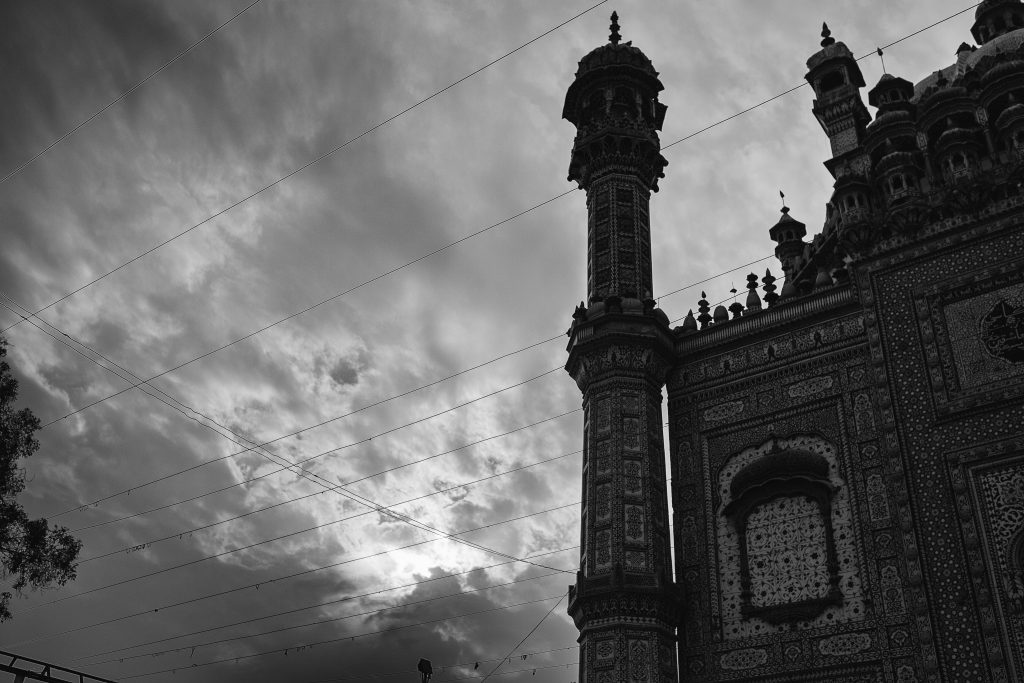 The next morning I left Hotel Neroon Kot in Hyderabad and took a rickshaw to the highway from where I would decide on my next stop. This was the second torture by potholes that I had to endure.
At the bus stop a man in a well maintained Toyota Corolla was offering a ride to some place called Ranipur for Rs. 500. The name certainly sounded romantic. I made a quick inquiry and found out that Ranipur is about 80 km before Sukkur. The man told me that there was a hotel in Ranipur.  So I got into the car with three other passengers and we set off.
One passenger was a student of NED University who was going to his hometown Nowshero. The young man asked the driver to switch on the bluetooth in the car and proceeded to play some music from his cell phone. On the way the driver stopped at a roadside restaurant and treated all of us to tea served in a bowl (piyala) instead of a teacup. When I offered to pay, he glared at me. "Who is the guest here, you or I?" When I confirmed that being from Karachi I could be considered the guest, he said, "Since you are the guest, I pay!"
Chatting to the driver, it turned out that the car carried booked passengers from Ranipur to Hyderabad. Since it was returning empty, the driver picked up travelers offering them prices close to that of a bus to make some extra money.
He dropped me off in front of a hotel in Ranipur that appeared much like a ghost town in the fading light of the late evening.
The driver, clearly a kind man, wanted to make sure that I was well settled before he drove off so he asked me to go in and first check if there was a room available. A room was available but for the rather steep price of Rs 2000 a night. The room was large but windowless. I am a poor negotiator and was unable to beat down the price. Not having much choice, I accepted. I went back to the car, picked up my bag, said goodbye to the driver and went back into the hotel to check in. I handed over the Rs. 2,000 to the receptionist and was surprised when he returned Rs 200. I don't know whether this was out of kindness for an old man or due to a sense of guilt for having given me an inflated rate.
The restaurant attached to the hotel  was dimly lit and dreary and I had my usual safe meal of maash daal, two cold naans and a soft drink. I went off to sleep listening to the music of dogs barking; something that had become routine for me in Hyderabad too.
Next morning I checked out and asked a passerby if there was anything interesting to see in Ranipur. To my great delight he told me that the shrine of the famous sufi saint and poet Sachal Sarmast (1739 — 1827) was close by and I could use the services of one of the motorcyclists standing nearby. I agreed on Rs. 70 for taking me to the shrine. Clinging on to the bag in my lap and trying to keep the camera from slipping off my shoulder, the motorcycle weaved its way on the highway through huge trailer trucks, speeding buses, tractor pulled trolleys loaded with sugarcane and donkey carts. Finally we  turned left onto a much narrower leading to the shrine. This road, while free from the life-threatening traffic, was more of the bone- threatening variety, pitted with potholes as it was.
The shrine, like the other shrines I had visited, was an oasis of peace. I recorded videos of the groups of musicians who were soulfully rendering sufi kalam. The shrine was well maintained and clean. A continuous stream of men, women and children was moving through the main mausoleum and paying their respects by touching the grave of the saint and saying their prayers.   A man, sitting inside with his head bowed, was singing the poetry of Sachal Sarmast in a lovely, mellow voice that added an aura of magic to the setting.
I took another motorcycle taxi back to the Ranipur stop on the highway. A bus which proclaimed "Karachi to Peshawar" was pulling out on the highway. I rushed forward and asked the conductor if it would take me to Sukkur. " Yes, Rs. 200!" he shouted. "Will pay Rs. 100, I shouted back," and jumped in taking the conductor's silence as an acceptance of my offer. I was ushered back to the last row in the bus where there was an empty seat.
Just as I was settling down I saw a young man walking towards me from the front of the bus with a big smile on his face. "You remember me, we met in Hyderabad. I was the one who mistakenly gave you the wrong direction to Kachha Qilla!" A bulb lit up in my confused brain and I remembered the man who I had asked for guidance in Hyderabad. We laughed about this coincidence and started chatting. He told me he was from Kohat and worked as a driver for a government department in Hyderabad. "I had a relative in Kohat who had a good job in this department and he helped me get this job. There are no jobs in Kohat." The young man was travelling back with his sister and his bright eyed four-year-old son. The sister had come to visit him in Hyderabad and he was accompanying her home. The man, Arsalan Afridi, told me that he had given his son a rather grand name of Amir Nawab Khan Khattak after a minister in the NWFP government! He hoped that one day his son too would become a successful man like the minister. I suggested to Arsalan that he should enroll his son in The Citizens Foundation School that provided good education nearly free of cost. We exchanged phone numbers and I promised to call him with more information about the school when I got back to Karachi. When I told Arsalan that I had no specific destination in mind he seemed quite surprised and urged me to travel on with him to Kohat, where I would  find plenty of fresh air and peace.
The bus stopped briefly for a change of drivers and the first driver came to the back of the bus and sat next to me. Again, a lively conversation started. When I told him that I was on a journey to find peace in this troubled world he smiled and said "There is only one source of peace: God!" The driver, Habib Khan Afridi who was from Darra Adam Khel, told me that the thirty hour drive between Karachi and Peshawar is shared between two drivers. He nearly convinced me to come along all the way to Peshawar and then on to the Darra with him. He promised to show me the local manufacturing of guns and bullets! If I had known what awaited me in Sukkur I might have accepted the offer!
I got off on the highway (no buses go into the centre of the towns these days) and hailed a rickshaw asking the driver to take me to a hotel. This was confusing for the rickshaw driver, "Do you mean a place to eat?" I immediately remembered that there is little distinction between a hotel and a restaurant in the common man's lexicon. "No, I am looking for a place where I can stay for the night,"I clarified. The road to the centre of Sukkur was the worse I had come across on the journey so far and the city centre was the proverbial hell on earth. This was clearly a city that had been completely abandoned by the civic authorities.
There had been a light rain and the streets were covered with a layer of slippery mud and pitted with pools of water. Navigating my way gingerly though this landmine, I made my way to Hotel Habib that turned out be in complete harmony with the miserable conditions outside. For Rs. 800 a night I got a dirty and smelly room with a matching smelly and dirty bathroom.   As I lifted the blanket a large crawling insect made its escape. But there was a silver lining in the misery of Sukkur after all: In a nearby restaurant I had the best paratha I have ever eaten. It was of a small, thick type with a thousand fine layers that just melted in your mouth. I had two! I was tempted to go for the tasty looking haleem but the concern for my digestion prevented me from fulfilling my desire.
Next morning, having lost any desire to extend my stay in Sukkur, I took a rickshaw and asked him to take me to a bus stop on the highway. The rickshaw wheels landed from one pothole to another and I was forced to lift my body like a jockey to reduce the impact to my upper body. My back was near collapse after the fourth day of using the three-wheel devil and I was beginning to question the wisdom of my decision to embark upon this journey.
The final instalment of the author's journey will follow soon. 
The writer is an engineer by training and a social scientist by inclination.
Next