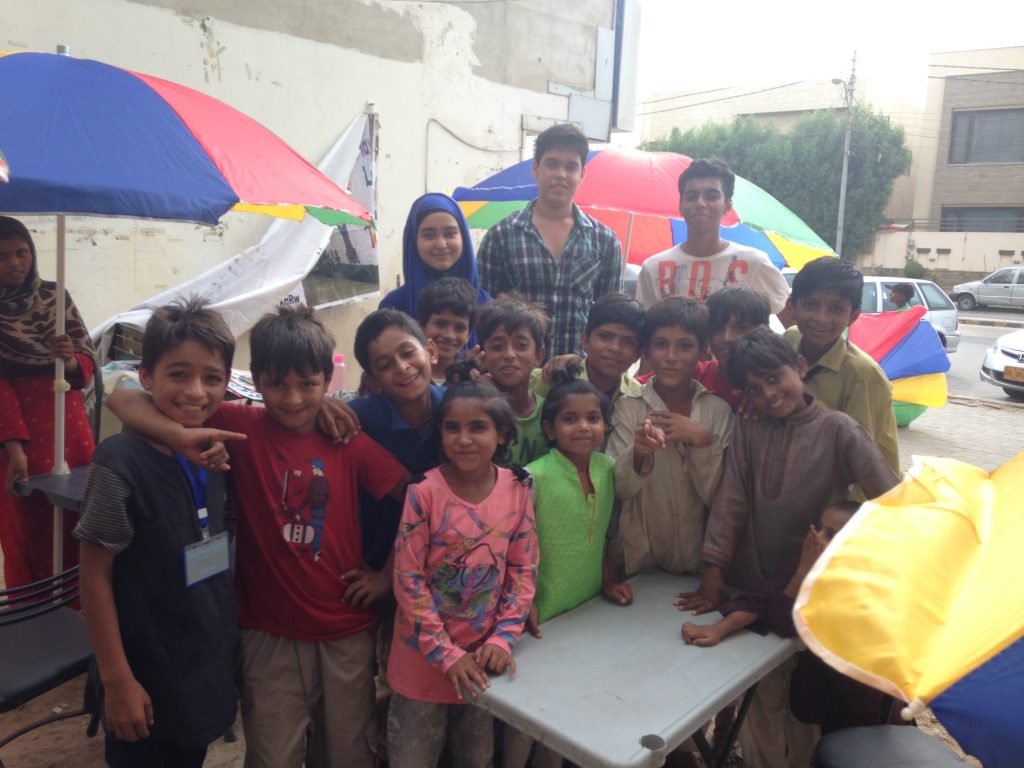 If you live in Pakistan and are reading this, you obviously exist within the privileged bubble of those that are educated. However, most in our country are not educated — old and young — this is what the brother sister duo, Hasan and Shirin, seek to change.
While passing by Café Clifton on Khayaban-e-Shamsheer in Karachi, one can see sets of tables and chairs set out on a vacant plot nestled between the shops. Here, groups of  small children are being taught by  two teenagers. The ages of the children range from three years to eleven, but when asked their ages each child present answered they were at least ten in order to sound older (as all children want to) but their sizes gave them away. When asked how could they all possibly be ten years old, another one quickly piped up that he was eleven, only to be immediately shot down with cries of 'Yeh jhoot bol raha hai! Tum gyaara kay nahin ho!' (He's lying! You are not eleven years old!')
The  initiative was started four months ago by 12 year old Shirin and her 15 year old brother, Hasan. It all started when Shirin was passing by Café Clifton and was approached by a young girl on the street. Instead of asking for money, the girl asked if Shirin could teach her. Having grown up watching her mother, Sarwat, teach the maid's children in their house, Shirin and Hasan decided to educate the children in this area. Their efforts were met with resistance as the parents of the children were not supportive and feared that if their children spent time studying, it would affect their earnings. In order to combat this, the enterprising siblings  convinced the parents by ensuring that each child would be given Rs. 50 daily as well as  a snack (a packet of juice and some biscuits etc.) Initially, there were only about four or five children. They then began to bring their younger siblings as well, and as Farooq — one of the children — proudly tells us, they convinced their friends in their neighbourhood, while pointing to two of the childrenthat he has brought along.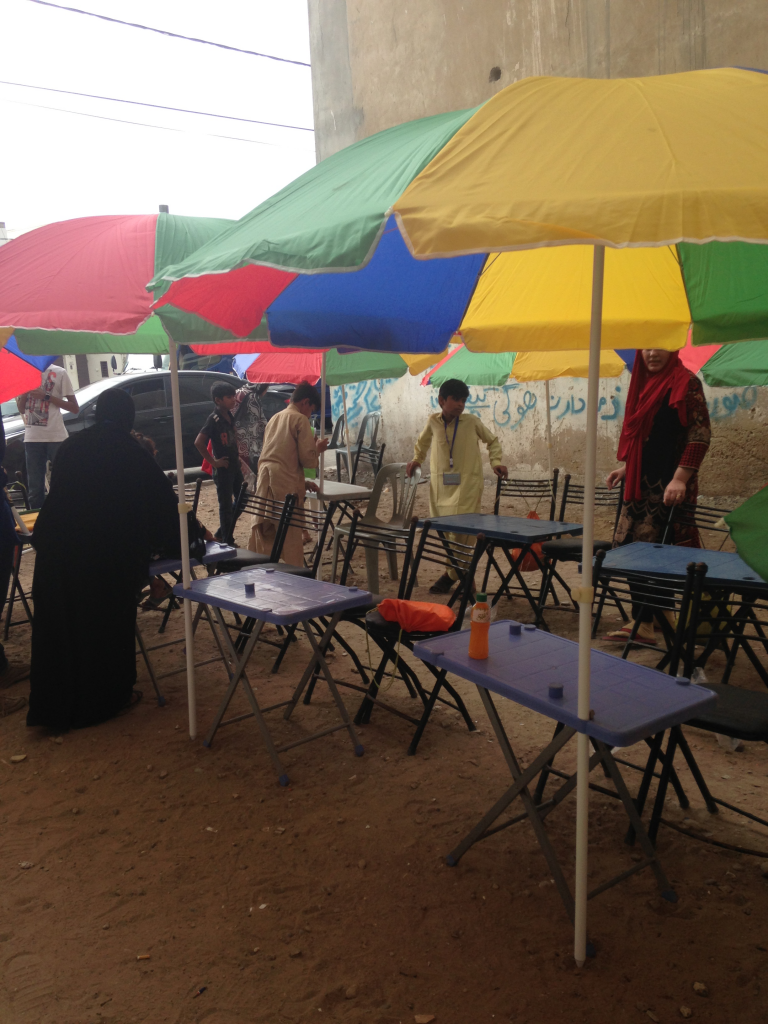 The concept is of a 'mobile garage school'.  Hence every day the tables and chairs are set up alongwith umbrellas to provide shade. What is commendable is that the street children, assisted by Hasan, Shirin and Sarwat, set to work and dig holes in the sand for the umbrella stands to be erected in — so strong is their desire to learn. A look at the muddy hands of the children and the jubilant smile on their faces as they dig holes and set up tables and chairs is evidence of their enthusiasm and love of learning.
But their hard work doesn't stop there: not only are they okay with getting their hands dirty, they also walk daily from their homes in Neelum Colony to the empty plot in order to attend class. The classes occurring from 4-6 P.M. are about two hours long, consisting of English, Urdu, Math and Islamiat . Saturday is a 'fun and games day' where the children play games and take part in fun activities. Most of them hope to be doctors and soldiers when they grow up, one child being so specific as to answer 'surgeon'. However, sadly, despite being aware of the importance of education and those that impart it, none of them wanted to be a teacher when they grow up.
Street children often rebel against the rigours of school and when questioned, many reveal that they willingly quit school to work. But the children here all say they would study rather than work, given the choice.  Yet one cannot help but question if their answer would be the same if they were not paid their daily stipend.
For the time being though, Hasan and Shirin inform us that they remain hopeful as the number of children has grown. This is evident as  instead of the initial four, stand fifteen children along with Hasan, Shirin and some volunteers who come in to teach. The duo hopes to spread this project of a mobile garage school all over Karachi — not just limited to the Café Clifton venue. Their aim is to start teaching in Neelum Colony, Shirin Jinnah Colony and so on.
Meanwhile, it is heartening to see that two young members of society have taken to the streets and are actively trying to change the status quo of Pakistan, rather than those that merely sit in their lounges, criticize and complain about it.
Next