"Sing Mohammad, Mohammad Ali. He floats like a butterfly and stings like a bee." As small children in the seventies, my brother and I learnt the words to that iconic song and were often heard humming it around the house.
As the eulogies and the tributes poured in and we were inundated by images of the life and career of the inimitable Mohammad Ali, I was swept along on a wave of nostalgia. This black, American-Muslim boxer was special in so many ways, truly a legend, who captured the hearts and imaginations of old and young in worlds far removed from his own. In a country like Pakistan, which has had little interest in boxing except as a fringe sport before or since, Mohammad Ali's fights were events of national importance.
I remember watching his fight against Leon Spinks – a 36-year-old Ali going up against a much younger man. As a young child, knowing little about the game and not prone to pugilistic or aggressive sports since then, I remember coining slogans in favour of Ali and against his opponent. Then there was an exhibition match against a Japanese wrestler, Inoki, which was more of a gimmick than anything else but avidly followed by us.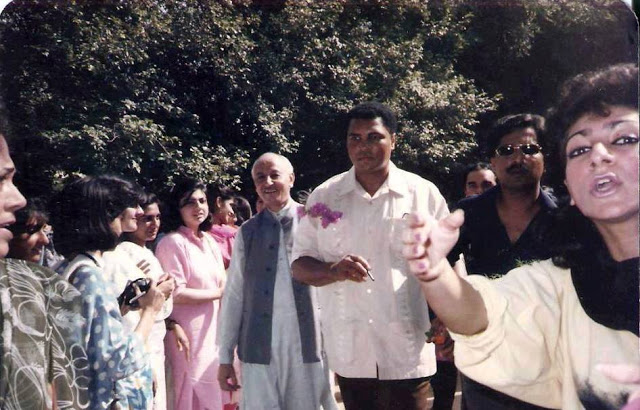 Of course, he was a Muslim so we felt that measure of ownership and camaraderie but his legend was much more than that. It was the man's sheer charisma that had entire families, from grey-haired matriarchs down to grubby toddlers glued to the TV screens to watch a Mohammad Ali fight. Schools would arrange to show his fights live as they were broadcast. Many would even declare it a holiday so that everyone could stay home and watch the black superman work his magic in the ring.
And if the world was looking for a Muslim icon at the time, boy did he deliver. It was a time when the words Muslim brotherhood had no ominous connotations and our hearts swelled with pride to be included in that magnanimous embrace.
Athlete and showman par excellence, he was also an outspoken activist who remained true to his beliefs at the cost of his career. Mohammad Ali's popularity transcended age, gender, and class and he remains a true icon for anyone who grew up in the sixties and seventies.
While hockey, cricket and squash have jostled for popularity in Pakistan over the years, Mohammad Ali's towering personality brought boxing to the spotlight for the span of his career. Unfortunately, it didn't do much for the sport in this country as our boxers remain largely faceless and unsung. Even the incredible middle-weight Olympic winner Hussain Shah was given short shrift by the nation to whom he brought such glory.
Mohammad Ali made two trips to Pakistan once in 1988 and then in 1989 for the Islamic Games held here. Strangely enough, apart from a few pictures, there is little on record about those visits, which should have taken the nation by storm.
For the generation who didn't know him, except as a revered athlete in history, they missed out on a unique experience. In his own words, his battle with Parkinsons, the sword that hangs over a boxer's head, was the toughest battle of his life. But through the years of his illness, he continued to reap honours and acclaim.
Mohammad Ali may have passed on to another realm. But it is no cliché to say that he will live on forever.
Zahra Chughtai has worked and written for Pakistan's leading publications including Newsline, the Herald and Dawn. She continues to write freelance.
Next