Profile: Documentary Filmmaker Samar Minallah Khan
Documentary filmmaker Samar Minallah Khan's lens has led us to the inner sanctum of Pakhtun women, and revealed the best and worst of their lives, their wide-eyed innocent children, their colourful, simple homes, and the customs and traditions that hold them down.
Samar is from that school of filmmakers who believe they are empowered to change mindsets, especially in this age of information that allows their message to be disseminated locally and globally quite seamlessly.
She has made social documentaries for nearly a decade now, and while she has underscored the life of rural Pakhtun women, she has worn the mantle of a genuine activist, and has consistently walked the talk.
"I have faced a lot of tough times because of my work, but my nature is to speak the truth – and often, people in Pakistan find that very weird," she says.
As an activist she recently struggled with undesired infamy when she was labelled as an 'Islam dushman(enemy)' by the Taliban, after she released the notorious Swat flogging video in 2009, and was forced to go into hiding. Hundreds of villagers and militants were a witness to the public flogging of a girl, whose screams still resonate with the same urgency as they did two years ago. Samar received several death threats and her credibility was questioned specifically by the Taliban, whose spokesman at the time denied the authenticity of the video. Samar also alleged that the commissioner of Malakand was complicit in the flogging crime, just so that the Taliban could establish their sway over Swat province.
"When the Swat debacle ensued, I didn't feel the level of danger till much later," says Samar, who reiterates that the flogging incident was just one of a thousand more such incidents, which included beheadings and public floggings. "The rumour circulating after I released the video was that suicide bombers were out to get Samar Minallah," she says. "I paid a huge price for speaking out against a human rights violation – it was emotional torture. Tele-preacher Aamir Liaquat Hussain dedicated a whole programme to me in which four maulvis issued fatwas against me, claiming that I had maligned the name of Islam. They lambasted me for not raising a voice for Dr Aafia, saying that even her sister objected about this – it was horrific to see their petty but dangerous objections," she says.
Samar maintains a positive attitude despite that traumatic period in her life. "The positive aspect of this experience is that one becomes strong after all the bashing. I believe I serve as a role model for my children. Speaking the truth is now a habit, and there are more rewards than there are impediments," she says.
Samar founded Ethnomedia – a not-for-profit independent media think tank – some years ago, which aims to challenge mindsets and fracture the silence via the truth transmitted through film. Samar has raised the bar to combine activism and film, and chases an issue as soon as it demands notice, without waiting for funding. With her focus on 'ethnographic filmmaking' she 'embeds' herself in the social world of her documentaries, and approaches subjects without the predetermined ideas of an outsider to provide a view from within. She believes her anthropological training holds her in good stead here.
Her debut documentary in 2003 that received national acclaim was Swara: Da Zhwand Mairman (Swara: A Bridge over Troubled Waters), about the Pakhtun practice of swara, where a young girl is given as compensation to the enemy's family in an attempt to resolve a dispute. Samar's sensitive depiction of the young girls affected by this practice, as well as an effective narrative, was ground-breaking. This was an area where no one had ventured before. She challenged patriarchal norms to speak to the girls herself and her initiative paid off when the documentary was used as evidence in the first-ever case on swara petitioned in Pakistan's Supreme Court.
Samar's depiction of Pakhtun society is the most natural outcome of her culture and upbringing. The daughter of a bureaucrat, Samar grew up between Islamabad and Peshawar, but also spent many childhood holidays visiting her father's ancestral village, Sirikot, in the Hazara district of Khyber Pakhtunkhwa.
"I went so often to the village and spent time with the villagers; this, to me, was a normal childhood. When I was older I realised the differences between us and that made me uncomfortable. But I believe that I've crossed that bridge via my films because their content impacts the lives of girls I grew up with. They didn't have the same freedoms and opportunities I was given," she says.
Samar is sentimental about this: "I speak for them via my films, these friends of my childhood, because they might not be able to speak for themselves. We completely relate to each other as women, even though our lives are now so different. My father always told me, you are one of them," she says, "and that's something I don't forget."
Samar combines her filming practice with teaching. Armed with an MPhil in Anthropology from the University of Cambridge, she currently teaches gender and media studies at the Quaid-e-Azam University in Islamabad. She also lectures a mixed student body at the Allama Iqbal Open University, the Civil Services Academy and the Police Academy in Islamabad. The purpose of the increased teaching assignments she explains succinctly: "I want my message to get to the right people, those who work with the citizenry on the ground and can help them change their lives."
Samar does not digress into platitudes, nor does she use her work as a self-promotional device to gain leverage in the corridors of power, here or abroad. She is a refreshing change from the more media-hungry breed of filmmakers, who may compromise the truth to gain fame. In her case truth and justice are the primary concerns, the rest is secondary.
"I'm not plugging an agenda, nor am I out to appease an international audience," says Samar. "Frankly, I don't want to get to that level." She continues: "My audience is the local people, especially those who appear in the documentaries themselves. Because of this my work is more rewarding," she says.
She is concerned with ensuring that any social message she propagates through her work reaches the people whose lives she films. "I make documentaries that are culturally sensitive so that they can be screened in the rural areas," says Samar. She takes her film back to her subjects and the people who affect their lives, and believes this is the only way to bring the change we would like to see. She enlists the support of civil society organisations working in the area to provide projectors, laptops, TV sets or whatever it takes to screen the documentary.
"I would like to see amateur filmmakers understand the documentary medium and attempt to work like activist Indian filmmaker Anand Patwardhan. The objective should be to film locally for the people, improvise with what you have. Once you localise your work, people begin to trust this medium and if you show the people who you interview what you have filmed about them, then you've done your job. If you are even slightly hesitant to show your subjects your work, I believe you dishonour them. I would not like to exploit people, and in the case of Swara (2003), I took my work back to the jirga and to the village," she says.
The jirga law on swara dictates that the compensation of a young girl to the enemy's family will end the dispute permanently. In the documentary, a Malik (a Pakhtun or Hazara tribesman) explains that this is done so – in case the crime was murder – that the killings do not go on for generations. However, in reality the girl spends the rest of her life fanning the hatred of her enemies with her presence in their home, and the filmmaker poses the obvious question: "If a girl is a symbol of honour, then why the decision to abandon her to the enemy's family?"
"I personally got involved during the filming of Swara," says Samar. "If you try to save a girl, the entire jirga turns against you," she says. "But I stood up to that pressure and, in fact, on live television, I told the PPP's federal education minister, Mir Hazar Khan Bijarani, that these girls were as important as he was, and should have the same opportunities as any privileged girl in the country."
On December 12, 2011, in a historic win for all women and human rights activists in Pakistan, The Prevention of Anti-Women Practices (Criminal Law Amendment) Bill 2011 spearheaded by MNA Donya Aziz (PML-Q), which declares anti-women practices punishable under the Pakistan Penal Code (PPC), was passed by Pakistan's Senate, and now awaits to be turned into a law. It imposes an imprisonment of a maximum seven years and a fine of Rs 500,000 on anyone who compels a girl to enter into swara and declares all similar practices punishable by law. In a unanimous decision, the Senate also passed The Acid Control and Acid Crime Prevention Bill.
Samar is very grateful to her family for their encouragement of her work, especially while confronting subjects considered taboo and dangerous. "My husband has always been supportive and has consistently advised me to do something worthwhile and do it for a good cause," she explains. Her home environment has also provided her the right stimulus: Samar's siblings are activist celebrities in their own right. Her brother Athar Minallah was the crusading lawyer in the nationwide anti-Musharraf lawyer's movement, and was spokesperson for Pakistan's chief justice. Her sister Fauzia Minallah wears several hats: she is a political cartoonist, artist, author, conservationist and activist.
It seems that a zealous streak runs in the family and is clearly evident in Samar's persona. "When I started making documentaries there were only certain types of documentaries being made in Pakistan – mostly they were promotional videos of companies, and a few pieces were on select social issues. I also wrote for Newslineover a decade ago and I believe the writing experience helped me pen material for film. I don't have filmmaking training, and I believe you can make a film without fancy equipment," she says.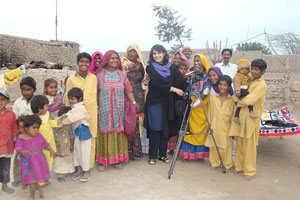 Samar challenges traditional entrenched norms using the film medium, and her latest documentaryKuch Khwab Hain Meray (I Have a Dream) advocates the rights of the child, with reference to child domestic labour in Pakistan. In this film, the children relate their own story on camera.
Samar spent seven months researching and documenting the yet unheard voices of these children via local people in communities in Karachi, specifically in the upscale Defence and Clifton areas, as well as in Quetta. She was shocked to discover that 90% of child domestic workers were girls. "It is tragic to see young children as young as six years old working in educated homes," she says. "These children are exploited, they live in the fear of being sexually abused, they don't get salaries," she says. "And this is perpetuated by educated people. The double standards of society are evident," she says. "Have you seen how some families take their servants to McDonalds and feed their children but not the children who work for them?" she proclaims in disgust. Samar also reveals a shocking statistic: just last year, 10 children died in their employers' homes, out of which nine were girls. She is enraged that there is no law on domestic child labour and that very few pressure groups lobby for children's rights. Screenings of this film started in December 2011 and Samar hopes this will help to change the way people think and act. "When we interviewed these children, each one of them said that our dearest wish is to go to school; our achievement is that two girls from the lot we interviewed have managed to join school – These are the small joys of my work," she says.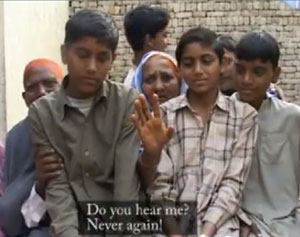 The Dark Side of Migration (2009)
The documentary focuses on human trafficking and describes how girls are bought and kidnapped from Khyber Pakhtunkhawa to be used in Lahore's red light area. Filmed in various parts of Pakistan, the documentary also follows the stories of child camel jockeys from Southern Punjab and Pakistani labour smuggled across the border from Quetta in containers and trucks.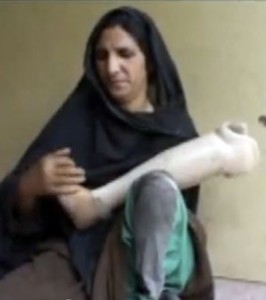 Dar Pa Dar – Where the Heart Lies (2005)
This film describes the real horror of 'collateral damage' in Afghanistan, post 9/11. Samar documents the impact on women and children in Torah Borah and the state of women refugees at the Sheendand Refugee Camp in Kohat.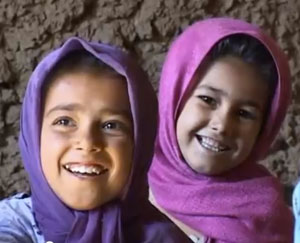 Allahu: A Lullaby for You, My Daughter (2008)
This docu-song is sung both in Dari and Pashto and is picturised as a prayer of success for the Pakhtun girl child. The lyrics are: "Become clever and educated/ Respect and serve mankind/ Ready for the challenges of life/ Learning makes the journey of life easy."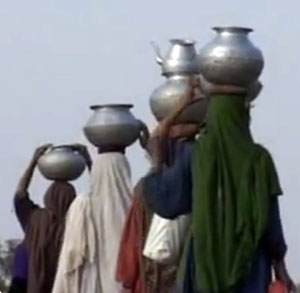 Bibi Sheerinay – Where Honour Comes From (2004)
'Bibi Sheerinay' is a song of tribute to rural women. It praises the unrecognised economic and social contribution of Pakhtun women in these lyrics: "From dawn to dusk you work/without rest or sleep you toil/selflessly you spend your life caring for others."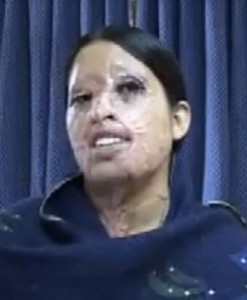 Against All Odds: Acid Attacks and Dowry (2010)
Samar meets people burdened under the most prevalent but least punished social crime – the scourge of dowry, which though considered a benign custom relegated to the realm of personal matters, is actually a culturally sanctioned form of violence against women. With the help of the Acid Survivors Foundation in Pakistan, this documentary also portrays the stigmatisation of women disfigured by acid attacks, a horrendous crime against women which is now punishable by law.
This profile was originally published in the Annual 2012 issue of Newsline under the headline "Walking the Talk."
More interviews and profiles of Pakistani filmmakers:
The writer is a former assistant editor at Newsline
Next