Book Review: Ode to the Theatrewallis
In her new book Forgotten Faces: Daring women of Pakistan's folk theatre, Dr Fouzia Saeed, author of Taboo! explores the world of folk theatre and its populace, men and women who created a make-believe realm cherished by many — a subject that has never been considered worth exploring before. Tracing the history of Pakistani folk theatre, with a particular focus on the lives of women who played significant roles in this field, this book offers a fascinating glimpse of an art form that has, sadly, been dying out in Pakistan.
The subcontinent has a rich history of various forms of theatre as South Asia has traditionally been an oral culture, with storytelling as one of its main modes of transferring cultural knowledge. This storytelling, along the way, took the form of folk theatre — among other expressions of collective sharing of ideas, thoughts, human values, sentiments and emotions. Unfortunately, this indigenous form of expression has seen a downfall in Pakistan in the last couple of decades. Saeed's book is, in effect, a tribute to a particularly vibrant aspect of our cultural heritage that is now fading.
The book, in a handy coffee-table format, is a publication of Lok Virsa, the National Institute of Folk and Traditional Heritage, an organisation that has worked for the revival of folk theatre in recent times. Saeed chose to write about folk theatre because she feels that "our society is dangerously neglecting its traditional and classical performance arts."
Interspersed with remarkable photographs which depict the lives of the performers, both onstage and off, this book vividly captures different aspects of these folk artistes' lives. From the munshis who helped illiterate actors memorise their lines, to the theatre owners who often married their top female performers in order to ensure their involvement in their theatres, Saeed's book is filled with colourful characters, whose extraordinary lives keep the reader's interest piqued. She describes in vivid detail the complex system of loyalties, relationships and emotional motivations that determine the dynamics of a theatre team.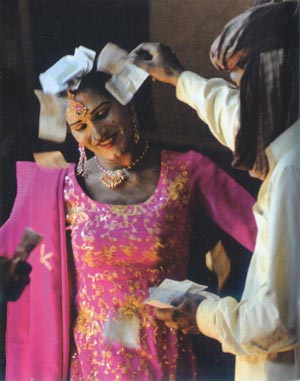 A significant part of the book is dedicated to detailing the lives of women who have played important roles in the history of Pakistani folk theatre, particularly Bali Jatti, who was one of the most popular folk theatre artists for almost three decades. Known for her bold actions onstage, including her tendency to hurl obscenities, Bali Jatti developed a distinctive genre of performance that combined existing modes of theatre performance with a unique form of audience interaction. Saeed chronicles the life of Bali Jatti in great depth, based on her extensive interviews with the star.
Saeed does her best to present folk theatre from the perspective of the women involved. The difficulties faced by these women as they tried to find their place in the largely male-dominated world of theatre represent the struggle of women in our society in general. The picture portrayed is that of many contradictions, as on the one hand these women led lives of great glamour onstage, that mesmerised audiences who showered them with appreciation, while on the other hand they had to cope with the stigma associated with performing women that was prevalent in the larger society. Despite being such important members of the theatrical team, these women weren't even allowed control of the money they earned, as almost all of it — including the monetary inaam given to them by audience members — was in the hands of the men in their lives, be it their fathers or husbands. In the case of the ones who were married to theatre owners, payment wasn't even made in the first place. Whereas onstage these women were strong and powerful, captivating their audience with riveting performances, behind the scenes they were often victims of domestic violence, as wife-beating was common in the community.
In writing this book, the author draws heavily from her own research that she conducted in the late 1980s, when the last vestiges of folk theatre were struggling to survive. Saeed spends some time recounting her experiences as a researcher. Her account of the way she followed these nomadic groups through the rural towns of Punjab and Sindh, and how she persistently approached various members of the theatre community to convince them to share their experiences with her, is laudable but somewhat distracting, as it takes away from the essence of the subject matter, which is the lives of these people. In such instances, one is left wishing to get back to the actual stories, instead of reading about how these stories were recounted to the author.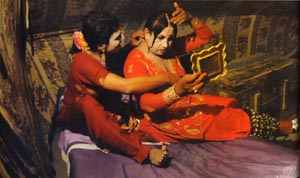 Nevertheless, it is clear that the book is exceedingly well researched. Saeed draws upon the experiences of many different people in order to paint a vivid picture of the life of a folk artist. Everything, from the way these people lived together in erected tents, forming a sort of extended family, to the ways in which certain members of the audience could request a meeting with female performers behind the scenes by giving award money to them, is detailed here.
Forgotten Faces does have certain shortcomings. A structured analysis, for instance, of the reasons for the decline of folk theatre culture is lacking, and it is rather vague in charting the rise and fall of this art form through history. Also, the text could have done with better editing and removal of typographical errors. However, despite these limitations, it achieves its true aim: to celebrate and honour the lives of people who devoted themselves to the performing arts, and paved the way for future generations to do the same.
Nudrat Kamal teaches comparative literature at university level, and writes on literature, film and culture.
Next