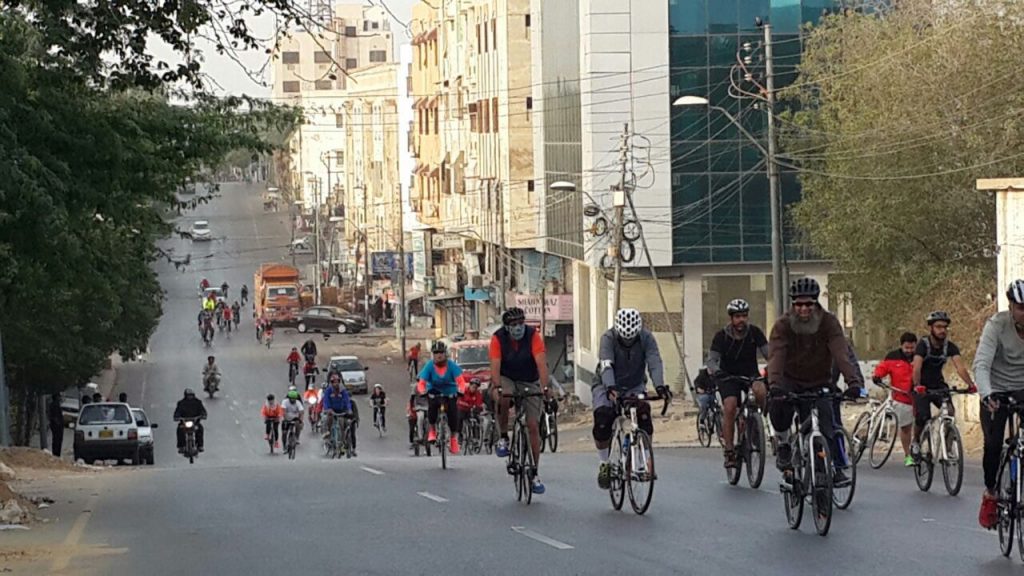 As the first rays of sunlight creep into the sky, the cyclists trickle out of their homes. As the sky pales further to welcome the new day, they congregate, adjusting their helmets and exchanging banter before setting off on an early morning ride.
A quiet revolution has been taking place in Karachi. Slowly, surreptitiously, a group of cyclists has been reclaiming the streets of the city for sport, exploration and recreation. But these are no activists. Critical Mass Karachi is simply a group of people who like to cycle. Started in 2009 by a few like-minded friends, the group today has some 14,000 members on Facebook while their community rides pull in anywhere from 200 to 350 riders.
"The Critical Mass Movement was started in San Francsico in 1976 by people trying to reclaim space for bicycles," says Arif Belgaumi, one of the group's admins.  "The idea was to clog up the streets, it began as an act of rebellion." Since then, the movement has spread to 350 cities around the world including Lahore, Karachi and Islamabad. "Critical Mass Lahore was the first in Pakistan but we followed only a few months later in October 2009," remembers Belgaumi. "And we just completed our 183rd ride," puts in Naeema Kapadia, another admin.
CMK holds community rides for anyone who wants to join in on alternate Sundays while alternate Saturdays are reserved for children and newbies who are given tips and guided by the infinitely patient CMK members. "We can't take responsibility for everyone joining us," says Salman Beg, another CMK admin. "We just organize a route and say let's all ride together. But there is an informal air of responsibility. For example, our core members position themselves at intervals throughout the group of riders, we navigate them through signals and see that no one gets left behind…we keep an eye out for safety as far as possible."
So, if you get up early enough, on a typical Sunday group ride, one can see a motley group of cyclists including women and children navigating the less crowded areas of the city.  There is a sizeable representation of women in the group and the women are quick to agree that they feel a sense of security within the group. "There is a very respectful camaraderie amongst all of us."
"We start out early to avoid traffic," says Belgaumi. "But although security is at the back of our minds and we are careful, we have never really had any problems." "Criminals aren't usually up at that hour," adds admin Mazhar Valljee.
Besides security, the group also emphasizes safety. For instance, no one can join the ride without a helmet.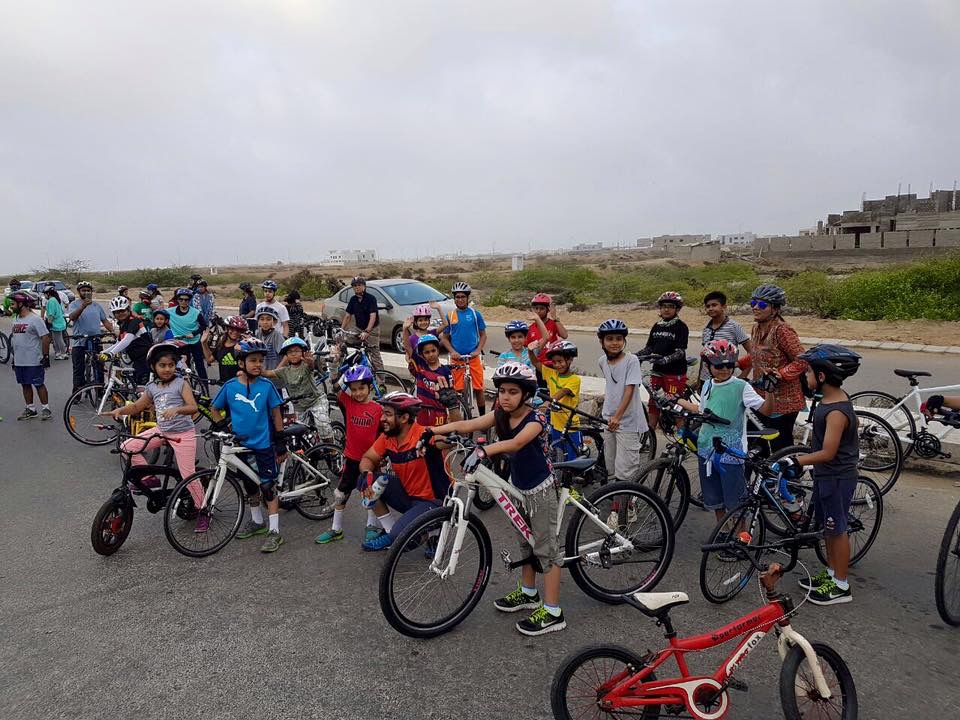 So what are the challenges of cycling on the mean streets of Karachi?  "For me it would be poor air quality and dust," says Belgaumi. But Naeema is quick to cut in, "Ask us women, we can't cycle without a chaperone." Annabel Belgaumi nods in agreement, "Yes, and then we get most of the stares," she adds. "From a distance, people can't always spot the females, but the minute they do figure it out, the car or rickshaw will 'side' [swerve towards] us," adds Naeema.
In general, however, the group gets a very positive response from the average person on the street. "We do tend to stand out not just because we are on bicylces but because of the way we are clad, with helmets and other safety gear," says Beg.  "When we cycled all the way to Bahria town, for instance, a 114 km ride, people stopped us and said we want to do this too. And because we are not athletes, we look like regular guys, people are intrigued and encouraged. At first they think its some kind of race. When they ask us what we are doing I tell them it's just "tafreeh." " 
"When we went to Rashidabad, the whole village came out to cheer us on," recalls Naeema. In search of new routes, the group has traversed some of the more scenic and interesting areas of Pakistan like Gadani, Hingol, Nagarparkar and many others. She laughs about one occasion when an elderly gentleman recited the 'Lahol" as she cycled past. But these are aberrations.
CMK has also seen spin-off cycling groups developing, one of which has the tongue-in-cheek name Cyclopaths. "They are a bunch of adventurous, young guys who are great at scouting out new routes," says Valljee. "There are many different rides within the group too now," says Belgaumi. In fact, CMK has a core group of dedicated riders all of whom are responsible for conducting activities and keeping the community engaged.  The children's riding group is one example. "People from different localties also approach us now and we encourage them to start their own rides."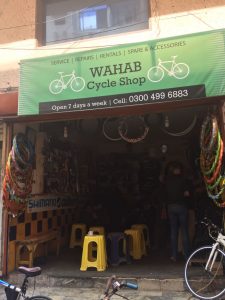 Dinaz Ghandi is a maxilo-facial surgeon who has been an avid rider with CMK for over a year now. She speaks of what drew her to the group. "I loved cycling as a kid and always got scolded by my mother for cycling on the roads," she recalls. "But I gave it up as the years passed and got busy with my career. Then I fell ill and after undergoing chemotherapy and surgery I gained a lot of weight. A friend who was a member of CMK asked me to join the group and I haven't looked back since." Dinaz is appreciative of the support she has received here. " The group has been so nurturing, so patient with me. Cycling in Karachi has its own challenges. You have to sharpen all your senses. In fact, it's more of a mind game. One is very vulnerable. Abroad there is a system, there are laws for cyclists and the other vehicles but here it's all on you."
 Besides creating awareness and sporting opportunities, the CMK movement in Karachi has also generated employment. The number of cycle mechanics and used and new cycle stores have burgeoned. A case in point is Wahab's cycle shop. Originally from Quetta he ran a small bicycle repair shop when he was asked by CMK to accompany them on long rides because they wanted a mechanic along. That was 6 years ago. Wahab picked up expertise from another CMK member as well as the talented Lyari mechanics and his shop is now the go-to place for serious cyclists for repair or rentals. 
Then one of CMK's own admins has launched a venture called Bikestan which has a cycle dealership from abroad. "But Bikestan is more than simply a store," says Valljee. "If you walk in you will find cyclists chatting about timings, equipment etc. Young kids, who would otherwise be whiling away their time uselessly come in here and are inspired." 
Another positive development has been the first private sector cycling race organized by Bikestan. In fact, the Bikestan League actually received funding from the Sindh sports department courtesy the current sports minister. "It was very well organized with 30 participants and spread over 5 weeks," says Valljee. "Soon after this event, because the participants had become fit enough and learnt the techniques, some of them tried out for the Pakistan Open cycling races and four of them qualified. One even went on to win a bronze medal and he just started cycling a year ago. " Belgaumi points out that Lyari is teeming with athletic talent. "One day we will be sending a kid from Lyari to cycle in the Olympics."
For now the group feels that is their civic responsibility to take this platform and push for better cycling conditions in the city.  Belgaumi hopes, "Perhaps we can be given a stretch of road to fix up."  
Zahra Chughtai has worked and written for Pakistan's leading publications. She is currently Newsline's website editor.
Next