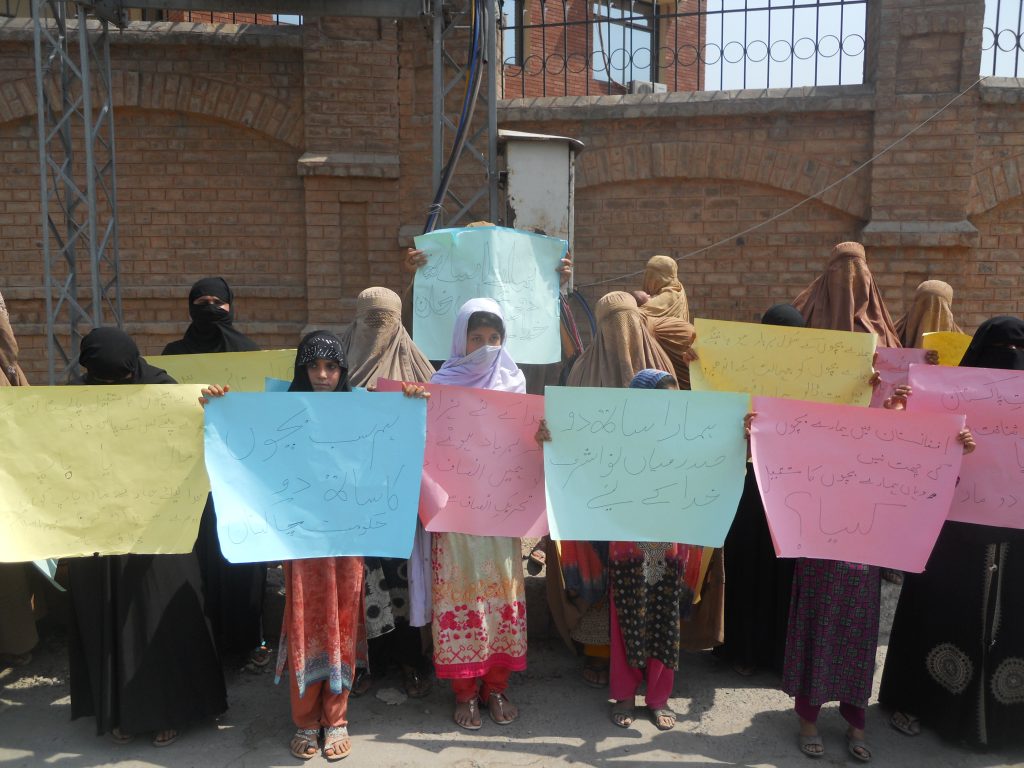 Peshawar:  Salma Bibi 42, veiled and dressed in black  stands along the busy Sher Shah Suri Road opposite Cantonment Railway Station near Peshawar Press Club. She is part of a group of protestors, including  young women with infants  and more elderly ladies. They are appealing for the return of their loved ones.
Salma Bibi, is a Pakistani national, living in Dalazak Road in a small city of Khyber Pakhtunkhwa. She was married to an Afghan refugee some 15 years ago. But in the recent repatriation drive, her husband was forced to return to his Afghan homeland. As the movement has gained momentum, several such families, of Pakistani women married to Afghan nationals, have been torn apart. Registered and unregistered Afghan nationals have been forced to return home for not having legal documents to continue living in Pakistan.
Salma Bibi, who has seven children including two sons and five daughters, says her husband  Gul Rehman was apprehended in the Abbotabad district of KP by police personnel and deported to Afghanistan. "My husband was a taxi driver who was the sole breadwinner for the  family. Now I go to nearby neighbors homes to wash  dishes and sweep in order to feed my newborn and other children" she explained  miserably.  "I hardly used to earn about 2,000 rupees from this work but right now I can't even do that work  because my two-month-old  son is breastfed and my employers want me to work harder which I can't do," she reasoned.
Her house rent is 6ooo rupees a month and  five of her children are enrolled in state-run schools in the area. "My brothers are helping me and paying for my rent and children's expenditure. But for how long?" "I could not go to Afghanistan with my husband because he does have any property or home in his native land," she adds.
"My children look at their father's photos and cry. I try and console them that their father will come back soon but I don't think they believe me. In this situation, I won't be able to continue educating my children," Salma laments.
When contacted for his comments, the United Nations Higher Commission for Refugees (UNHCR) spokesperson, Qaiser Afridi, said they had no statistics pertaining to Pakistani women married to Afghan nationals.
This would come as alarming news to another woman, Naheed Bibi of the Hashtangari area of Peshawar. The forceful deportation of her Afghan husband has left her in severe financial straits since he was a daily wage earner and the family's sole provider. Naheed Bibi married Shah Rehman about ten years ago and they have two daughters, one of whom goes to school.
She wistfully recalls the old days when the government's attitude towards the Afghan nationals was soft. But all that has changed and her life has been turned upside down.  She asks the relevant authorities of Pakistani and Afghan governments to formulate a plan to find a viable and humane solution to her problem.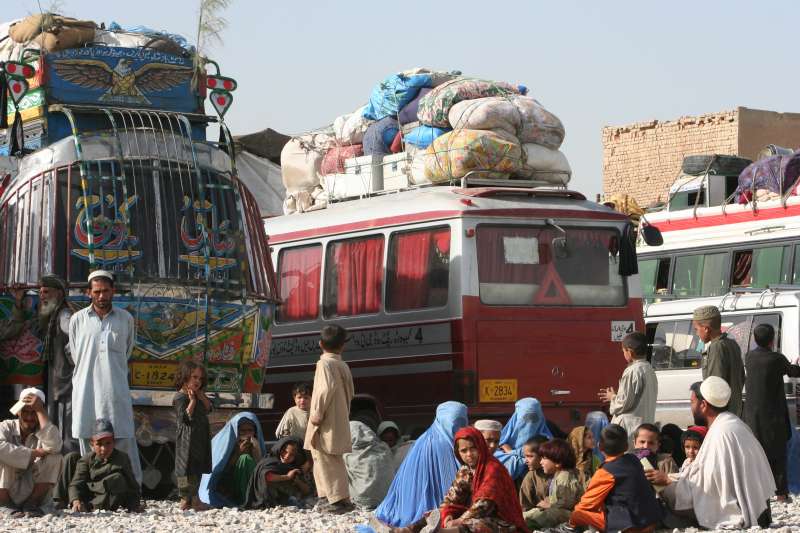 "We want our husbands to stay in Pakistan lawfully. I am reluctant to move to Afghanistan with my husband as he has nothing there. The future of our children is at stake," she pleads.
As per statistics shared by the UNHCR office in Chamkani area of Peshawar, a total of registered 6,4844 Afghan refugees families and 3, 31479 individuals have been repatriated to neighboring Afghanistan via the Torkham border. The office claims that 98 per cent of Afghan refugees returned from 18th July to 16th November, 2016 as the process has been expedited in the last few months.
According to the office, every documented Afghan refugee gets a sum of 400 dollars and food items under World Food Program (WFP) upon their return to their native land. They also claim that the Afghan nationals are returning to their homes on a voluntary basis.
On September 8, in an inaugural ceremony of a refugee center, Dr Imran Zeb, chief commissioner for Afghan refugees,  said that certain issues including students education, inter-marriages, businesses and properties have come under discussion with Pakistani government officials. While citing a meeting with Prime Minister Nawaz Sharif, he said that the PM had directed the State and Frontier Regions (SAFRON) ministry to hold meetings with Afghan officials pertaining to these multiple issues and come up with recommendations.
He categorically said the businessmen will be awarded business visas, students with student visas and for family ties there are rules in place. A five-year  visa will be also given to Afghan nationals married to Pakistanis after these recommendations are approved by the federal cabinet. He claimed that the central government is cognizant of these facts and most probably a summary will be sent to the cabinet for approval.
However, since then none of these matters seem to have been taken into account in the repatriation drive. Last week the affected Pakistani women along with their children staged another protest demonstration outside the Peshawar Press Club, asking the central and provincial governments to resolve the matter pertaining to their husbands forthwith.
But according to Bashir Said, a lawyer at the Peshawar High Court, Pakistan does not bestow citizenship in the light of the Pakistan Citizenship Act, 1951. Citizenship was only awarded to persons migrating from Indian territory before 1952. At present, there is no provision for men to be eligible for nationality through marriage, although a woman marrying a Pakistani man can be.
Despite several phone calls and messages, Dr Abdullah Waheed Pohan, an Afghan Consul General in Peshawar KP, could not be approached for his comments on the matter.
Farid Shinwari is a Peshawar and FATA-based journalist who writes for a number of leading publications.
Next