Will Qadri's Death Sentence be his End?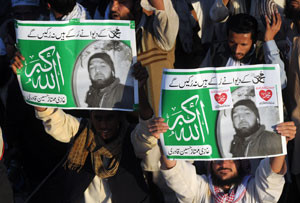 An anti-terrorism court in Rawalpindi passed a verdict yesterday that sentenced Governor Salmaan Taseer's murderer to death.
Malik Mumtaz Hussain Qadri's crime was doubly heinous: he not only showered bullets on a fellow human but also brought disrepute to Islam by claiming to represent the religion in the act. He has no remorse and he would do the same if given a second chance, he claims.
The Pakistani blogosphere is already replete with arguments in favour and against the death penalty. Many are happy that the brave Taseer family finally has closure. Others protest it as an attack on Islam.
Just hours after the verdict by Justice Syed Pervez Ali Shah, a protest was carried out in Lahore labelling Justice Shah a non-Muslim and making him the target of filthy outrage. "Jawaniyaan Luta'ain gey Mumtaz Qadri ko bachayein gey" (we will sacrifice our youth to save Mumtaz Qadri) was the newly found slogan of this group. The madness did not stop at this. A speaker at the protest offered five million rupees in exchange for the judge's murder. "Any brave soul?" he questioned. Sunni Tehreek leadership did not surprise us one bit either. "This decision was made to please the Jewish lobby," said Tehreek leader Sahibzada Ata-ur-Rehman.
Qadri is an iconic figure for the right-wing (bay)ghairat brigade. As such, his sentence is not the defeat of one man but that of a dangerous vision. What we must not forget, however, is that this deadly ideology will never be completely defeated without hitting at its roots.
Today, Pakistan has unfortunately become a factory of Qadris. Sentencing one Qadri will not rid us of the factory that now has franchises in all parts of the country and is aspiring to become a monster enterprise. Take this video for instance:
[youtube]http://www.youtube.com/watch?v=ElooBfutKZo[/youtube]
Mufti Hanif Qureshi, leader of the Shabab-e-Islami group, used the most vile language against Governor Taseer and invited his audience to kill him during a sermon, days before his assassination. "That rascal, scoundrel, apostate governor is uttering rubbish like a filthy dog," he said. He went on to accuse Taseer of being a Sikh, showing his obvious contempt for non-Muslims. He accused the governor of blasphemy without any evidence and called for his murder. He made sure his message was clear to all, having the crowd echo the words "death" and "murder" multiple times.
In this case, Mufti Hanif Qureshi was the factory and Qadri the product. And mind you, there are thousands of these factories all over the country that have taken us captive. It is these that must be closed down — and quick.
It is very regretful that our authorities keep ignoring the open expression of hate and incitement to violence by so-called religious clergy. Instances to this effect are numerous and unending. For decades, extremist clergymen have been making calls for violence against Ahmadi and Shia Muslims and non-Muslim minorities within Pakistan. The state has remained silent. It has failed to protect its citizens against evident terrorism. If anything, it has — through its discriminatory laws — promoted such behaviour and endorsed extremism in the process.
In an independent state with an independent judiciary, no one must be allowed to take the law in their hands. Hate speech must be checked. Speech that is hateful, threatening, abusive, or insulting, and which targets a person on account of skin colour, race, ethnicity and religion, must be forbidden. Unless this is taken seriously and unless hate factories such as Mufti Hanif Qureshi are checked and stopped from spreading hate and instigating open violence on Pakistani soil, a mere death sentence will not change us for the better.
So, coming back to the question will Qadri's sentence mean his end? No, it won't. But it is definitely a bold step towards that end. If followed up with the institution of more stringent laws against hate speech and the instigation of violence, it could be the basis of vital change. Pakistan Zindabad!
Next