What's Inside: A Peek at the May 2011 Issue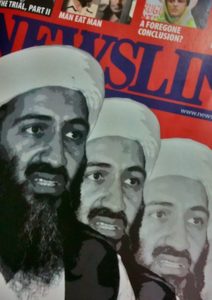 What's in Newsline's May issue?
Well, there's enough meat in this issue to keep you sated until June.
On Osama bin Laden:
Our multi-part cover story asks, "With Osama gone, is Pakistan now Public Enemy Number One?"
In two in-depth articles, respected journalist and Al-Qaeda expert Rahimullah Yusufzai explores the manhunt that lasted a decade and ended in Pakistan. He analyses Pakistan's failures and responses in respect to the fatal Abbottabad raid and also delves into the frosty nature of the CIA-ISI relationship, exploring how ties have worsened in the past few months and how the latest chapter will shape the future of the distrustful relationship.
Arif Rana probes the mysterious night-time raid and talks to people in Abbottabad about it, while Sairah Irshad Khan provides a crisp biography on Osama bin Laden and ponders his legacy.
On re-opening the ZAB Trial:
I.A. Rehman (in "The Trial, Part II") explores whether a new verdict in the case against Zulfikar Ali Bhutto can restore the PPP's fast diminishing credibility.
Accompanying that analysis are two interviews: one with Sardar Mumtaz Ali Bhutto and another with Ghulam Mustafa Khar.
In "Bhutto in the Pakistani Imagination," Ayaz Amir explores how Bhutto in power was a flawed figure but Bhutto deposed is the stuff of legend and poetry.
On the Mukhtaran Mai Case:
Salman Raja analyses the Supreme Court's judgement and argues that unless the stereotypical narrative of rape that governed Mai's case is not reconstructed, future rape victims will find that irrespective of the evidence, they have already been ruled against in the courts of law and public opinion.
Newsline interviews Senior Supreme Court Advocate Iqbal Haider for his analysis of the controversial judgement.
On the Economy:
Amir Zia looks at the government's aversion to adopting tough economic reforms despite pressure from the IMF.
And there is lots more:
Aoun Sahi investigates the bizarre case of cannibalism in a Punjab village.
Mahir Ali looks at the Arab Spring and the US and Israeli reactions to it.
Sujoy Dhar contributes his monthly letter from India in which he writes about civil society's newfound unwillingness to remain silent.
Farieha Aziz interviews Pakistan cricket superstar Shahid Afridi and finds him to be every part the people's captain: down-to-earth, hospitable and, of course, charming.
Shanaz Ramzi recaps Style360 Bridal Couture Week.
Zara Farooqui profiles food connoisseur and professional chef Amina Agha, aka Poppy.
Maheen Bashir Adamjee interviews Bilal Maqsood of Strings.
And of course there is even more: more on politics, more on books, more on movies and more on art.
Get the full package and be fully informed. Buy your copy today.
The May 2011 issue of Newsline is available on newsstands across Pakistan now.
Next