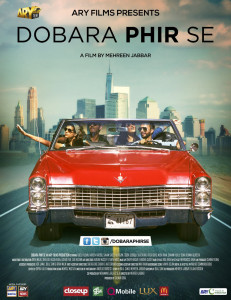 Mehreen Jabbar's Dobara Phir Se will soon be hitting cinema screens. Written by Bilal Sami and boasting an impressive cast which  includes Adeel Husain, Hareem Farooq, Sanam Saeed, Ali Kazmi, Tooba Siddiqui, Atiqa Odho, Shaz Khan, Musa along with many others.
Set between New York and Karachi, this feel-good romance showcases both the cities that the director, Mehreen Jabbar,  calls home.
Follow the links below to get a first glimpse of what's in store.
To watch the first teaser click here:
https://www.facebook.com/ARYFilmsOfficial/videos/782437545225533/
Next