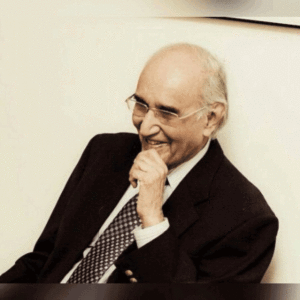 The caliphs of literature have devised a new manner of self-praise. Every time a great poet, writer or journalist passes on from this world, they descend on the scene hawking their memories and initiate their sale of the dead. Abdullah Hussein, Intizar Hussein, Naiyer Masud were all treated in this manner.
All articles on eminent Urdu humourist Mushtaq Ahmad Yusufi, written after his demise in Karachi last month at the age of 94, have put the reader in a quandary. Is it Yusufi who is the recipient of these flowery offerings or are the writers attempting to string a garland for themselves?
As I had never met Yusufi, what follows is strictly my impressions of him as a reader.
Having read Yusufi's 13 humorous essays in Chiragh Taley, along with 'Caesar, Mata Hari aur Mirza' (Caesar, Mata Hari and Mirza), 'Qaumi Joota' (National Shoe), 'Hue Mar ke Hum Jo Rusva' (When We Were Disgraced in Death), I felt he was true to William Makepeace Thackeray's definition of humour: "Truth topsy-turvy, entirely logical and absurd."
In 'Cricket,' an essay on the British, Yusufi wrote: "Their national attribute is that they become extremely emotional in the matter of entertainment and the worst sort of businessmen in matters of love. The result of this pleasing contradiction is that their philosophy is extremely superficial and their humour very deep."
Most humourists in Pakistan regard mere foolishness as humour, reflecting little on what exactly it is that elicits laughter. Yusufi was greatly influenced by British humourists. His humour was such that its impact increased the more you thought about it. He was well versed in literature and philosophy and his vast knowledge complemented his ability to present the "topsy-turvy" perspective of the truth.
Yusufi's essays, while long to the point of exhaustion, never lacked originality. Mirza Abdul Wudood Beg, a recurring character in his work, is rooted in Yusufi's experiences and in local traditions, as are the mindless practices of our society. He turned every human and animal into an effective comic character. The cockerel in 'Aur Aaana Murghion Ka' (And When the Hens Come), and the dog in 'Caesar, Mata Hari and Mirza', both come to life in front of our eyes. The cooks in 'Junoon-e-Latifa' (Madness of Humour), are a nod to Wodehouse's butlers but by no means an imitation. They are based on acute observations of our culture.
Most of his essays were a critique of comical mistakes and bunglings of Pakistani society. In 'Parriay gar Beemar' (Lest You Fall Sick), 'Sinf-e-Laaghir' (The Leaner Sex) and 'Kaghazi hai Pairahan' (The Paper-Thin Dress), he unveiled the common ways in which the sick are cared for, the foolish attempts by women to make themselves thinner and the taste for naked art, respectively.
'Mausamon ka Shehr' (City of Seasons), meanwhile, highlights mankind's stupidities. Migrants who settle in Karachi have a habit of complaining about the weather at every opportunity — a tendency Yusufi characterises as being foolish. In 'Chaarpai aur Culture' (The Cot and Culture), the status and importance of the charpoy in our culture is highlighted:
"But the most dangerous type of cot is that in which the aged men of God, merely by the power of their faith, remain stuck in the remaining, broken ropes (of the cot). The same kind of swinging bed is used as a swing by children and by the old like a receptacle for the purification of the soul. In elite households, such cots are now hidden in the nooks and corners like poor relatives for use in bad times. By chance, I myself slept on one such cot one night at Mirza Abdul Wudood's; a healthy person can well become a noon ghunna (a diacritical mark) as soon as he lies down on it."
Our literary tradition focuses on the style of delivery, and humour was not excluded from this. The hijvs (satires) of Sauda, the kalaam of Akbar Allahabadi, and the essays of Rashid Ahmad Siddiqui and Patras, relied on fine sentences, sharp lines, proverbs, aphorisms and the altering of popular verse for comical effect. Many such examples are also to be found in Yusufi's style. However, he also deployed digressions — often used by the modern English humourists. He would deliberately go off-topic and then return to it.
Filled with irony, Yusufi's words brought to the fore awkward truths and sensibilities that one hesitated to comment upon.
Yusufi may have refrained from being a reformist force in satire, but his impact was nothing short of this. Like the French humourist de La Rochefoucauld, he said, "I do not give an opinion. I do not reform. I merely unveil." His general opinions were bitter pills, sugar-coated with humour — an accurate diagnosis of the ills of society. In 'Qaumi Joota' (National Shoe), he very courageously analyses the mistakes associated with the ideology of nationality and its destructive effects.
Described as "the greatest writer after Ghalib," Yusufi's wit and satire remain unparalled.
Yusufi left behind a treasure trove of writtings, among them Aab-e-Ghum, Charagh Taley, Zargushist and Khakam Badahan.
(All translations from Urdu to English by the author, Raza Naeem.)
The writer is a social scientist, translator, book critic and a prize-winning dramatic reader based in Lahore.