Six Reasons Why Pakistan Lost at Eden Gardens
Pakistan went into the World T20 game against India as favourites,  at least for some former cricketers and cricket analysts. Sadly, however, we couldn't break the years-long jinx and ended up losing yet another encounter.
Losing to India in every World Cup game always bewilders Pakistani fans with a common question popping up in their minds: "Why do we always break down against India in ICC events ?" Some cricket enthusiasts favour conspiracy theories hinting at 'political influence' surrounding Pakistan-India matches. Whatever the reason, the  result remains the same every time.
However, this time round Pakistan was in a comparatively better position than India (in terms of players' form after a remarkable victory against Bangladesh in the World T20 opener). Still the players could not keep their nerves and eventually collapsed.
Here are six reasons that I believe were instrumental  to Pakistan's drubbing.
1. Poor pitch reading
Pakistan's bad day began with a bad decision. Before the match kicked off, there was a heavy downpour at the Eden Gardens leaving mositure in the pitch. This was enough evidence that spinners would have a major role in the game. How come captain Shahid Afridi (having played 520 international games and head coach Waqar Younis with experience of 349 international matches) failed to read the pitch correctly?
The team even dropped promising left-arm spinner Imad Wasim and picked pacer Muhammad Sami in his place. Though Sami didn't disappoint, but it was a pitch that had more to offer spinners. Indian spinning duo Ravichandran Ashwin and Ravendra Jadega had Pakistani batsmen cluelessly shuffling on the crease. That was enough to see what the pitch was all about.
2. Dot balls
The game was reduced to 18 overs due to a delayed start because of rain, but Pakistan couldn't demonstrate the necessary aggression despite batting first. Batsmen played 38 dot balls and badly struggled in rotating the strikes, unlike the previous match against Bangladesh when our team players dominated the bowlers outright.
3. Reliance on pacers on a spin-friendly track
Pakistan had set meagre  119-run target for the mighty Indian batting side. Afridi had seen the amount of turn spinners were getting on the pitch. But the skipper stuck to his mechanical approach and attacked with two fast bowlers (Muhammad Amir and Muhammad Irfan) in the powerplay.
This approach revealed the skipper's defensive approachr or perhaps his fear of failure. Afridi could have attacked the Indian batting with Malik instead of Irfan. One over could have made all the difference, but the captain was too nervous to take a chance.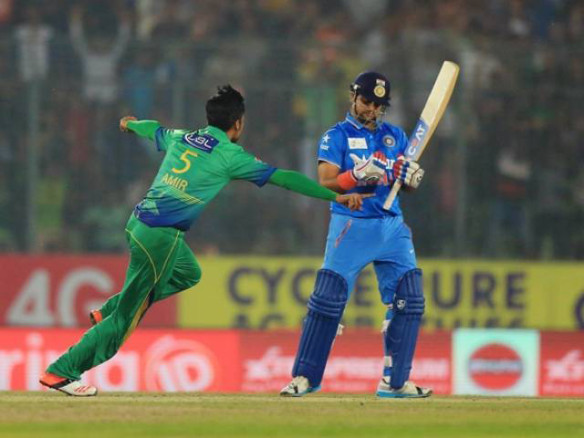 4. Failure to build pressure
Muhammad Sami almost brought Pakistan back into the game by dismissing Shikhar Dhawan and Suresh Raina on back-to-back deliveries in the fifth over. It was a moment that shook the Indian dug-out. But Pakistan couldn't keep the momentum going and failed to build pressure with tight bowling.
One more over from Amir at that stage could have challenged the opponent's batsmen. But the captain was in no mood to do something out-of-the-box to surprise the Indian batting. Yuvraj Singh and Virat Kohli collectively added 61 runs on the board and that turned the tables on Pakistan.
5. Free license to Kohli
Pakistan is well aware of the brilliance of Virat Kohli and his outstanding record against them. He is undoubtedly a master player who can rotate strikes against any bowling attack.
Did Pakistan have any plan to contain Kohli ? Apparently not. He fluidly scored runs, took doubles and singles while our bowling attack passively waited for him to self-destruct with a bad shot, but that didn't happen.
6. Mental block
The body language of the Pakistani players showed little confidence or aggression throughout the game. Since March 1992 till date, Pakistan has lost 11 World Cup matches (both ODIs and T20s) to India. It is ironic that while the team recognizes this failure to cope with pressure, they have never addressed the lingering problem.
Bad team selection, captaincy failures, lack of consistency in performance and internal rifts seem to go hand in hand with the Pakistan team, and the failure to check these problems is eroding the sport from within. Simply changing faces in the team and cricket board will not cut it. It's high time we tackle all these issues in earnest.
The writer tweets @Azharkh4
Next