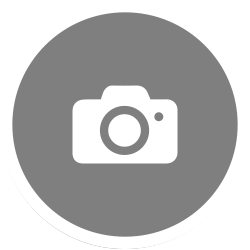 Photo Gallery: The Handicrafts of Sindh, Pakistan
Remains of the day: A deteriorating archway built with red bricks.
Initial steps: Clay is kneaded for a smooth texture before being shaped into a particular piece of pottery.
Early stages: Formed clay is left out to dry. This is one of the initial phases of pottery.
Foundations: A worker lays the base patterns on a piece of pottery. Detailed patterns are added later.
On display: Numerous works of kaashi (pottery) can be found on the walls of these tombs around old Haala.
Resting place: Beautiful tile work and carved stones characterise the tombs around old Haala area.
Writing on the wall: Detailed calligraphy is found throughout the blue tile work (kaashi) at Shah Abdul Latif Bhittai's tomb in Bhit Shah.
Elevated beauty: Colourful tile work (kaashi) covers the ceiling of Shah Abdul Latif Bhittai's tomb in Bhit Shah.
The art of hand-loomed fabric: Soosi is an indigenous Sindhi handicraft.
Metamorphosis: A mix of patterns is transferred before the actual embroidery process, turning a piece of cloth into a beautiful handicraft.
Tools of the trade: Tools and stencils used for transferring patterns for the embroidery of a Sindhi topi.
Fine work: The intricate embroidery and crochet work on a typical Sindhi topi (cap).
Ready for the sale: Finished Sindhi caps (topi).
Labour of love: A worker washes ajrak, the famous blockprinted cloth of Sindh, at a water stream.
Final product: A piece of ajrak goes through many steps and processes before it looks like this.
A symbol of Sindhi culture: Intricate ajrak designs are available in diverse colours and patterns.
Previous
Next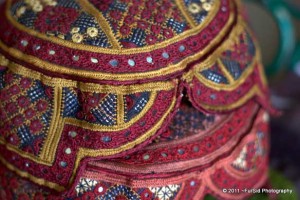 Sindh has many indigenous handicrafts that have, despite their beauty and heritage, been denied the limelight and exposure they deserve. In an effort to document these crafts, I embarked on a trip to interior Sindh in July 2010.
My trip to Haala and Bhit Shah included visits to the factories and artisans who, day in and day out, work to create these beautiful crafts for us. Ajrak, kaashi (pottery), soosi (textile), Sindhi topi (cap) and jhundi (furniture) are some of the amazing items produced by these brilliant artists. These artisans have invested lifetimes and generations of experience, only asking for the basics in return: food and shelter.
I met a man involved in dying ajrak. He was committed to his craft, but had one request: better infrastructure and support for the industry. His hands were dyed blue from the chemicals he is exposed to daily. Craftspeople like him are underpaid and overworked but remain sincere to their traditional art.
Elsewhere, a potter I met compared his situation to slavery. He said he was forced to work indefinitely to pay off his grandparents' debt to the factory owners.
Below are photos from my travels within Sindh.
Next