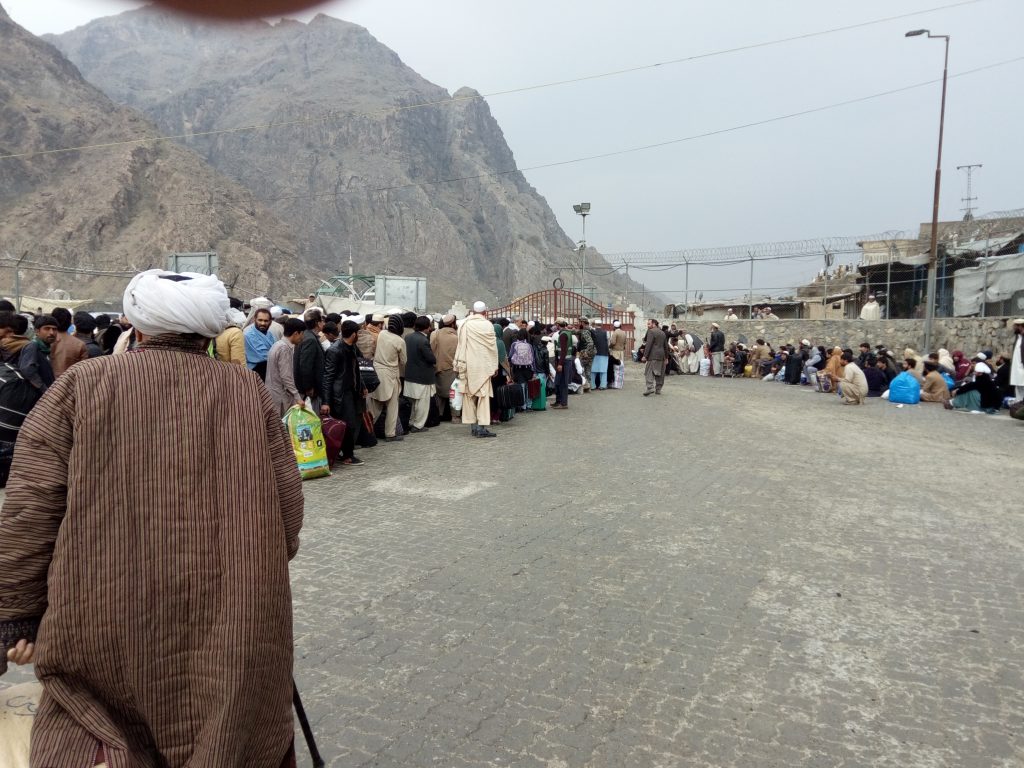 PESHAWAR: It's a rainy day at the Torkhum border crossing point as Obaid Mayar 22, huddles in a long queue under the open sky. Obaid, who hails from the  Wardag province in Afghanistan,  is a civil engineering student at the University of Engineering Technology (UET) Peshawar. He seems despondent as he waits patiently to cross the border in another hour.
Pakistani security officials announced the closure of all  crossing points with Afghanistan in the wake of recent terrorists attacks in Lahore and Sehwan Sharif in Sindh.Obaid Mayar is one among over 24,000 Afghan citizens who were stranded in various parts of Pakistan after the border was closed.  Last week the Foreign Office announced that the Chaman and Torkham crossing points with Afghanistan would be temporarily re-opened so that stranded nationals of both countries on either side of the border could return home.
"I don't think I will come back to Pakistan to continue my studies. The recent tensions are compelling me to abandon further studies," says Obaid who adds that students, children, women and old men have been rudely treated and there is no respect for them anymore. "Despite having legal documents to enter into Pakistan, I would prefer studying in my own country to avoid trouble."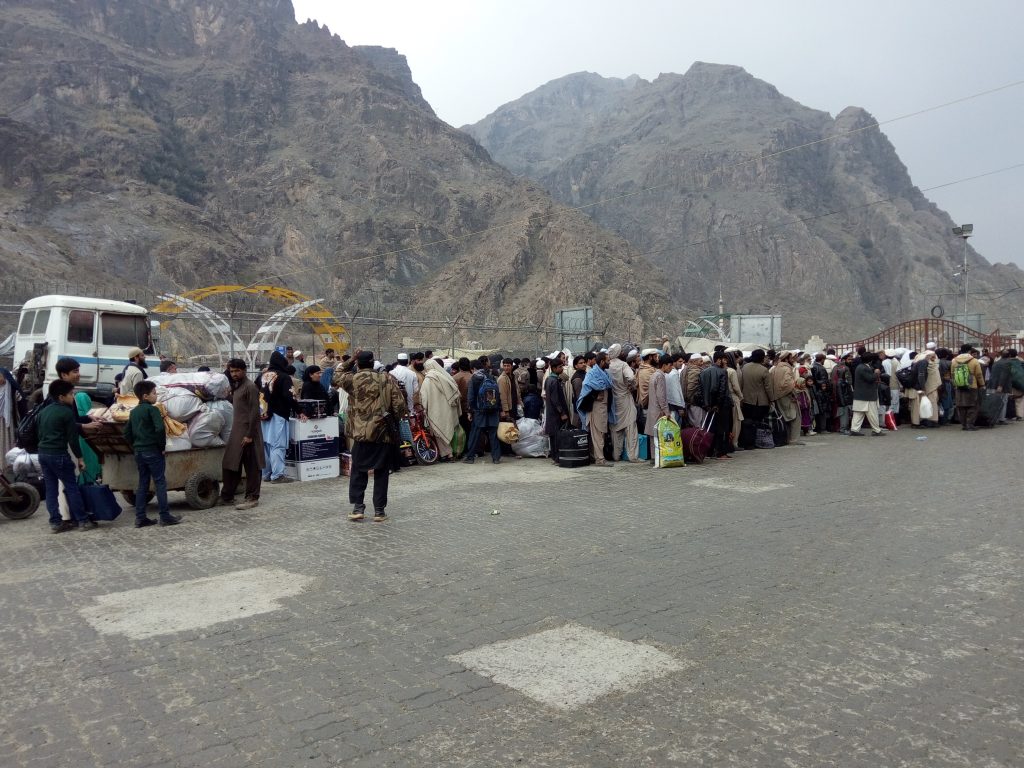 Security and local administration officials deployed at the Torkham border say that at least  11,000 Afghan nationals crossed the Torkham border into Afghanistan on Tuesday 7th March and around 13,000 crossed the next day while holding valid visas. At least 800 Pakistanis also returned to their homes in the last two days.
"I came to Pakistan via Torkham a day before the Chaman and Torkham crossing points were sealed to meet my relatives in Pakistan," said Qayamuddin of Konar province in Afghanistan. He was stranded in Peshawar for about 3 weeks waiting for the border to open again. Qayummudin has been educated in Peshawar right from metric up to his Masters from Peshawar University. " But the poor diplomatic ties between the two countries have caused a lot of problems."
The Torkham crossing point re-opened after 17 days, with the Frontier Corps (FC) and Khyber Agency political administration officials taking stringent measures to allow people to cross from both sides while avoiding any untoward incident. Regrettably, on 7th March, an Afghan woman died after returning Afghans broke security barriers in their rush to cross the border towards Afghanistan.
After the crackdown on Afghan nationals in Pakistan,  great numbers of Afghans without legal documents from Punjab. Sindh and Khyber Pakhtunkhwa flocked to the border to return home.
Ali Rehman is a Pakistani national who teaches at a school in Kabul. "I arrived at the Torkham border on Tuesday to enter into Pakistan but the security officials denied me entry since I do not have a passport. I am a resident of Khyber Agency FATA and have been exempted from bearing a passport and visa and could make my entry and exit on my Computerized National Identity Card (CNIC). But this time I was not allowed to return home."
Ali says that this is the first time in seven years that he has seen such a situation at the Torkham border.  "Eventually, myself and hundreds of other Pakistanis bearing only CNICs were allowed to enter Pakistan."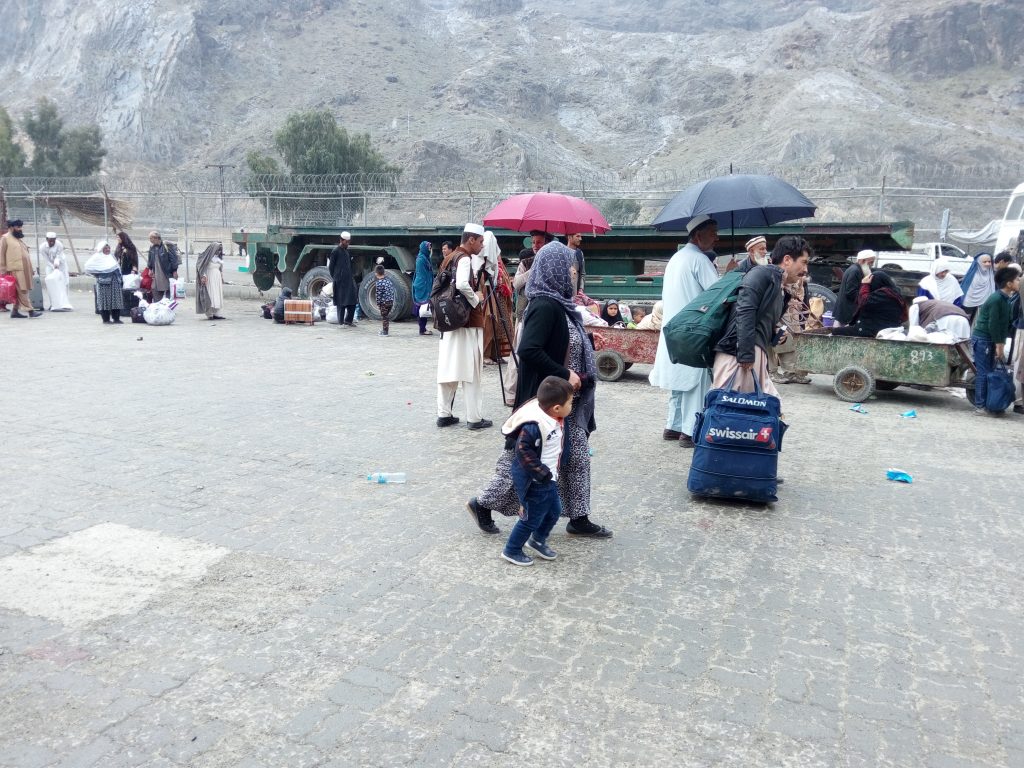 To the credit of the border patrol, the elderly, patients and children were put into a fast track and allowed entry on Tuesday 7th March.  On Thursday,  border security officials also allowed the passage of around 170 loaded coal trailers which had crossed into Pakistan but had not been allowed to proceed  further. These vehicles were stuck at the border  for 20 days. It was only after the transporters staged protests, saying that they had cleared customs, that the trucks were allowed to proceed.
According to a Torkham custom's official, at least 1000  trucks carrying, vegetables, cement, Afghan transit trade goods, milk, fruits etc were  stopped, causing a loss of millions of rupees.
After the re-opening of the Torkham border for two days, the Chaman and Torkham crossing points were sealed for an indefinite period and all movement was once again suspended.
Farid Shinwari is a Peshawar and FATA-based journalist who writes for a number of leading publications.
Next