Standing under the open skies in the scorching heat in Sakhi Pull Bazar of Jamrud Tehsil, Naheed Afridi addresses the local tribesmen and asks them to cast their votes in her favour for the PK-06 constituency.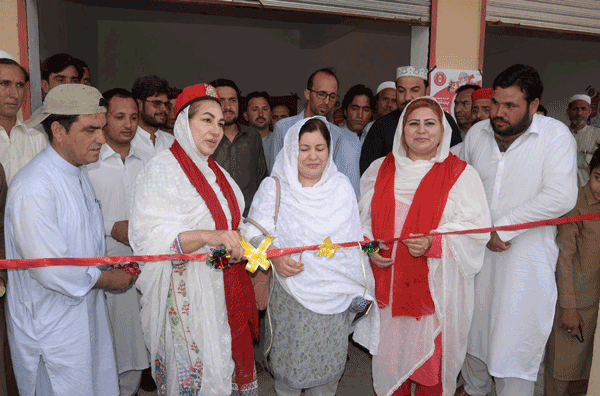 Fielded by the Awami National Party (ANP), Naheed Afridi is contesting in first ever provincial assembly polls in the militancy-hit merged districts (formerly FATA). She is the only woman contestant in the three provincial constituencies of Khyber Tribal District, including PK-05, PK-06 and PK-07. Another female candidate, Malasa, has been fielded by Jamaat-e-Islami; she is also contesting the elections on a general seat for first time, from PK-09 Kurram II.
The Election Commission of Pakistan (ECP) had earlier announced the holding of the first-ever provincial assembly elections on 16 general seats on July 20, 2019 in the newly-merged-tribal districts of KP. Under the 25th constitutional amendment, the tribal areas were merged with Khyber Pakhtunkhwa on May 31, 2018, giving tribesmen their representation in the provincial assembly for the first time.
Naheed Afridi, who hails from the Zakha Khel tribe of Landi Kotal Tehsil, says she realises that taking part in the polls from the conservative area of Khyber Tribal District will not be an easy task for her, but she took the bold step in order to be able to raise her voice for the voiceless, more specifically, women. "I am contesting elections from an area where women are confined to their homes, and getting involved in politics is out of the question," she remarks.
Being an active social worker and a founding member of Thakra Qabaili Khuwinday, (Hardworking Tribal Sisters), a group working for the empowerment of tribal women, Nahid shared that the ANP party had decided to field her from PK-06 constituency rather than from PK-05, to which she originally belongs. Interestingly, even her vote is registered in PK-05.
The total number of registered male and female voters in Khyber Tribal District is 532,087; this includes 301,015 male and 231,072 female voters, who constitute 57 per cent and 43 per cent of the constituency respectively. A total of 22 male candidates from PK-105, 19 male and a female candidate from PK-06 and 23 candidates from PK-07 are contesting the polls.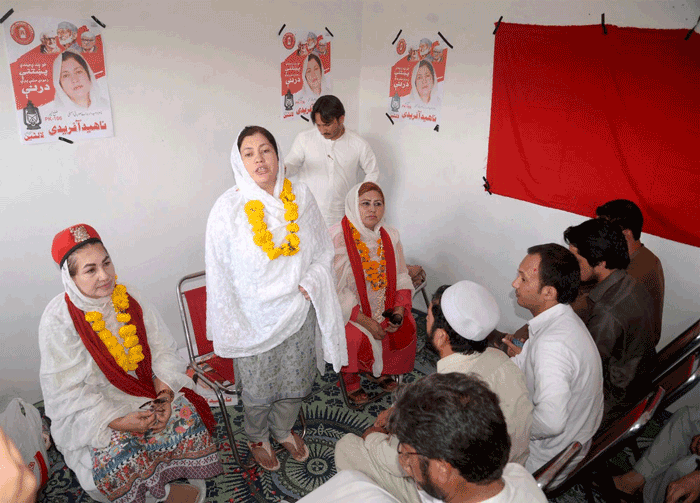 "I run a door-to-door campaign, hold corner meetings and visit each and every shop in all the local bazaars of Jamrud Tehsil to persuade voters to change their minds," she informs Newsline. She added that while campaigning in villages and homes, females are proud to find a single woman holding her own in the male-dominated society of Khyber Tribal District. "Females have promised to cast their votes in my favour," she claims.
"Polls here are fought on the basis of wealth and resources, and this is the first step aimed at changing the political behaviour of the people, specifically females" says Naheed. "During my election campaign, I stress that women come forward and fight for their rights, because no one else is going to do it for them."
Around 89 polling stations have been set up, among them 48 for male voters, 38 for female, while three are for both sexes . There are in all, 306 polling booths, 182 for male voters and 148 for female voters in the PK-06 constituency.
"I am facing challenges from local journalists and political workers on social media. Their humiliating posts [are intended] to discourage me as a female political aspirant instead of giving me courage and patronising me," she says regretfully.
"The 20 or so male candidates in this constituency do not face any such problem. I have stopped reading these abusive posts because it is highly discouraging. I am only focusing on my own election campaign," she adds.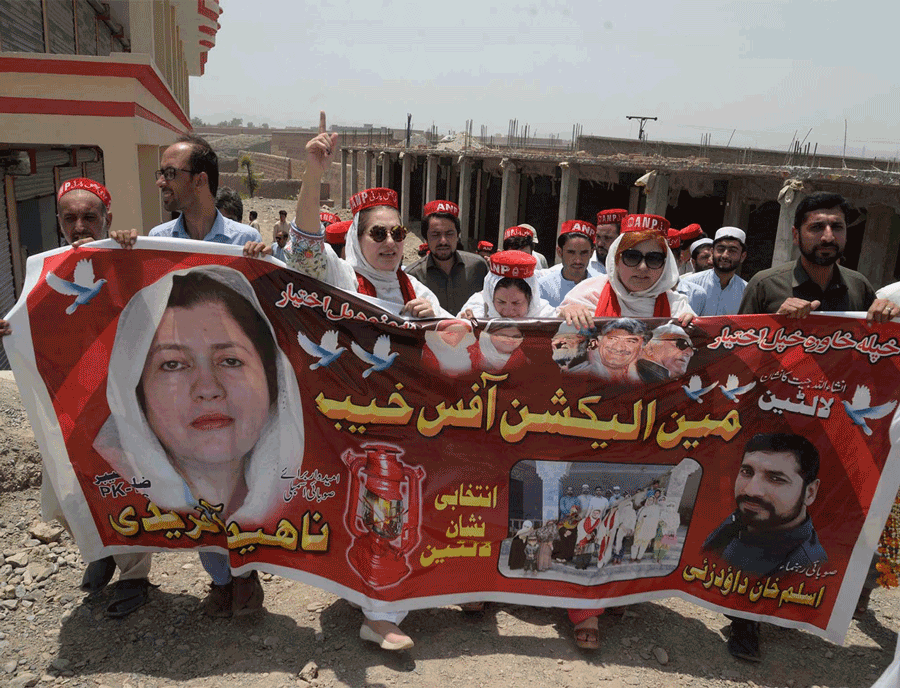 A female is always a soft target for the males in society, says Naheed, "but such appalling behaviour against me and my party will not make me pull back even an inch from my political activities. I may not win the polls but my entry as a female candidate in the field will pave the way and give others the courage to take part in the upcoming general, provincial and local government polls," she says hopefully.
"I am facing the challenges, the abusive language and other problems for now so that females entering politics in the future face fewer problems than me and do not hesitate to take an active part in the country's politics."
"I do not have the resources and the wealth but I have a sound ideology. I will focus on education, the restoration of peace, development and other female-centric problems," Naheed Afridi concludes.
Farid Shinwari is a Peshawar and FATA-based journalist who writes for a number of leading publications.