Omar Asghar Khan Foundation: Pakistan 2010 Flood Relief
The floods that have ravaged Pakistan in July and August 2010 have left many towns and villages cut off from the rest of the country. Below is some information on the relief efforts of the Omar Asghar Khan Development Foundation. First is some information on the NGO itself, and next there are details about the chairlifts and suspension bridges that the foundation is helping locals to build in affected areas, such as Kohistan and Battagram.
Pakistan 2010 Flood Relief
On 2nd August 2010 Omar Asghar Khan Foundation initiated its Pakistan 2010 Flood Relief. It draws on the Foundation's extensive experience of organizing affected people, following the 2005 earthquake and the 2009 Malakand conflict, and working with them to extend relief and rehabilitation support. The design of Pakistan 2010 Flood Relief is based on first-hand needs assessments, review of secondary data, and on the Foundation's knowledge of the area and its links with local people.
Objectives
To extend relief assistance to people affected by the 2010 floods in Pakistan by providing:
15-day package of food and essential non-food items
Clean drinking water or water purification tablets
Shelter — tents or corrugated iron sheets
Access — chairlifts, suspension bridges, pedestrian pathways, and road clearance
Psycho-social support and facilitation to access healthcare
Liaising with government and other organizations to ensure effectiveness
Outreach and Distribution Mechanism
Sixteen of the 24 districts of Khyber Pakhtunkhwa are affected by the floods. Of these, nine are severely affected. Many in need of urgent aid are difficult to access as areas are isolated due to road/bridge destruction/damage; and blockages due to landslides. The Foundation is initially focusing on the following districts of Khyber Pakhtunkhwa:
Nowshera
Charsadda
Shangla
Kohistan
Battagram
Mansehra
The Foundation's Pakistan 2010 Flood Relief will be extended to other affected areas as its work continues. Through collaboration with other partners, the Foundation is also extending relief assistance to affected areas in the Punjab, Sindh, Balochistan, and also plans to support efforts in Gilgit-Baltistan.
Providing Shelter
Shelter is an urgent need as more than two million homes are damaged or destroyed. The Foundation is providing tents or corrugated iron sheets to families that are displaced or are living near their destroyed houses.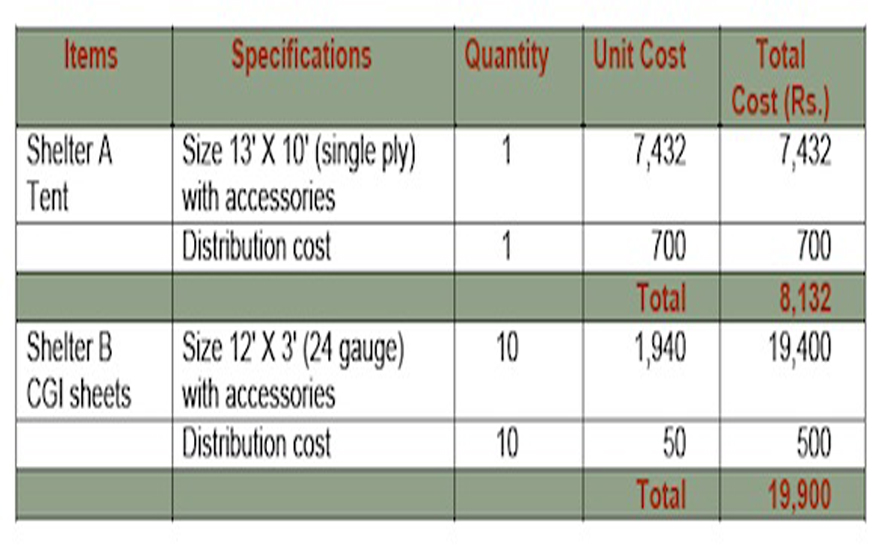 Access
Many areas are isolated as bridges, roads, and even jeep tracks are washed away. People are forced to cover long distances on foot often over very difficult terrain to access food. The Foundation is working in collaboration with local communities to restore access.
Installation of Chairlifts:
Chairlifts are being installed to connect areas that are isolated due to destruction of bridges or blockages due to landslides. They help people access food, healthcare and other basic needs. Selection of sites for chairlifts is under process. The following two ongoing projects serve as illustrative examples of costs, extent of support, etc.
Chairlift: Shangla-Battagram: The Kund Bridge over the River Indus connecting people of District Battagram with Shangla was washed away by the floods. A manual structure was put in place by local people to restore some access, even though it is extremely hazardous. Under the Pakistan 2010 Flood Relief, a mechanized chairlift is being installed to reconnect access, which is also more safe and reliable. More than 60,000 people of four union councils of District Battagram will benefit from this intervention. Its estimated cost is Rs.484,000 and installation time is about 15 days.
Chairlift: Dubair, District Kohistan: The town of Dubair, the gateway to Kohistan along the Karakorum Highway, was almost entirely swept away by the floods, destroying its bazaar, homes, and the main bridge that connected the area to the main Karakorum highway. Desperate for access, people walk for hours along extremely difficult terrain to reach bazaars in Bisham or other places to access food and other essentials. Under the Pakistan 2010 Flood Relief, a mechanized chairlift will provide stronger and safer access, spanning 400 ft, to the local people. The estimated cost of this mechanized chairlift is Rs.550,000.
Construction of Suspension Bridges:
A series of suspension bridges are to be built across ravines and gorges to reconnect people living in far flung areas who are isolated due to destroyed bridges and road networks. These bridges will be located to provide access to secondary routes that link up to main roads so that people are able to access food, healthcare and other basic necessities. These bridges have longer term value as they will continue to be a means of access for local communities. The cost of bridges varies according to their length. At present, the two that have been surveyed will cost Rs.400,000 each, in which local communities will provide support upto Rs.50,000.
– Source: Omar Asghar Khan Development Foundation
For more information on this NGO's flood relief programme, visit their website here.
Next