A New Film Festival on the Cards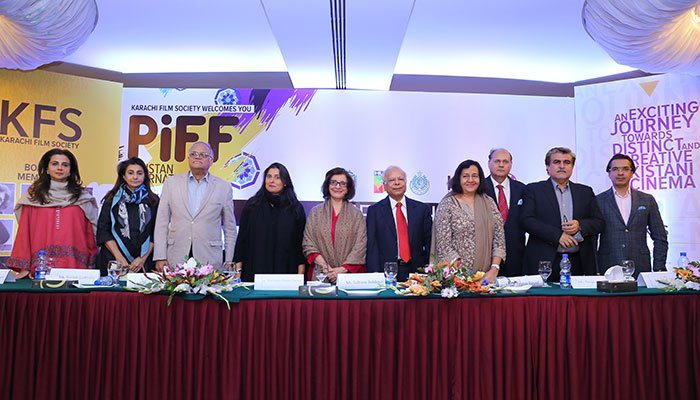 The Karachi Film Society (KFS) held a press conference on January 11, to mark the first ever Pakistan International Film Festival (PiFF). The four-day festival will be held from March 29 to April 1, 2018 in Karachi, and will be open to the public and have events such as film screenings, seminars, mobile screening and virtual reality (VR) installations alongside feature presentations of both foreign and local films.
Javed Jabbar was the first amongst the board members to speak at the press conference, elucidating the three distinctive strands which the PiFF would be integrating in its launch: the first element, Karachi, which, as Jabbar put it, "contains the macrocosm of Pakistan, elements of people and of the culture that are not found elsewhere in Pakistan, with its ability to attract people back and again." The second element, cinema and the revival of the film industry in Pakistan, and the third element, "bringing Pakistan together as never before."
Jabbar went on to acknowledge the previous efforts made by festivals, such as the Kara Film Festival, that contributed to the burgeoning film industry in Pakistan, but could not continue for numerous reasons.
The President of HUM TV and of the KFS, Sultana Siddiqui, and the former Governor State Bank of Pakistan and vice-president of KFS, Dr. Ishrat Hussain, spoke after, focusing on the type of platform the festival would provide by showcasing the work of emerging local film makers, and fostering the growth of creativity within the industry by introducing ideas from international audiences. Powerhouse Sultana Siddiqui stated the duty that experienced people of the industry have – in creating a platform for newer generations to further ideas and inspire ingenuity amongst one another.
Dr. Hussain emphasised on the global impact intended from the PiFF in projecting Pakistan's identity in a more vibrant and creative light. Noted director and actor Jamal Shah added to the sentiment, expressing the ways in which cinema celebrates life . "Cinema, as a force, should be supported," said Shah.
The remaining board members of KFS: the CEO of Oxford University Press Ameena Saiyid; the CEO of Nueplex Cinemas Jamil Baig; the Chairperson Special Olympics Pakistan Ronak Lakhani; the CEO of Habib Metropolotican Bank, Sirajuddin Aziz; and two-time Academy Award winner, film-maker Sharmeen Obaid-Chinoy, all spoke of their support and enthusiasm in Pakistan International Film Festival's launch, which was also the launch of the Karachi Film Society.
The PiFF Director Abrarul Hassan, and founder of the Sixty Second International Film Festival, gave a visual presentation of the festival's event days and categories. With particular focus on making the festival accessible to the public, Hassan said that the website, the print medium and affordable ticket pricing schemes would be employed to reach all income backgrounds. The KFS has, so far, received over 1,200 film submissions from over 43 countries for the PiFF.
"It is essential to get Pakistan on the map," said Misbah Khalid, director of popular television dramas. "It gives talented students and workers in the film industry the opportunity to meet people, to get exposure — it is an incredible venture that will open a lot of doors."
Next