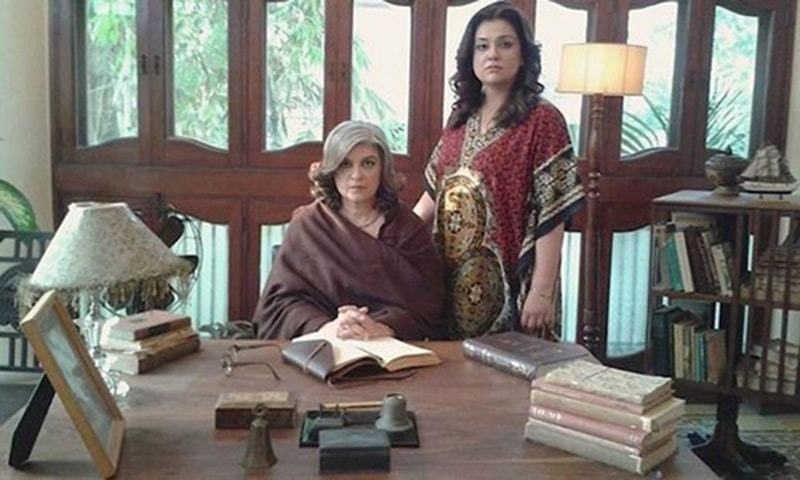 Thanks must be given to the first Pakistan International Film Festival (PIFF) which provided a platform for some unusual and independent films to be screened in Pakistan. One such was Mehreen Jabbar's Lala Begum which was made over a year ago as part of a  collaborative project, Zeal for Unity, by Zee Cinemas, showcasing the works of Pakistani and Indian directors.
Fans of Mehreen's work flocked to see the film which bagged an award for Best Feature at the PIFF awards ceremony with which the festival culminated.
Written by Syed Mohammad Ahmed, the film tells the story of two estranged sisters who are forced together when the younger one returns home after the death of her husband. The elder sister, Meher or Lala Begum, played by Marina Khan runs her ancestral home and its affairs with an iron hand and brooks no dissent. Set in the seventies, the old house and dated clothes add to the idea that time has stood still for Lala Begum.
Groomed by her late father, whose voice still echoes in her head, to become the stern matriarch that she is, Lala Begum has little time for softness or sentiment. She does not welcome the return of her prodigal younger sister, Sehar, played by Sonia Rehman Qureshi, and, in fact, does her best to make her leave. While Sonia's character appears eager to return to the fold, Lala Begum is suspicious of her motives and unforgiving of the way she left.
This is a story of pride, loneliness and loss. Old resentments and rivalries for parental and romantic love rear their head as the younger sibling seems determined to rake up the past.  It is only when the younger sister, desperate for the elder's approval and love,
sheds her defiant facade that Lala Begum questions her own judgement and choices.
Mehreen Jabbar tackles an unusual subject with sensitivity.  Mohammad Ahmed's script breathes life into the moribund atmosphere which surrounds Lala Begum and keeps us engaged in this understated film. The director succeeds in creating a mood and transporting us into the world of its protagonists. However, some transitions in the story could have been handled more smoothly and an important turn in the plot is almost glossed over.
It's good to see Marina Khan essaying a role quite removed from her usual characters while Sonia Rehman's performance makes us wonder why she doesn't act more often. She convincingly portrays the slightly petulant but more emotionally engaged sibling as the foil to Lal Begum's distant, closed-off demeanour. Humayun Saeed also puts in a colourful but not overdone cameo as a flirtatious flame from Lala Begum's past and it's good to see this talented actor restraining his histrionics.
Hopefully, with films like Lala Begum being screened in Pakistan, our audiences may develop a taste for more nuanced and subtle fare.
Zahra Chughtai has worked and written for Pakistan's leading publications. She is currently Newsline's website editor.
Next