Movie Review: Fantastic Beasts and Where to Find Them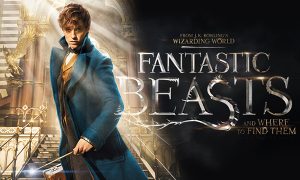 Five years after the Harry Potter series ended, Fantastic Beasts and Where to Find Them takes us back to the world of magic. This time, we return to a time period before the original series, with Eddie Redmayne playing wizard Newt Scamanader, arriving in 1920's New York City.
The ninth film within the Harry Potter universe, the story  follows the adventures of Newt Scamander, the author of a school-textbook for the care of magical creature called Fantastic Beasts and Where to Find Them. Scamanader arrives in the city with a plan to reach the habitat of a magical animal in the United States.
The British wizard disembarks his ship with a magical briefcase full of mythical beasts. When some of them get loose, American wizards get entangled in the chase to find these creatures amidst a rising negative awareness of magic, and its wielders, amongst the city's wider population. Amid the deep prejudice of 1920's New York, the plot thickens as a magical creature starts killing people in the city. Scamander finds himself teaming up with the Americans to find the murderous beast in New York and stop it.
David Yates returns to his fifth Harry Potter movie as director and does an excellent job in creating an engaging film. The screenplay was co-written by JK Rowling, author and creator of the Harry Potter series. She proves her skill once again by penning a screenplay that weaves together the multiple strands of this film.
Alongside the magic, the special effects and characters, JK Rowling's strong plot is instrumental to the film's success. In an era of expanded universes, sequels and prequels, flaccid plotlines are unfortunately too common. Fantastic Beasts and Where to Find Them is a fine movie, that combines mystery, thrills and fantasy for an entertaining experience.
Next