Most of us have been dabbling with make-up since we were teeny tiny toddlers and were found pawing around our mother and grandmothers' dressing tables. We have learnt a lot from watching them apply their make-up and have definitely been influenced by them. Today, however,  we are bombarded with products for practically every beauty need, and most of us have come to follow our own routines and procedures on how and what make-up we apply.
Here we will be busting some of the most popular make-up myths, which should be of help to anyone looking to make the most out of their makeup routine!
Myth 1: Use the inside of your wrist to match foundation 
False! — The best place to test for the right foundation colour is on the jawline (preferably during the day time as daylight is the harshest light for makeup).
Myth 2: Makeup causes skin to break out
False! — If the brushes you are using are clean, the makeup isn't expired, the product suits your skin and you regularly wash your face before sleeping there is NO excuse for skin to break out!
Myth 3: Pumping the mascara wand will get most out of the product 
False! — Pumping the wand back and forth into the mascara will create a breeding ground for bacteria in the tube. A better, more hygienic way to get the product on the wand is to twist it inside the tube. (Note: mascara should be changed at least every 3 months).
Myth 4: Only night cream can be applied at night time 
False! — The only difference between a day and a night cream/moisturizer is that the day time moisturizers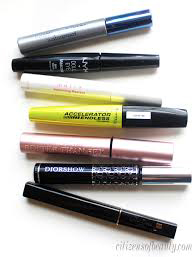 contain a level of at least SPF 15+ for protection against the sunlight.
Myth 5: Makeup doesn't expire
False! — If only this were true! Unfortunately, like everything in life, makeup has an expiration date. Any products you have for over two years should be thrown out on basis of hygiene and anything that starts to smell different/funny should be trashed as well!
Myth 6: Waterproof mascara is fine to use on a daily basis 
False! — Waterproof mascara has a different and harsher formula that it is made up of as it is formulated to last longer on our eyelashes. This isn't designed as a daily use product and could cause damage to our lashes (i.e. causing them to break easily due to extra stiffness of the waterproof mascara formula)
Myth 7: Concealer should always be lighter than your foundation
False! — When going for a natural, flawless look the concealer should match the foundation. Concealer is a product used to hide blemishes that the foundation can't. Therefore it should not be used as a highlighter.
Myth 8: Concealer should be applied before foundation
False! — As mentioned above, concealer hides blemishes that the foundation cannot. So, the foundation should be applied first and then the concealer is applied on top.
Myth 9: Bronzer can double-up as a contour powder
False! — A bronzer is great to give a sun-kissed glow to the skin with its orange undertone. However, contour powders have a grey undertone in them allowing us to create hollows that look more natural.
Myth 10: Only use colours that match your skin tone
False! — Although using colours that match our skin tone are great for a daytime and/or natural look, now more than ever before women are daring to use all sorts of colours on their face. The two things we must remember to pull off any color is to use a shade of the color that suits our skin tone and to wear it with confidence!
Alezeh Adil is a graduate from the Yorkville School of Makeup and Aesthetics. Toronto, Canada. She has worked as a make-up artist in the local film and fashion industry.
Next