Riding the wave of success a year after the conclusion of Pepsi Battle of the Bands 2017, the winning band, Kashmir, and the runner-up, Badnaam, launched their debut albums at the Avari Towers poolside area on May 10.
Pepsi Battle of the Bands was revived in 2017 after a 15-year hiatus, with the intent to help revive  the music industry in Pakistan. Spread over two months, its comeback season featured  powerhouse performers Meesha Shafi, Fawad Khan and Farooq Ahmed as judges — with celebrity guest stars  — and mentored eight different bands chosen from several audition tapes entered in the competition from across Pakistan. Though Kashmir won the season's finale, based on the public votes, Pepsi committed to sponsoring the debut albums of both Kashmir and Badnaam.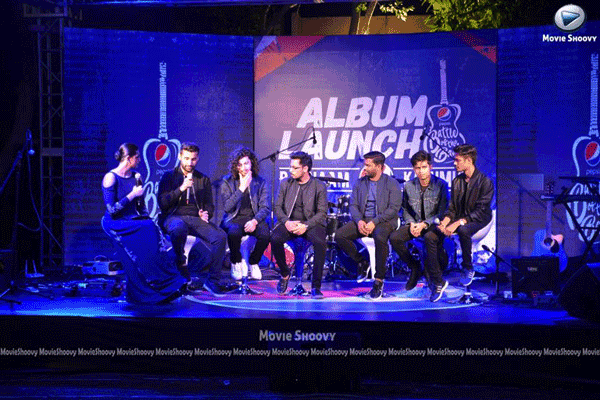 Invitees dressed in blue, blue interiors, blue carpet and host model/actor Rabya Chaudhry in blue —  the media meet-and-greet with the bands was an all-blue affair. Two screens on either side of a stage set with instruments — in anticipation of the performances ahead — showed the journey of the two bands and the ethos of their music.
The marketing manager of PepsiCo, Muneeza Anwar, spoke on the success of Battle of the Bands and its journey through time, and discussed Pepsi's association with music and how it had introduced Pakistan to powerhouse musicians, who have redefined the way music is made, and listened to. "For the past decade, our music was stagnating. New bands were not coming up, and that's the gap we wanted to bridge. Pepsi's vision is to create fresh music and help cultivate new talent in Pakistan."
Anushay Shahid followed up by introducing both, the sufi-rock band Badnaam and its members — Ahmed Jilani, Muhammad Ahsan aka Lala Ahsan and Rahim Shahbaz aka Sunny — and the alternative rock band Kashmir and its members —  Bilal Ali, Vais Khan, Usman Siddiqui, Shane J. Anthony, Zair Zaki and Ali Raza. She then directed a few questions at the bands about their experience with Battle of the Bands before moving onto what was meant to be a fun, rapid-fire round, but which ended up falling flat as the band members were not very forthcoming.
Given the sweltering heat and technical problems with the sound and screen equipment, it seemed virtually impossible for the crowd to keep their focus on stage for long. However, once the bands started their performances, cheers and hoots resonated through the courtyard and a myriad mobiles swung into action.
Badnaam performed 'Zindagi,' 'Ek Nukte' and 'Aflaaq,' and Kashmir performed 'Pareshanian,' 'Dhoop' and 'Dhokaybaaz.' Kashmir is set to release more numbers after Ramazan, but till then fans of Battle of the Bands can tune in to the bands' debut albums.