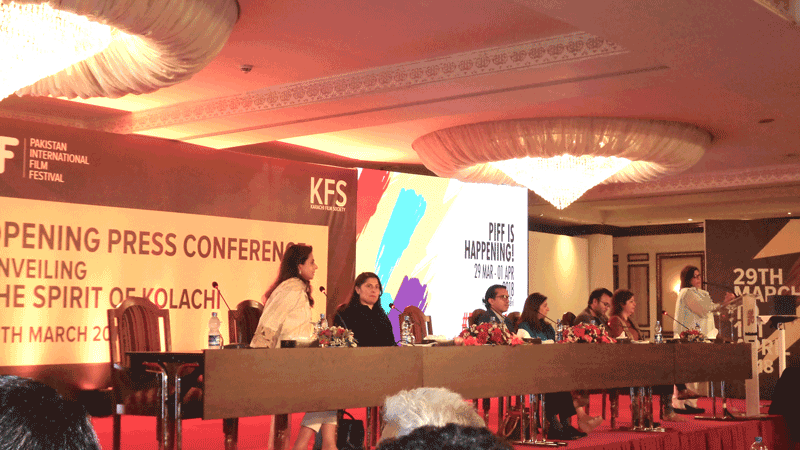 In the official press opening at the Pearl Continental Hotel, on March 28, the Pakistan International Film Festival (PIFF) 2018 revealed the line-up of films and unveiled the specially handcrafted trophy 'The Spirit of Kolachi' – designed by noted sculptor and painter Abdul Jabbar Gul – for the four-day festival (March 29-April 1) in Karachi. Over 1,500 films were submitted from 90 countries across the globe, of which a total of 210 were carefully selected from different categories of documentaries, short films and feature length films.
The Cultural Department of the Sindh Government, the Ministry of Information of the Federal Government of Pakistan, Nueplex Cinemas, the Dawn Media Group and HUM TV have given their official support and endorsed the event, while Unilever and Khaadi are PIFF's commercial partners, and Lipton and Knorr are the festival's tea and food partners.
Eight movie premieres will premiere t PIFF: Cake, The Valley, Lala Begum, Moomal Rano, Zaraab, The Song of Scorpions, Kuch Bheege Alfaaz,  The Wishing Tree – and animated movie, Tick Tock. All the short and  short and feature films, along with the documentaries, will be screened at different venues across Karachi.
Director Misbah Khalid, working as the Head of Operations for PIFF, gave the welcome address, introducing the board members of the Karachi Film Society (KFS) who were present. Sultana Siddiqui, described by Misbah Khalid as "the heart and drive of PIFF, without whom the festival would have not been possible," spoke on how the event would work as a multi-faceted platform to bring Pakistan's talent and potential into the limelight, to provide struggling filmmakers, technicians and actors with a forum and resources to create their art, to help in instilling patriotic pride and providing families with wholesome entertainment."
A looping video-reel on two screens  played highlights of the activities which took place that included: a three-day Digital Storytelling Workshop with experienced filmmakers and directors, such as Misbah Khalid and Sarmad Khoosat, to teach and give talks to participants; Mobile Cinema Screening at a number of venues across Karachi like the Abdullah Haroon Community Centre in Lyari; the Murshid Hospital and Health Care Centre in Hub River Road; the Memon Goth Community Hall in Malir and the universities of SZABIST, Iqra and the Indus Valley School of Art and Architecture. The final activity was a commemorative event called 'The Celebration of Women in Cinema,' which invited women from different fields and professions to listen and participate in panel discussions and talks.
The PIFF will also have panel discussions on a myriad of subjects at the Ziauddin Auditorium.  The panel line-up features prominent national and international speakers who will participate in the discussions.