The recent eighth Jaipur Literature Festival played host to authors, actors, editors and publishers from all over the world. These included Nobel Laureates, Pulitzer, and Booker prize winners. The five-day festival was seamlessly organized and with over a quarter of a million people attending, this was no small feat.  Every minute detail had been taken care of from sufficient numbers of ushers, useful sign-boards, and clean toilet facilities to easily accessible cafes and eateries as well as booths facilitating accommodation and travel.
The venue for this 'world's largest free festival' was Diggi Palace, where it has been held since its inception eight years ago. On that occasion, according to William Dalrymple, one of the festival's founding directors, all of fourteen people showed up to attend his session, ten of whom were Japanese (tourists) who had drifted in by mistake!
A particular highlight of the festival was the musical performances presented each day, featuring folk and Sufi music. Every day dawned and ended with a power house performance, including renditions by our very own Sain Zahoor, and Rizwan Muazzam  Qawwal.
With the chief minister inaugurating the eighth Jaipur Literature Festival, 440 authors and performers were celebrated during the course of the five days. This year, the theme of the festival was linked with 'kavita' (poetry) and film. Not surprisingly, the highlight of the festival and easily the most popular sessions were those featuring Bollywood personalities. 'Gaate Jaye Banjara: Film Songs — Urdu, Hindi, Hindustani' with Javed Akhtar in conversation with Priyanka Chaturvedi was one such packed session in which the transformation of film songs over the ages was discussed at length.
However, with so many inspiring choices each day, it was difficult to decide which session to attend and which to forgo. Of those particularly worth mentioning was the session on 'A House for Mr Biswas' with Hanif Kureishi, Amit Chaudhuri and Paul Theroux as speakers and moderated by Farrukh Dhondy. The session focused on the V.S. Naipaul novel written 53 years ago, which Theroux described as "The most complete book I have read since Dickens." Much to the audience's delight, a visibly moved Naipul was carried up to the stage on his wheelchair to say a few words.
Another highly informative session of particular relevance to modern times, introduced by William Dalrymple, was that of 'God's Traitors: Religious Terrorism in Elizabethan England'.  Jessie Childs presented her eye-opening research on religious extremism as perpetrated by Protestant Christians against Catholics. It seems barbarism is not restricted to any one religion.
Of particular interest to Pakistanis was the session on  'Faiz and Kaifi — A Poetic Legacy' in which Saleema Hashmi and Shabana Azmi reminisced about their respective fathers. The session was only open to delegates, so this was a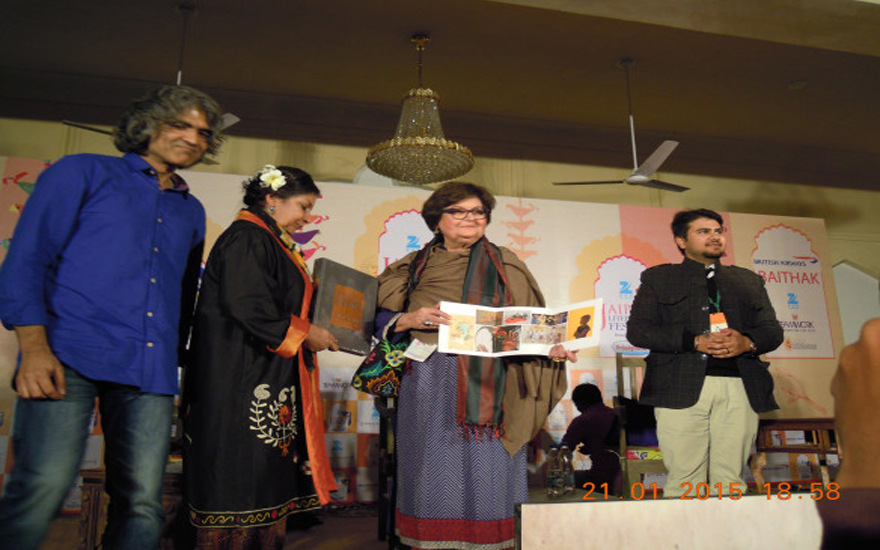 treat to attend.
Another interesting lecture was cleverly titled 'Selfie: The Art of the Memoir' which focused on four brilliant authors,  Anchee Min, Mark Gevisser, Brigid Keenan and Joanna Rakoff,  who spoke of their autobiographies in conversation with Basharat Peer.
'Wanderlust and the Art of Travel Writing' was yet another not-to-be-missed session with Paul Theroux, Charles Glass, Samanth Subramanian, Sam Miller and Brigid Keenan in conversation with William Dalrymple.
For me, of course,  the highlight of the five day event was the launch of the book 'Flavours of the Frontier: Forgotten Recipes from Dera Ismail Khan' which has been edited by myself.  This Gourmand Award-nominated book in the category of 'Food and Peace' boasts recipes, for the first time ever, in Urdu and Hindi. Viewed as a bridge between the two neighbouring countries, the book was launched with a dialogue between Kamnaprasad, the Indian TV personality, documentary film-maker and Urdu activist, and Moneeza Hashmi, GM International Relations HUM Network and daughter of Faiz Ahmed Faiz.
Even the unexpected thunderstorm on the first two days of the festival could not dampen the enthusiasm of the guests, who were kept dry and entertained thanks to the efficiency of the organisers.  This was truly a memorable event.
The writer is a freelance journalist based in Karachi. She also works at Hum television.
Next