Imran Khan: Popular Leader "Can Already Sense" Victory in Elections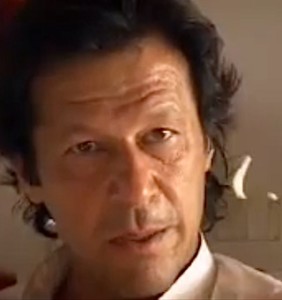 The Independent carries a profile of Imran Khan today, a succinct analysis of the man everyone's talking about but no one seems really sure of.
Khan tells the British paper that he "can already sense" victory in the next elections. Such hubris is almost comical, reminiscent of Charlie Sheen and his "tiger blood." Yet with much-flaunted polls showing high approval ratings for him over the summer (see graphic below), Khan does seem to have cause for celebration. Youth groups have upped the ante in terms of publicly supporting Khan's Pakistan Tehreek-e-Insaf (PTI) on Facebook, Twitter and numerous online discussion forums. Meanwhile, the recent PTI rally in Islamabad is being promoted as further evidence of Khan's grassroots support. Many of those dissatisfied with both mainstream political parties and hardline religio-political elements seem to have jumped on the PTI bandwagon and embraced Khan with open arms.
What PTI supporters and the vast majority of foreign commentators conveniently forget is Khan's virulent brand of nationalism, a passion that borders on paranoia and uses Islam to forge a united Pakistani identity. What is questionable in light of this is how strong a stance Khan is willing to take against others who manipulate Pakistanis in the name of religion and, indeed, whether he will eventually lapse into their ranks. Appeasing the far right could be a slippery slope under a government that relies on a staunchly conservative support base. On the other hand, categorically opposing groups that ostensibly share Khan's goals of reducing American influence in Pakistan, and hence receive some sympathy from his supporters, will be difficult for the PTI chief to manoeuvre. His eventual stance on radicalisation is therefore something Western analysts in particular should be cautious about — will Khan bite the hand that writes so eloquently about his virtues?
Also worth remembering is that one should take Khan's confidence with a grain of salt. He has little experience in government, having never held a ministerial portfolio and only sitting in parliament for one term. While that leaves him free of the accusations and mistrust that come with governmental posts, it also means that political familiarity, the tide that turns votes towards specific individuals and families time and again in this country, is an advantage he lacks. Many in Pakistan predict that Khan will, at best, cut into the PML-N's Punjabi support base in the next elections. Key among the reasons for this is the fact that the PTI often comes across as a one-trick pony — it is likely that few can name a single PTI leader other than Khan himself. The limited gains he is thus foreseen to make could hardly propel him into the Prime Minister's residence The Independent claims he so ardently desires.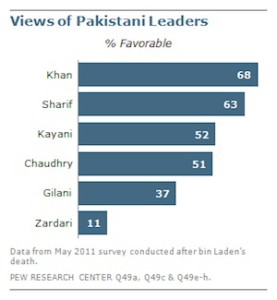 And that's the persistent issue: how much does Imran Khan really matter as a political player and not just as a throwback to a feel-good cricket era? As of August 16, the recent profile on him and his political ambitions remains in the sport and cricket sections of The Independent. Where voters have categorised him in their heads will make itself clear in due course.
Akbar Shahid Ahmed is a Washington-based reporter for the Huffington Post, writing on U.S. foreign policy. He has contributed to Newsline since 2008.
Next