Huge Risks Remain for 2010 Flood Victims in Pakistan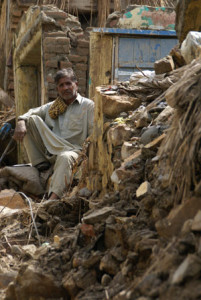 The destructive torrential floods that ravaged Pakistan almost a year ago caused the deaths of 2,000 people and displaced an estimated 20 million. The dire situation prompted international aid organisations, such as the UN and Oxfam, to intervene.
Slowly but surely as the immediacy and shock of the floods faded, press coverage on the victims became rarer. But the fight goes on. In a report recently published by Oxfam, it states that the "humanitarian response could have been better."
"Around 37,000 people affected by the 2010 floods are still living in camps in Sindh alone," writes Oxfam, "and across the country, many of those who have returned to their villages have inadequate housing, with some still living in tents. More than 800,000 families are still without proper homes and many flood defenses, such as river embankments, destroyed in last year's floods, have not yet been properly repaired increasing the likelihood of breaches in future floods. For example, embankments in Sindh province have reportedly been increased by only 2 or 3ft rather than the recommended 6ft."
Oxfam further states, "Two to five million people are likely to be affected by floods during this year's monsoon season, according to the UN and Pakistani authorities. Hundreds of villages have already been affected and whole communities displaced by new flooding in Sindh and Punjab provinces in the last few weeks. River water levels are also rising in the northern province of Khyber Pakhtunkhwa."
However, there seems to be a lack of urgency within the government. A representative of the Karachi Relief Trust confirmed recently that government agencies have suspended any and all assistance to groups caring for flood victims, leaving these non-governmental organisations scrambling to find foreign donors. The victims of the floods can do little but wait at this point. All they have in which to seek solace is prayer and the compassion of private citizens, for their disillusionment with the government, which is supposed to be their saviour, is growing.
Meanwhile, Rs495 billion worth of government revenue is going towards bigger, shinier toys for a military that's slowly being infiltrated by elements more loyal to the Taliban than the state.
Anger is hence being fuelled by a hapless government unable to prioritise and protect its citizens. F-16s won't feed the hungry orphans whose homes, crops and families were swept away by the waters.
Just in case the government would like some steps on where to focus its cash, Oxfam offers handy guidance: preventive measures, like early warning systems and more resilient housing. Below are some of its key recommendations for the federal government:
Ensure that the unmet early recovery needs of flood-affected people are addressed by investing adequate resources, particularly for housing and agriculture support.
Save lives and money by investing the initial $27m needed in Disaster Risk Reduction (DRR) measures, including reorganising and strengthening disaster management authorities, and mapping future flood hazards. This would avoid incurring the repeated costs of far more expensive emergency responses. This should be followed by sustained long-term investment to reduce risks including at least 1 per cent of all national development funding allocated to DRR, which could be drawn from increased tax revenues.
Define the mandates, roles, and responsibilities of government bodies responsible for preparedness, disaster management, and reconstruction at the federal, provincial, and district levels. This should ensure effective co-ordination between GoP institutions and with international actors throughout the response, recovery, and reconstruction phases.
Update the National Floods Management Plan, simplify and improve early warning systems, designate safe breaching locations, and mitigate risks by repairing flood protection systems urgently.
Reduce vulnerability to crises. The GoP should urgently co-ordinate a pro-poor reconstruction and development plan that is transparent and accountable and that includes reforms necessary to address underlying vulnerabilities of women, landless people, hard-to-reach communities, and minorities. This must be based on DRR and climate change adaptation principles.
Listen to the concerns of the Pakistani people by ensuring that affected communities and civil society, particularly women, are consulted on preparedness, response, and longer-term reconstruction. (Source: "Ready or Not.")
Read more about the flood of 2010:
Read more about the aftermath of the flood of 2010 and the situation one year on in Newsline's September issue, coming soon.
Next