Pakistan did not send an entry to the Venice Film Festival.  It was a misprint. In a massive festival guide for film industry folk, the film Blanka, a heart-warming story about an orphan who joins forces with a blind singer to eke out a fortune on the streets, is listed as being from Pakistan. It's an error. We rushed to the screening and made our way into Sala Casino, only to be deflated by news of Pakistan's representation, or lack thereof.
But that disappointment aside, the 72nd Venice International Film Festival offered an extravaganza of ideas and images exploding on screens all over the various venues at the Lido. India treated viewers with several offerings a day, ranging from the classic Pyaasa to Visaraanai and the documentary For the Love of a Man.Visaraanai is a fictionalised account of two true stories stitched into one masterful tale. It is based on a book by an ordinary rickshaw driver who was rounded up by local police and detained and beaten for 13 days without proof. The film won Amnesty International's award at the festival for shedding light on police brutality in India.
According to Paolo Bertolini, who serves on the Venice film selection committee, "Visaaranai daringly touches on human rights issues, as well as on police and political corruption, and does so in a way that is never didactic or tedious."  Director Vetri Maran says "Maybe the critics will say that the violence is gratuitous. Why didn't he just let us imagine this? But this sort of brutality is inconceivable. And from the research I did with police officers, this is only a fraction of what goes on."
Director Bahadur Bham Min from Nepal won the Critics Week best film with  Kalo Poth, which delves into the politics of the region. Of the Afghan films, Krigen, was the most interesting.  This is a court room drama about a good man's split-second decision to save his soldiers life under fire, and the ethical consequences of that decision.
 Iran and Turkey also emerged with several strong offerings.
"There were actually a couple of submissions from Pakistan, but they didn't make it to our selection," said  Paolo Bertilini. "As for the process of selection of films from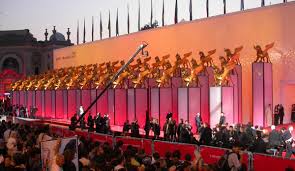 the Indian subcontinent, as in previous years, I was in charge of the scouting and pre-selection. Films came to me through different channels: on the one hand, the contacts I have in the region, on the other, through direct submissions to our main office." Bertolini affirmed the role of the NFDC in India in promoting their films.  " I visited Mumbai in June, and thanks to the kind collaboration of NFDC, we held a session of pre-selection screenings, where more than one hundred titles (including feature length films, documentaries and shorts) were submitted to my attention."
Every few hours shoals of critics, journalists, Venetians, industry folk and fans of solid story-telling converged on the cafes and bars surrounding the festival, debriefing visitors on how to get extra tickets, and deconstructing the films. Then, of course, there is the red carpet phenomenon, where teenage girls in animal-print tights were seen hyperventilating because they just saw Johnny Depp. We dodged these misguided creatures as they run hysterically around the venue, attempting to get a selfie with the star.
On a particularly harrowing day, Winter on Fire chronicled the political uprising in Ukraine. The American drama, Spotlight, told the story of how a Boston paper exposed a sexual abuse scandal in the Catholic church. This was followed by another American film, Beasts of No Nation, about the horrors of war in an un-named African country. After this intense marathon, half the people we spoke to had been left emotionally drained. One began to hanker for the humour, the wit in story telling.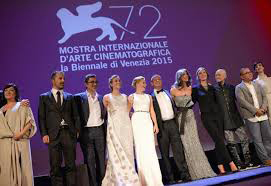 We found it in another offering from India , For the Love of a Man.  The film succeeded in intellectually engaging the audience without turning them semi-suicidal. This is a documentary about the fans clubs that glorify South Indian film star Rajnikanth. Viewers are introduced to orphan brothers who have fashioned their entire life, family and business trajectories on their role model. "Rajnikanth has an almost God like status, he is revered in Tamil Nadu," explains producer Joyojeet Pal, who is currently a professor at the School of Information in Michigan Ann Arbour. "So when Rajnikanth plays a farmer and talks about respecting those who sweep our streets and clean our sewage, Tamils listen. Parents want to model their children on this film character."  Rajnikanth the real man pales in the back ground, the screen star is the reality for Tamils.  Joyojeet continues, "I found parents who were farmers, who knew nothing about information technology and who wanted their children to learn how to use computers because they saw Rajnikanth in a role where he worked on a computer. His influence is pervasive, although he remains reclusive."
Director, Rinku Kalsy said the phenomenon of fandom is so fascinating that " The more the team researched and filmed, it was no longer a choice, we had to bring this story to the screen."  The film follows Rajnikanth's fans calling for him to run for political office, we see his fans distraught when he is ill in real life, we are introduced to small time gangsters who cleaned up their lives after joining a Rajnikanth fan club and we hear how a man mortgaged his wife's jewellery to raise funds to promote the star whom he considers a deity. "All the chief ministers in Tamil Nadu have come from the cinema industry, they were all stars before they were elected to office, that's the power the fans can give you."
From France, Aleksandr Sokurov unfurled a magnificent canvas, sketching out what happens to collective memory and art as he traces life at the Louvre Museum during the German occupation of Paris in Francofonia.
The American-New Zealand drama, Free in Deed, is a film that will resonate with the masses in Pakistan and perhaps our policy makers who have ignored their  needs for so long.  It is the disturbing account of a faith-healer whose attempts to heal a child actually lead to his death. Jake Mahaffy's film was screened towards the end of the festival, when most of the celebrities and critics had already packed their bags for flights to the Toronto Film Festival. LikeVisaaranai, the reason it worked so well was that the premise was based on a real-life story of tragic misuse of power. Superstition and religion intersect and reinforce beliefs that can obscure good sense and rationality. We see this in the frustrated and desperate masses in our country who turn to pirs and fakirs. Organisations that deal with mental health across Pakistan, like Mashal, Karawan-e-Hayat, Hands and Basic Needs routinely deal with people who have spent their life savings on healers because they have limited access to medical help.
Every morning as we dashed from our lodgings in the Rialto, through the narrow, charming streets of Venice, over fairy tale bridges, dodging the city's patient residents and hordes of tourists across San Marco to the San Zaccaria water-bus stop B 20, to settle into a series of storytelling sessions, images of Pakistan zipped through my head.
Between figuring out the distance and time it would take to run from one screening to another, parallels from the film's messages began to percolate in a parallel world where Pakistan could and should be using the medium of film as a tool to educate and entertain its masses, where traditional methods have failed.
In Beasts of No Nation, I was reminded of the children in Khyber Pakhtunkhwa who told us stories about how extremists recruit them to blow themselves up. During Winter on Fire, I thought of the activists who risk their lives to bring change to Pakistan and the police brutality that they are subjected to. And as Spotlight unfolded, I wondered which Pakistani newspaper would be courageous enough to bring out an investigative piece about systemic sexual abuse in similar faith-based institutions.
Flip — a more elegant alternative to the more frequently uttered four letter expletive — we're late! There was a lot of flipping at the Venice Film Festival. Flipping through the film listings that promised a week of intellectual immersion, flipping the accreditation badge the right way for the layers of security to see, bouncers flipping out over festival-goers lack of tickets on top of regular industry accreditation, the festival-goers flipping out in turn over the baffling ticketing system.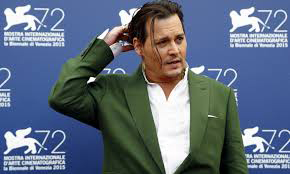 With an abundance of films on every screen, it was difficult to choose between them and the complex system of ticketing didn't make it any easier. But we were determined to seek out the most diverse offerings from the world over, and the listings were pregnant with promise.
Some of the best films we had the good fortune to wander into were the French L'Hermine, a pithy take on a district judge dealing with the everyday issue of child abuse and falling in love with a juror in the process. Then there was the Australian film, Tanna, a tale of forbidden love in a tribal South Pacific setting. Although dealing with grass-skirt-wearing tribals, the film's message about change is a universal one.
One cannot help thinking Pakistan needs to shake off its obsession with religion and war so that the creative community can step up and produce pieces that work to influence policy and people. Pakistan's government needs to understand that film is one of the most powerful ways to disseminate messages and change perceptions. The government needs to provide encouragement, mentoring and financial support to filmmakers who are ready to take on experiments like the gritty Visaaranai. The film is a searing and unflinching exploration of the truth.
And at least India is having a healthy dialogue about its issues on the international stage. But countries like Pakistan, Bangladesh and Sri Lanka were prominent only by their absence.
Next