Dubai Dispatch: Interview: Risham Syed
The Abraaj Capital Art Prize is unique in more aspects than one. The ambitious award was conceived to encourage and promote the budding art scene in Dubai and award artists from the Middle East, North Africa and South Asia (MENASA) region. The prize, now in its fourth year, has also garnered a novel reputation for showcasing often underrepresented, but highly talented artists from this region. Having established a cutting-edge reputation by introducing pioneering standards of artistic evaluation and excellence, the Abraaj Capital Art Prize awards competing artists on proposals rather than completed works of art. Secondly, it promises its awardees a collaborative framework to consummate their artistic vision. The artists work closely with an international curator — this year, Nat Muller from the Netherlands. The five winning artworks were displayed at Art Dubai, March 21-24, 2012 — the region's leading artfair, of which Abraaj Capital is a partner — and will subsequently be loaned to prestigious art galleries and museums across the globe.
Risham Syed from Pakistan, whose unique and thought-provoking work has received much praise, joined four award-winning artists from Lebanon, Egypt and Palestine to win the 2012 Abraaj Capital Art Prize. An assistant professor at the School of Visual Arts at the Beaconhouse National University (BNU) in Lahore, Risham is interested in history and how it links up with the present time. Her work is about  'texts and contexts' and analyses themes of race, class and gender in relation to cultural inheritance. In her winning project titled 'Seven Seas', Risham expands her artistic vision to explore cultural remains in relation to the cotton trade of the past in the broader MENASA region.
Q. In the 'Seven Seas,' you entwine the intricacies of contemporary geo-politics with the 19th and 20th century cotton trade route of the British Empire. How is present day economics influenced by political history and how have you expressed this through your artwork?
A. The cotton trade of the 18th and 19th century was a starting point for this work. The work speaks of the role of imperial powers and how geo-politics are manufactured.  The base cotton I used for all the quilts were from Lahore, the local cheap cotton that we use for bed sheets, and incidentally, the popular ones in the market are the prints with a European sensibility. With this vantage point I connect history with the present where imperial powers in the form of multinationals continue to control economies. I also embed a narrative of a local rebellion against the imperialist power that happened in 19th or early 20th century, within or around a port city
Q. Each of the seven quilts represents a port city such as Izmir in Turkey, Mumbai in India and Ras Al Khaimah in the UAE. How important is symbolism by use of texture, technique, layering and other methods and how does each play a role in the narrative?
A. The base material, as I've already mentioned, is cotton from Lahore. I travelled in the region and obtained embroidered fabrics and handlooms from each country. I also had the current maps of each region printed on to the local cotton. Having this vantage point of the current, I layered it with embroidery and handloom which has its roots in local traditional culture or history. For example, I used white-on-white jamdani for the back of the Chittagong hill tracts (Bangladesh) quilts. This was a form of revival with roots in the centuries old Bengali tradition of muslin-making. The British are allegedly reported to have chopped of the thumbs of muslin weavers to control the production of muslin.
The layering of the embroidery is done to highlight a narrative of local rebellion. For example in case of the Chittagong quilt, I have a map of Chittagong hill tracts where the famous Bengali freedom fighter Surya Sen hid from the British forces. Sen led a nation-wide rebellion against the British and was finally caught and hanged. On the quilt, I used a big panel of kantha embroidery from Dhakka, which usually has figures that depict a communal activity. These cut-out figures were then appliquéd on my quilt to create a people's army for Surya Sen. I also layered the quilt with  photographic prints, like Surya Sen's portrait, and buttons from old European army coats from a second-hand market were used to indicate the movement of the British forces.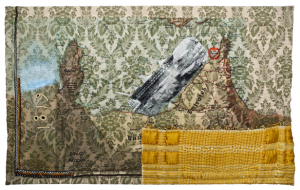 Q. The Abraaj Capital Art Prize allowed you to work with an established curator. How is this experience unique and how is it valuable to an artist?
A. This was the first time that I worked closely with a curator. It was good to have someone talk to about one's work and give an objective view. We had our differences of opinion but we talked through them and worked around them.
Q. What are the challenges and artistic luxuries that an artist could enjoy in proposal-based projects?
A. The proposal was accompanied by examples of work I have done in the past, and so there was a general idea of the direction that I was proposing to take.  From there onwards I was free to work on the project and I thoroughly enjoyed that experience. It was often challenging since I had to meet certain expectations, but then I guess one has to trust one's gut and enjoy creating the artwork!
Q. Your work has been showcased in art galleries around the world including the Talwar Gallery in New York and the Devi Art Foundation in Gurgaon, India. Was this your first venture in the Dubai art scene'? How would you compare it to more mature markets in Europe and North America?
A. I have exhibited at Art Dubai before. Dubai is fast becoming an important centre for art from the region, which was evident at the Global Art Forum, a series of art talks, where speakers of international fame and repute spoke in Dubai at the end of March this year. Given the short time period within which the art scene of Dubai has flourished,  one must give it another few years and if things continue to grow, it will be comparable to more mature international art markets.
The writer is freelance journalist.
Next