Dubai Dispatch: Interview: Khurram H. Alavi
Khurram H. Alavi is a graphic design graduate from the Indus Valley School of Art and Architecture in Karachi, who recently made a successful transition from advertising into animation. Khurram now works as a free-lance digital sculptor and will collaborate with Sharmeen Obaid Chinoy on her next animation venture.
Newsline met him recently in Dubai at the Middle East Film & Comic Con Festival (MEFCC), the largest pop culture festival in the Arab region and sister to the New York Comic Con in Dubai. The event showcases various segments of pop entertainment such as science fiction, fantasy, animation, collectibles, comic books, video games and pop art.
Q: What is the Film & Comic Con Festival in Dubai all about and what did you do there?
A: This event is hugely popular in the United States and to host a first-of-its-kind event in Dubai will open doors for the immense talent in our region.  I was invited to conduct a one-hour workshop on the step-by-step process of sculpting digital superheroes. The subject of the study was 'The Silver Surfer' from Marvel Comics.
Q: What is the skill-set that you bring to an animation movie or toy collectible?
A: For an animation production, my role is most prominent in story development, character development and related production processes. I am presently working as a consultant for such projects. For collectibles and toys, my responsibility is for the digital sculpture of approved artwork from the client.
Q: What edge does a ZBrush specialist like you, have over regular 3D generated software and how does it contribute to character results?
A: ZBrush removes all technical restraints. It's like playing with clay, the only twist is that it's digital. Software like ZBrush helps you save a lot of time when exploring character designs and ideas. The latest installment of ZBrush allows artists to successfully use it for various production processes as well. Ideally, though, 3D Artists should be fluent in mainstream software, and should also be able to specialise in sculpting software like Zbrush or Mudbox.
Q: Tell us about your work with Marvel, Disney, Warner Bros., SONY and Sega?
A: It's been an amazing experience so far. Right now I am working on a statue line for Thundercats for Warner Bros. For Disney, I've had the privilege to work for toy lines on some of their upcoming projects. One, in particular, is a project by visionary director, Tim Burton. For SEGA, I have worked on statues for the ever popular Sonic the Hedgehog series. Last but not least, I've worked with Bowen Designs on various 1/6th scale statues for Marvel Comics. It's a lot of hard work with a lot of sleepless nights, but it's most certainly worth the effort! There are many other licenses that I am working on, but I cannot disclose their names for the time being.

Q: Where does the current animation/collectibles industry in Pakistan stand in terms of international standards?
A: There is no collectibles  industry  in Pakistan. However, the animation industry does show improvement in terms of the number of projects and their output. In terms of international standards, we have a long way to go regarding investment and a professionally-trained workforce. This field desperately needs senior directors to understand and respect the process and costs involved in bringing 'quality' animated content to life. Animation productions demand careful planning way ahead of time. This means that you start planning your project months before you intend to produce it. Not ONE month before!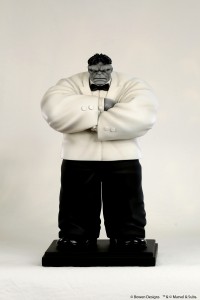 Q: Since most animations are based on international comic characters/sagas, have you ever looked into digital renditions of Pakistan-based comics that are on a rise?
A: Yes, I saw a group promoting their comic book called Shamsheer at the Middle East Comic Con. They were well received at the event. The creators of the series were artist, Salman Nasir and writer, Zakaullah Khan. They are presently looking for publishers. I am also keen to develop titles that cater to our local population. As with all production related projects, a large amount of investment is required and that is where Pakistan falls behind. The mindsets of our investors must evolve to accept the value and diversity of the medium.
Q: How do you feel about the growth of the local comic industry in Pakistan in relation to future animation projects? What are the interesting possibilities you think we could explore in terms of themes and characterisations?
A: In order for the comic industry to rise in Pakistan we need publishers to invest in them. If they do, then it will pay-off in the long run. Globally, we see dozens of characters and identities being turned into big budget films and animated movies. Surely, there was a time when these characters and ideas were nothing more than a sketch on a piece of paper. There is some magic that happens when you read a comic book and it lies in the ability of this medium to take you, visually, to a world that knows no bounds. It opens up your mind creatively, just like a book does — only it's more informal in its communication. It is a medium that desperately needs to be explored in this country.
There is a lot of room for animated shows in local TV programming. Likewise, there are many themes that can be explored similar to what channels such as Baby TV, Cartoon Network and Nickelodeon usually conceive. But we need investors to make it work. At the moment, animated shorts are made locally to sell products. Yes, it has opened up the market but we certainly need to explore more story-centric ideas and go beyond the term 'product.'
Q: You are currently working with Sharmeen Obaid Chinoy on her next animation venture. What is the project about and what is your role in it?
A: This is my first venture with Sharmeen and it is a great challenge. We are truly trying to change mindsets here and aim to offer the Pakistani audience an original and inspirational show. I am the creative consultant on the project and will oversee all animation production processes starting from preproduction (story development and character development) to final output. The aim is to apply my experience and knowledge to local projects in order to improve the final result.
The writer is freelance journalist.
Next