It's Ramzan, and Pakistan's largest metropolis has been hit with a double-edged crisis. Karachi sits on the coast of the Arabian Sea, the body of water responsible for its humidity but also for lowering temperatures, but this time the heat isn't abating. The unprecedented high temperatures, recording upwards from 40 C (104 F), has claimed the lives of more than 1,000 people since last week. But, this is not all: Karachi's electrical supply is suffering from a massive infrastructural breakdown.
Karachi Electric (KE) is the Pakistani electric corporation that supplies electricity to the city. Previously a government-owned company, KE was privatised in 2005 and bought over by the UAE-based private equity firm, Abraaj Capital, in 2009. As with any buy out, KE inherited its fair share of bad management, corruption andkundas — Pakistan's own, and rather ingenious, brand of electricity theft. And, as expected from any new ownership, some aspects of the power supply problem improved with the change of leadership while others didn't.
Power supply has been a problem in Karachi ever since I can recall. But, last week we had no power in our neighbourhood for more than four days. Karachi also experienced heat like I've never known it. The city recorded temperatures too high for it to handle. Air conditioners were stretched beyond capacity and slowed down significantly and only boiling water flowed out of taps and water dispensers. During this heat wave, our air conditioners barely had time to prove their worth. We lost power at 5 am on June 18 and had only one nearly 24-hour stretch of uninterrupted electricity until June 22, which was interrupted by a 15-minute cut in the middle of the night. Fasting in these conditions only makes it harder. On the flip side, however, the essence of fasting also imbues patience, at least for me.
But things are much easier for me than most people living in Karachi. I live in a nice neighbourhood and was born to upper-middle class parents. After four days of frustration and eating sehri and iftari in candle light, I did manage to get my voice heard.
I wrote an email to the leadership at KE, finding their names on the company website, double-checking on LinkedIn and figuring out the email addresses, based on the address of a former employee with whom I had corresponded long ago and hunted up in my inbox. Of the six people I copied on the email, only one email bounced back. I guess I still remember some tricks from my reporting days. I also sent the email to the web editor of a Pakistani news site. The news site is not a necessarily well-respected source of news, but the editor was a teacher when I was at high school over 15 years ago. The remnants of an often-misplaced deference to teachers, that is a deep feature of South Asian culture, trumped the credibility of the site and I sent him my letter to be published. Of course, the heat must have also been getting to my head.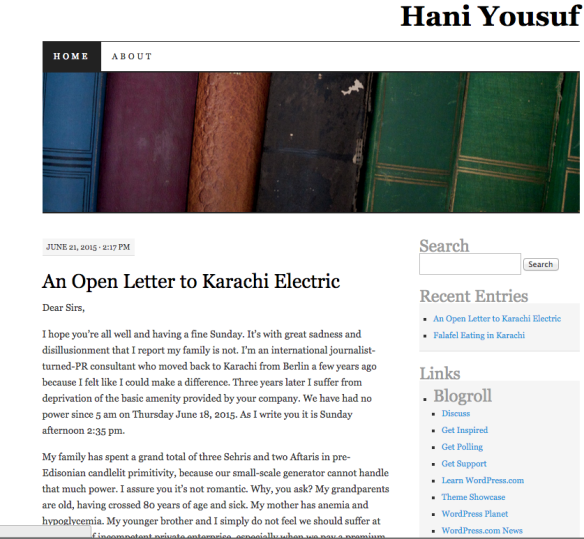 It was a Sunday afternoon when I hit 'send' on my gmail browser, reaching out, in virtual space, to KE's top brass. Within a couple of hours I had received an email response from the CEO himself. He copied two colleagues in charge who followed up within minutes. Electricity was restored and we were given an honest appraisal of the fault lines in the electricity cables in our area. We were informed of the possibility of a repeat performance and how to report and follow up in case of one.
The phone calls from KE employees were followed up by an email apologising profusely for the problems we faced and thanking my family and myself for our suggestions on how to improve the situation. My family's faith in humanity and corporate electricity restored, we broke our fasts with chicken kebabs and bhel puri from Ghaffar Kabab House and Nimco — and, all this under 400 watt light bulbs in an air conditioned room. After four days of no electricity, I allowed myself the luxury of a cheat meal.
Meanwhile, in a bizarre vein of journalistic irresponsibility that I am not used to, my letter was published as a 'report' on the website of a mainstream news channel, in which a fictional reporter quotes me using the words from my letter. It was 'journalism' like I have never known it anywhere in the world that I have been published — the US, Nepal, Germany or even this publication. A few hot words later, during which I asked the editors to remove my piece (they refused to do so because it had already been shared many times and was clearly good for their business), they restored my original letter with a glaring typo in the second sentence and a prominent and very dangerous inaccuracy in the blurb. The typo stands somewhat corrected (after I posted in the comments section of the piece and tweeted about it), and the piece was shared over 1,000 times on Facebook.
But the errant blurb reads: "A resident of Karachi has written a letter to K-Electric regarding the load shedding in the holy month of Ramazan." The word 'load shedding' is the very crux of the problem. It is apparent from reports in the media, social media and my conversations with other Karachi residents that people continue to think the power cuts in Karachi during the heat wave are the result of load shedding. Load shedding is a system by which Karachi's electrical supply corporation engages in scheduled power cuts to ration electrical supply during times of shortage. The shortages have often resulted from corruption and bad planning in the past.
In order to address the situation, it is important to stop misaddressing the problem. Load shedding is something Karachi Electric has the power to control with a flip of the switch that will restore power. But what my family experienced during the first week of Ramzan is a deeper problem: it was an infrastructural breakdown that cannot be fixed by flipping a switch. The difference is not a question of semantics; the difference is significant.
As I write this, wars are being waged on KE offices. I spoke to a KE executive yesterday who reported a mob attack at the facility that houses his offices. So long as we blame the corporation and believe that they are engaging in deliberate load shedding, we will not be able to work with the system and ensure maximum output from the infrastructure. The longer we attack their offices, the longer we'll be without power. At this point, the safest bet is to empower them to empower us, no pun intended.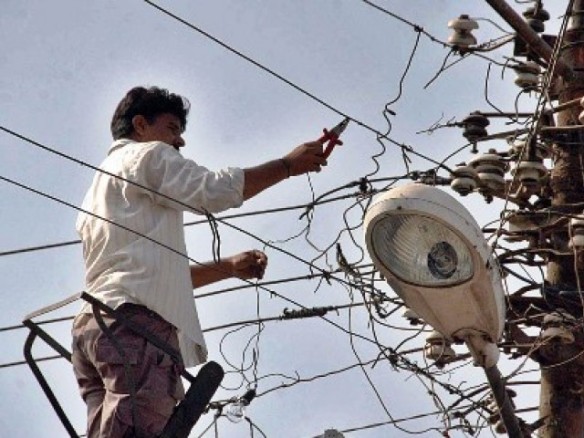 The cause of the breakdown can be ascribed to many different factors. One factor is, of course, KE's incompetence, inefficiency and lack of foresight. Another is the unprecedented temperatures that Karachi has experienced these last few days. And the third is the thoughtless and careless abuse that every single one of us has inflicted on our city. I know people living in huge houses and driving fancy cars who engage in electricity theft. I also know that we're not considerate about preserving resources for other citizens. We lack civic sense.
Ultimately, despite suffering from no power for over four days, I respect the professionalism, civility and courtesy that I received from KE. The employees I interacted with seemed genuinely interested in helping, they called us back to check if our issues were resolved and responded to our countless phone calls, taking the time and trouble to explain in detail exactly what was going on and how they were trying to improve the situation. I found them disingenuous and honest. Our electricity has come and gone even after this experience, but the employees we are in touch with have been untiring in their attempt to help us. Of course things could be better and processes and service could be improved, but I also observed that KE has evolved and improved over the days we've suffered the heat and power crisis.
Ultimately, I'm heartened much more by a trying-and-failing-and-still-trying private corporation than an untrained, unschooled and irresponsible media, which I am more often than not convinced, does more harm to our country than good.
Hani Yousuf started her career at Newsline Magazine in 2006. Since then, she has completed a Master's in Journalism at Columbia University and reported and written for magazines and newspapers in Germany, the US and the South Asian region. She is now a PR consultant, based in Karachi.
Next