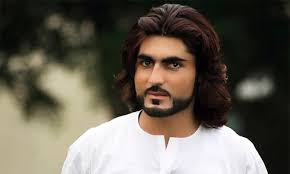 On January 3, some men in plain clothes came to Sher Agha Hotel near Chapal Gardens Apartments, Al-Asif square, and picked up 27-year-old Naqeebulah Mehsud alias Naseemullah Mehsud from the hotel.
Naqeebulah's relatives heard of the incident and they approached the local police station.  But the policemen had no knowledge of the arrest or the whereabouts of Naqeebulah. After this, the family tried to involve someone to negotiate with the police for Naqeeb's release. It turned out that two other men who were also detained on the same day had been released after three days. But there was no trace of Naqeebullah.
On 13 January, news of a police encounter was reported and pictures of the militants killed was released. One of them resembled Naqeeb – although his face was covered, relatives identified him by his hands. However, there was no trace of the bodies.
On the night of 16 January, the family got a call from Chipa foundation who told them they had found the body of the deceased Naqeeb. They approached Chippa mortuary joined by social media activists and Naqib's friends who were posting updates about the whole ordeal. However, it took almost 24 hours to complete the documentation process and have the deceased's body handed over to the family.
The family was  terrified and refused to interact with the media. But the news had spread and was trending on social media.
With the growing social media outrage over the murder, police officials started giving their versions, alleging that the deceased was a member of the TTP and claimed that he had been involved in terrorist activities in 2004 and 2008 before he had moved to Karachi.
But all these allegations were refuted by the relatives and friends of Naqeeb.
Naqeeb moved from his birth place Makeen, Razmak, South Waziristan when the area was undergoing military operations in 2008-09. From here, he moved to Hub Chowki, the bordering town of Balochistan in district Lasbella, and had different jobs at a petrol pump and steel rolling mill.
In 2017, he visited his home town South Waziristan and spent three months there. He was issued a Watan Card (SV21730002265 ) which is issued after scrutiny by the security forces and the political agent.
Two months ago, he returned to Karachi, this time intending to start his his own fabric business. He received financial help from his brother who is in the UAE, and had acquired two shops at Chapal Gardens and had an agreement with the owners.
But before the shops shop opened, he was picked up and killed in a staged encounter.
Although the police is sticking to their version, many unanswered questions hover around this incident. For instance if Naqeeb Mehsud was a wanted terrorist, why was the deceased issued a Watan Card by the army when he had visited Waziristan?
Why would a member of the TTP work in a steel mill or petrol station when the group is famous for extorting money?
According to SSP Rao Anwar, Naqeebullah was Baitullah Mehsud's gunman between 2004-08. Naqeeb would have been only 14 at that time, and even if the allegation was true he would have to be charged as a minor in that case.
These and several other questions remain unaddressed.
Ali Arqam main domain is Karachi: Its politics, security and law and order
Next