Blog Row,The Water Cooler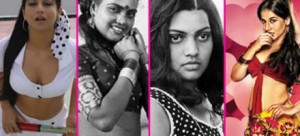 By Ratna Raman
Were she alive, Silk Smitha would be 51 on December 2, 2011, the day the biopic distributed by Balaji industries and starring Vidya Balan is slated for release. In the 1980s, when Silk Smitha shone on celluloid, things were rather difficult for a female aspirant. For one thing the censors were very censorious. So were societal norms. Women on screen were presented only in a series of binary oppositions: good or bad, chaste or slutty, heroine or vamp, beautiful or ugly, and this was the fortuitous combination that always made it past the censors. The distributors and producers were a pragmatic lot. If a story needed to be told, it needed an unblemished and chaste heroine. However, to sell, fleshpots were a primary requirement. Silk Smitha fitted this market need admirably.
To read more, visit Hardnews by clicking here.
For more on our media partnership with Hardnews in India, click here.
Next