'Got room for one more?' That's the question Samuel L Jackson's Major Marquis Warren asks the driver of a passing stagecoach in Quentin Tarantino's The Hateful Eight. In the film, Warren may well be asking for just a ride, but in a metaphysical way, it may well be Samuel L Jackson asking White Hollywood whether they have room for one more actor. Whether White Hollywood can accept Jackson and other black actors' right to rightfully claim 'a seat at the table'. And that's not just any old table. It's the table where all the big decisions are made. It's the table where all the scripts get the green signal. It's the table where all the studio bigwigs get to decide how many, if any, people of color get cast in a movie.
A look at the Oscar nominations this year suggests that the question seems to have fallen on deaf ears. For the second time in a row, not a single actor of color has received a nomination in the four acting categories. It would be easy to accuse the Academy Awards of racism now, but this is just one manifestation of a more complex problem. As Spike Lee pointed out shortly after the nominations were announced, "We're not in the room. That's how you fundamentally change stuff." Even though Lee is boycotting the Oscars, it's this point that should be addressed first and foremost. Any anger at the Academy's failure to recognize non-white actors should in fact be directed at the system itself.
Also, it shouldn't end at black actors. Where are the nominations for Benicio del Toro, or Oscar Isaac? Why is Michael Pena regularly snubbed? Does anyone in the Academy not watch the films Golshifteh Farahani has been doing the past few years?
As far as this year's edition is concerned, most of the winners seem to be pretty much decided. It's Leonardo DiCaprio's year and he should be getting his first Oscar after, well, all this time and all those internet memes. He's given it his all in The Revenant and it looks like this year's campaign will pay off. Ironically, if there is one film where it's not really about the performance, but in fact about the cinematography and direction, it's this film. Which is why Emmanuel Lubezki and Alejandro Gonzáles Innárritu should be amongst the winners this year, Lubezki for a third time in a row, Innárritu for a second.
For the Best Actress category, it's Brie Larson's statuette to lose, given her winning streak so far. She is mighty good in Room, aided tremendously by Jacob Tremblay as her son. Were it any other year, Saoirse Ronan would win for her impeccable, nuanced and very intelligent performance as Eilis in historical drama Brooklyn.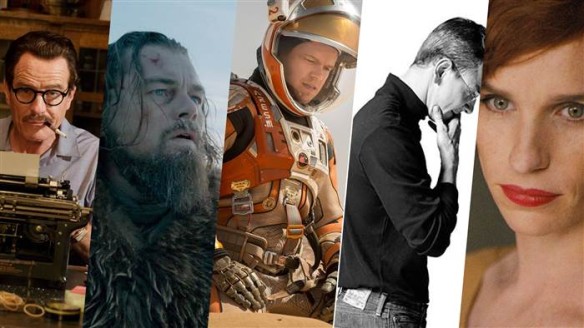 So much of the Oscars is about momentum and whose year it essentially is and no other actress currently embodies this better than Alicia Vikander. She was captivating in Ex Machina, a terrific science-fiction film for which she should have been nominated over her turn in The Danish Girl. But she'll take it, and win for Best Supporting Actress. Her performance is what holds the film somewhat together. The only blemish is that she's clearly the lead actress of the film, not a supporting actress.
The best Supporting Actor nominations are very varied and perhaps the only out of the acting nominees where it could go either way. There are two very good performances from actors in ensemble films, Mark Ruffalo and Christian Bale. Sylvester Stallone's return to the Rocky franchise in Creed was a pleasant surprise, as he forms the emotional core of the film. Tom Hardy is the only one who seems a bit fancifully nominated for his villainous performance in The Revenant, which was very good but not as good as some actors who've been snubbed, such as Idris Elba for Beasts of No Nation. Looking at all these actors, Mark Rylance's beautifully underplayed performance in Bridge of Spies might have the best chances of winning.
Coming to the biggest award of the night, it could be that the Academy splits between Best Director and Best Film. While Innárittu is set for the former, the top prize could well go to Tom McCarthy's Spotlight, not a perfect film by any means but certainly the most important and by turns most impressive, looking at what it set out to do and eventually achieved. What makes Spotlight so good is its script, which should be winning the Oscar for Best Original Screenplay too. The other writing Oscar, for Best Adapted Screenplay, is an intriguing prospect due to Aaron Sorkin's no-show for Steve Jobs. It could go to either Emma Donoghue's Room, adapted from her own bovel or Carol, by Phyllis Nagy, adapted from Patricia Highsmith's book.
And then there are the two categories, which in a broader sense are on par with the Best Film category and in fact shouldn't necessarily be separated. The Best Foreign Language Film of the Year, which will probably go toSon of Saul. And then there's Inside Out for Best Animated Feature Film of the year, but given very strong competition by Charlie Kaufman's stop-motion wonder Anomalisa. Looking at both these film, who in their right mind wouldn't nominate them for Best Film of the year? Clearly, the Oscars still have a long way to go.
Schayan Riaz is a film critic based in Germany
Next