PESHAWAR: "I have lived in my native village with this stigma for several years now," says Manzoor Iqbal who was diagnosed as being HIV positive.  Manzoor is a  resident of Swabi district Khyber Pakhtunkhwa. With the signature chadar flung over his shoulder, and wearing a waistcoat or waskat, he  is waiting for his routine check-up at the Family Care Center at the Hayatabad Medical Complex in Peshawar. The centre is run under the National Aids Control Program. "Once when I went to pray in my village mosque, some people left on seeing me there.  And several times I have seen people avoiding sitting down to eat with me at weddings."
"I was  deported back from Dubai in 2001 after being diagnosed. There was no HIV/Aids center here at that time" he recalls. "I came to Pakistan and approached Award, a non government organization which facilitated me with tests and other required medical treatment." "They tested me in Peshawar and then my case was referred to Al-Shifa hospital in Islamabad.  I have been under treatment since then and now visit the Family Care Centre in Peshawar every three months ."
Manzoor has three children and a wife who are thankfully unaffected by the virus. He says that social attitudes have also improved over the years. "People have a little more knowledge regarding the disease," he adds.
The statistics released  by the Provincial Aids Control Program reveal that more than 1880 cases of HIV/Aids have been reported in 23 districts of Khyber Pakhtunkhwa in 2017 . The provincial capital has witnessed the highest number of cases with 432 followed by Bannu district with 322 positive cases. Dir district has recorded 216, Swabi 123, Charsadda 120, Kohat 107, Lakki Marwat 100, Hangu 92, Mansehra 79 and others.
Meanwhile, to date, more than 500 cases of HIV/Aids have been reported from FATA. Of these, 33 cases were reported in Bajaur Agency, 87 from Khyber Agency, 98 from Kurram Agency, 218 cases from Frontier Region (FR) Bannu, 34 Mohmand Agency, 28 from Orakzai Agency, 72 from South Waziristan and 133 from North Waziristan.
According to an official working for the  Provincial Aids Control Program, "A large number of affected patients do not approach government centers after being diagnosed and seek private treatment while many conceal the disease owing to social taboos and stigma."
"I was diagnosed in 2006 ten days after my wedding," says Palwasha Bibi, another HIV positive patient. "Soon after being diagnosed,I went to the Family Care Centre in HMC, and started getting treatment. But my husband did not talk to me for two years when he came to know of my condition and even my sisters and mother have distanced themselves."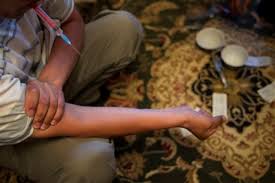 Fawad Khan Councilor at the Family Care Centre at HMC, claims that they receive about 50 fresh patients each month. Of these,  ten or 12 are injectable drug users. In fact, the flow of patients is increasing each month as is the number of infections through contaminated needles.
Another official at the  Family Care Centre, requesting anonymity, says that patients come here to be treated but there is no follow up after that. "In many cases, they go back to their old lives and habits which is how they became infected in the first place. We must take measures to stop this from happening if we are to control the number of infected patients."
The centre provides screening tests, counseling, general check-ups, medicine and other facilities to patients. An HIV carrier can live a fairly normal life if he or she stays on the prescribed medication.
Another NGO working under the National AIDS Program, Kwendo Kor, provides counseling to AIDS and HIV positive patients as well as also assisting them with nutrition, schooling etc. Project Manager Subhan Ali reveals that the NGO  has been operating Community and Home Based Care centres in Kohat district since 2012. The NGO also helps to rehabilitate patients, helping them  to set up small businesses.   "We give unto Rs 12,000 to patients and have helped them set  up Islamic Book Stalls, Handcarts for fruits and vegetables and other such ventures."
The NGO does not provide medical treatment for which it refers patients to the  FCC Hayatabad Medical Complex. " Our target group includes migrants, injectable drug users, male and female sex workers and transgenders. We also provide counselling services."
Farid Shinwari is a Peshawar and FATA-based journalist who writes for a number of leading publications.
Next