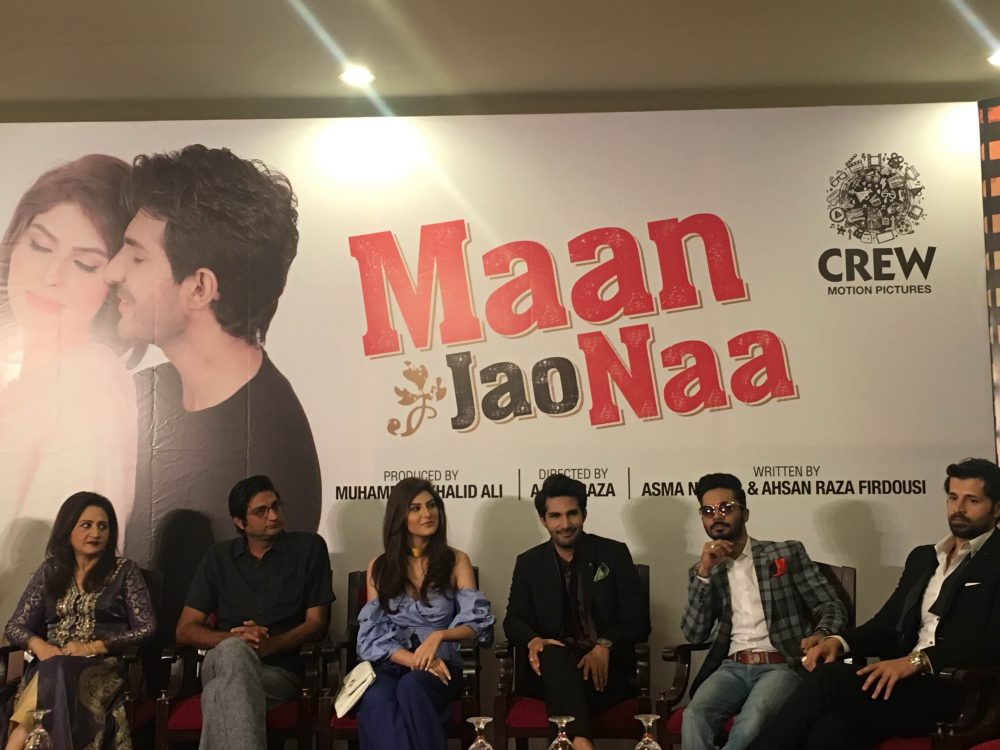 Media whiz Asma Nabeel, along with Ahsan Raza Firdousi have co-written a script for a romantic comedy titled Maan Jao Naa. A meet and greet was arranged with the cast and the media where the mystery female protagonist was also revealed.
The casting of the film was shrouded in rumour and misinformation, Firdousi said, and that this meet and greet was partly to put all of those to rest. German-born, Iranian model and actress, Naaz Norouzi will be playing the lead opposite Adeel Chaudhry, model and actor. His rival, making his debut on the silver screen, is to be played by Naeem Haq, and Hajra Yameen will be paired with Ayaz Soomro, of the film Moor fame. Also starring are Asif Raza Mir, Nayyar Ejaz and Asma Abbas as the parental figures in the narrative. Maan Jao Naa is directed by Aabis Raza and produced by Muhammad Khalid Ali.
The event started about an hour later than scheduled but was well organised and well-attended. Firdousi and Nabeel took the podium and introduced the movie and its cast and crew. They said that Maan Jao Naa was a 'dream project' and that it took over two years in the making, Nabeel added that 80 per cent of it had been completed — there were just some dances that needed to be filmed. The movie is about a group of friends who are adapting to real life after being at university. Firdousi said that it was a rather 'filmy' movie and they had tried to make it as grand as possible to do that notion justice. The movie will be mostly comedy and the soundtrack is something the whole cast and crew is very excited about.  Shuja Haider of Coke studio fame composes the music along with Ahsan Raza. Rapper, musician, and actor, Ali Gul Pir also has a cameo in the film.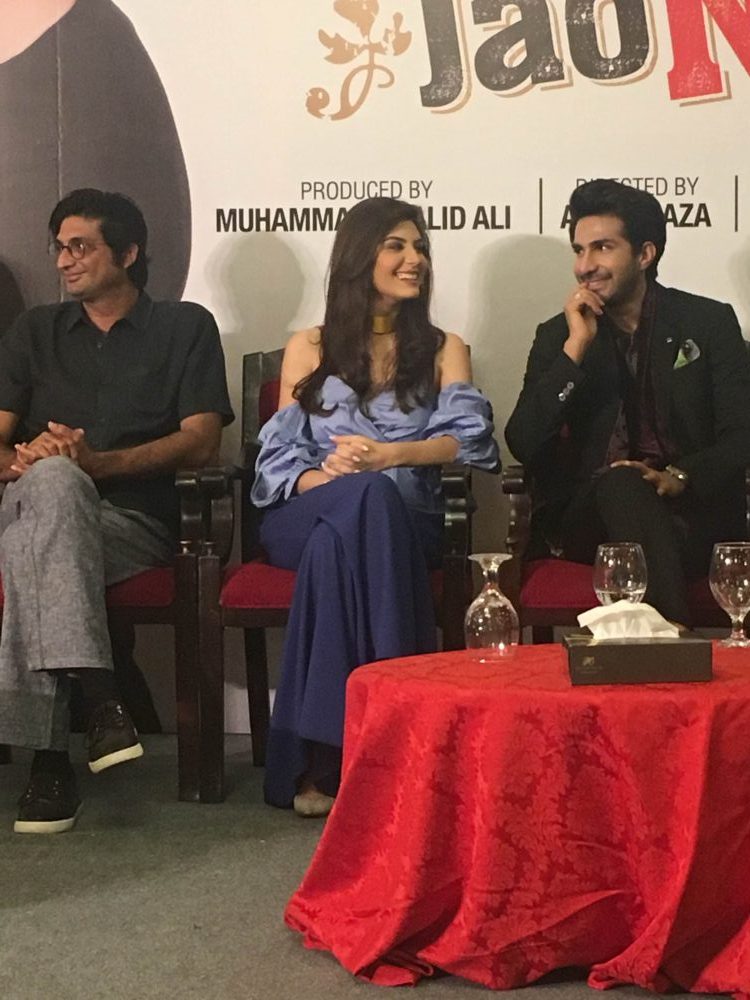 Asif Raza Mir praised the movie's director and producer and their dedication to perfecting every aspect of the story, which explains why Maan Jao Naa had had so many difficulties in casting. To the young actors in general, he told them to keep their heads down and work hard instead of having airs about themselves just yet. The cast all praised Aabis Raza for being one of the most empowering and entertaining directors they had worked with and despite this being his first film, his vision and management was exemplar.
Norousi was a bit awkward when talking about Maan Jao Naa because as she said there was not much left to say without giving some of the story away so she simply said that she was very happy working with the people she did and that she couldn't wait to do it again.
Haq said that we have the power to make people stars across the border, we have to have the same zeal towards our own talent, our own infant industry. Ejaz said of the movie that some movies are made by the fame of its actors, but Maan Jao Naa will be a movie that makes its actors famous. Nabeel also said that they aimed to make sure that the film was not elitist in its presentation or its campaigning and that promotion would not be limited to the upmarket parts of the city.
Maan Jao Naa has a tentative release date sometime after Eid-ul-Fitr.
Next