Theatre Review: Two Short Plays at T2F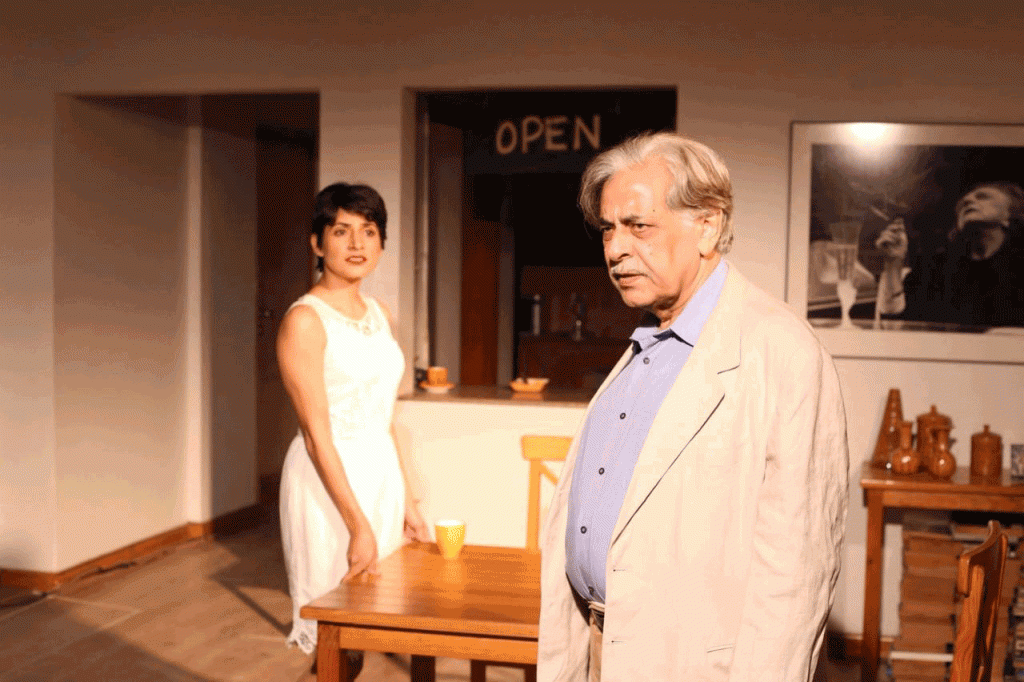 T2F is really not designed for putting on plays. There is no stage, no tiered seating and to top it all, two broad pillars obscure the view of the unfortunate few seated behind it. Nevertheless, the space valiantly hosts independent theatre in Karachi and draws in enough audiences to pack the premises.
Recently, two short plays were held at the T2F. The first was an English play, Elegy for a Lady, by American playwright Arther Miller, and acted by Khalid Ahmad and Joshinder Chaggar.  Performed as it was in English, both actors must first of all be commended for not hamming it up in fake accents. They both enunciated their dialogues clearly and seemed as comfortable and natural as possible while portraying foreign characters in foreign climes.
In true Arthur Miller style, Elegy for a Lady is an understated, introspective exploration of emotions. A middle-aged gentleman, Khalid Ahmad, wanders into a shop to pick up a gift for a considerably younger lady love, who is unfortunately suffering from a fatal illness. But nothing seems appropriate. He asks the proprietor of the shop, an attractive young woman, for assistance and during the course of the conversation ends up pouring out his heart out to her. The middle-aged philanderer, who is in  a stable, comfortable marriage, seems to wrestling with his conscience and the young shopkeeper, who in many ways resembles his illicit love interest, becomes an effective foil for his introspection. He reveals his insecurities, his own inadequacies and unwillingness to commit, bouncing these notions off the young shopkeeper who can relate to his absent lover. Incidentally, Arthur Miller himself was married to the much younger Marilyn Monroe.
As the ageing philanderer, Khalid Ahmad brought the ease of experience and his training as an actor to his performance, which makes him believable in every role he essays. Joshinder Chaggar was competent enough, but not remarkable. She is after all primarily a dancer. She did, however, bring a pleasing earnestness to her performance which sat in character with her role.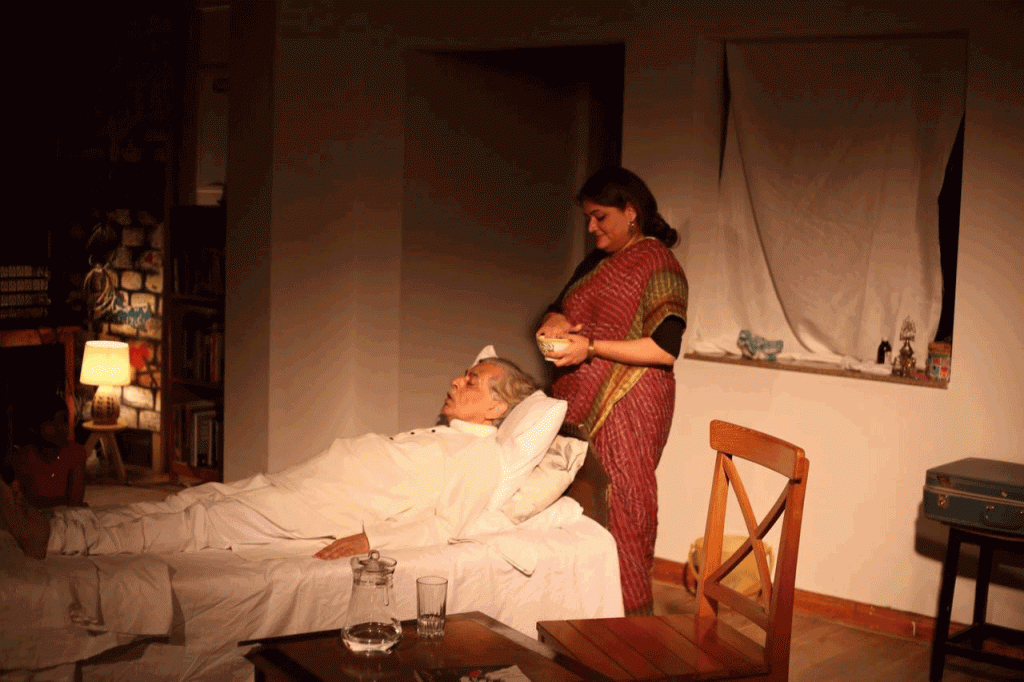 The second play was an original piece written by Bee Gul and acted by Khalid Ahmad and Bakhtawar Mazhar. Khalid Ahmad plays an ailing, cantankerous old man who seems to be spending the rest of his days in virtual isolation, marginalized by his family. In the busy household it falls to the maid, Bakhtawar Mazhar,  to reluctantly take on the duty of attending to his needs.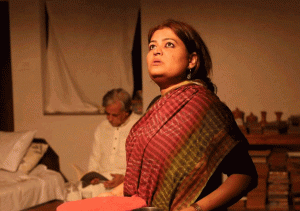 The old man is irritable and torments the maid but she is the only one to talk to. Over time, they exchange confidences and the two develop a camaraderie which unexpectedly results in a marriage proposal. There is no romance involved. The old man wants to have the last laugh and spite his neglectful children while the maid wants financial security.
Bee Gul must be commended here for a tight storyline and witty script that thoroughly engaged the audience.  Khalid Ahmad once again put in a seasoned performance, bringing to life the cantankerous old gentleman who, with one foot in the grave still has a bit of a roving eye. But the real surprise of the evening  was Bakhtawar Mazhar who gave a powerhouse performance as the spirited maid, jilted in love and yearning for a family of her own. The meatier role in this two-person play fell to her and she rose to the challenge with aplomb, bringing humour as well as pathos to her character. Sharp-tongued and pragmatic as she is, she completely wins over the sympathies of the audience and at the play's poignant denouement, one can't help but be moved by her plight.
The plays were  held over two evenings and several people were turned away because of the limited seating at T2F. The Urdu play in particular deserves to be seen by a larger audience and one hopes that this can be managed in the future.
Zahra Chughtai has worked and written for Pakistan's leading publications including Newsline, the Herald and Dawn. She continues to write freelance.
Next