What drives people to push themselves, to test the limits of their physical endurance? Omer Ehtisham and Asad Tungekar may have some answers to that query. Both of them successfully participated in the Abu Dhabi World Triathalon held earlier this year.
As the popularity of fitness has grown worldwide, so has the popularity of the triathalon, the ultimate test of endurance. Triathalon contestants comprise a set of elite athletes who have pushed physical and mental training to a higher level. Since it encompasses three disciplines, swimming, cycling and running, athletes need versatility and mastery in all three areas. It was only in the year 2000, however, that the triathalon was included in the Olympics and its popularity has soared since.
The most prestigious triathalon in the world is the Ironman. Two Pakistanis have won this title, both based in North America. But few Pakistanis based in their home country have taken to this grueling event. Omer and Asad have taken a pioneering step in this direction.
Omer Ehtisham who moved back to Karachi from Malaysia last year was always something of a fitness buff and he joined up with the cycling group Critical Mass Karachi. "It's a large group and many splinter groups have emerged from within," explains Omer. " Some of us who liked to challenge ourselves further and who were at the top end of the spectrum became more competitive." Omer was approached by a friend, Asad, who is a fairly experienced marathon runner, with the idea of entering a triathalon.
"The hardest aspect of the triathalon for both of us was the swimming," says Omer. "I had an accident in my thirties and one of my arms was affected, so I can swim but the concept of swimming in the open water was a bit daunting."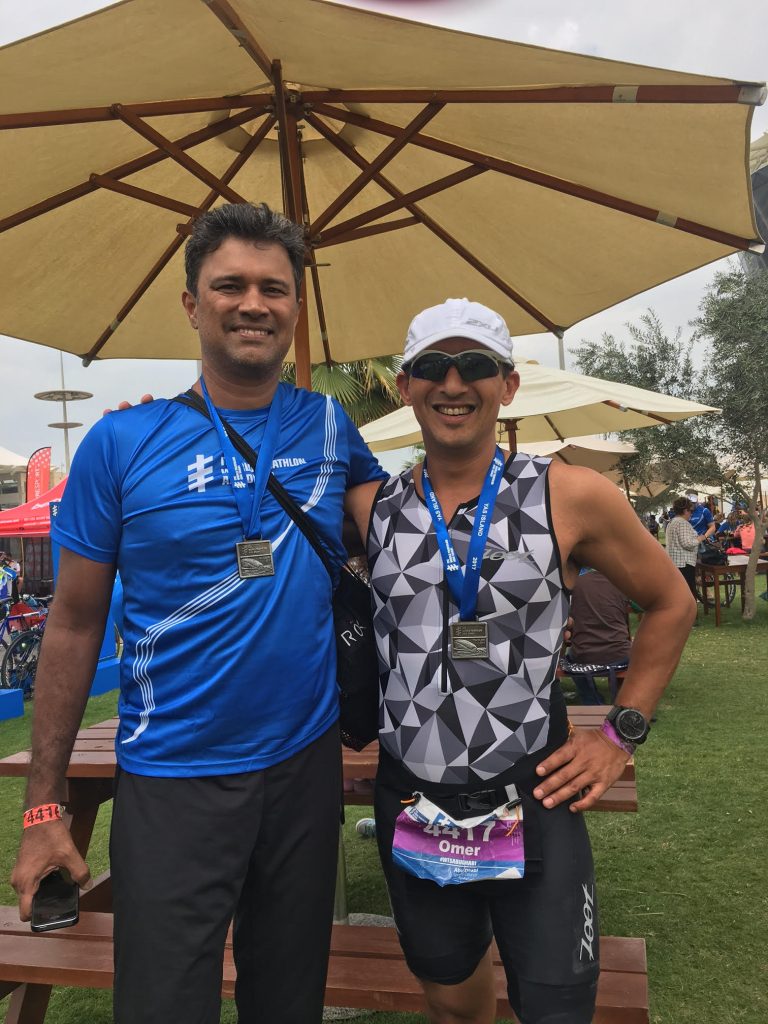 Undeterred by any trepidations, however, the two started training in earnest. There is really no guidance or support for intense endurance training in Pakistan. "The greatest resource is YouTube," says Omer. "There is a lot of material available. And you learn to listen to your own body. What and how much you eat is very important, you are burning 3000 to 5000 calories a day. " Training for such an event means a very focused and disciplined lifestyle. "Your social life will definitely suffer," laughs Omer. "Your routine cannot vary." Naturally then family support is crucial for athletes.
A week before the Abu Dhabi event, the two trainees went out in a boat off French Beach to do a trial open sea swim. With Omer's wife watching on from the boat, he literally took the plunge. I surprised myself and actually swam more than the required limit," says Omer. "I swam the three-and-a-half kilometers which is the Ironman requirement." However, Asad's swim did not go so well and he panicked midway.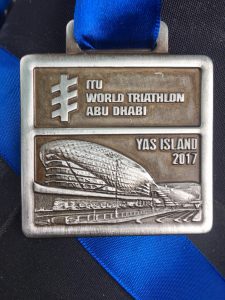 Still determined to compete, both friends headed to the Abu Dhabi triathalon held under the umbrella of the International Triathalon Union. These triathalons are held in different countries around the world as part of the qualifying events for the World Triathlon Championship. The event calls for completing a one-and-a-half kilometer swim, forty kilometer cycle ride and a ten kilometer run within a stipulated time.
Both our Pakistani contestants completed the event respectably, featuring within the top fifteen percent in their category.
So what did inspire Omer to take up this challenge? "I'm in my forties and as you hit mid-life you may not feel as productive as before. I think that's the time to take up a new challenge." Omer emphasizes the great mental discipline and strength that he has gained from the experience. "Endurance sports is all mind over matter. During a triathalon, there will be pain and it's always challenging. This is a management sport," explains Omer. "You must have a strategy. It's all about balance. You have to be aware of where you are now and what comes next. And at the end of it all, there is a huge sense of accomplishment."
So what's next on the cards for the two triatheletes. On the individual front, Omer aims to go for a half Ironman next. But on a more expansive note, he hopes to help organize a triathalon in Hunza. "Since it will be difficult to find people who are proficient in all three disciplines, we are thinking of organizing the event on a team basis for each sport," he says.
"This year we saw only two entrants from Pakistan in the Abu Dhabi event," adds Omer. "But we hope to see this number grow. Dozens of people have expressed an interest in what we have done. There is an increasing trend towards wellness in Pakistan. And it is irreversible. It will only grow." Omer stresses on the need to provide more outlets of this positive change. "And it's a great way to showcase Pakistan to the rest of the world."
Since this interview, Asad Tungekar went on to successfully complete the half Ironman held in Puerto Rico. 
Zahra Chughtai has worked and written for Pakistan's leading publications. She is currently Newsline's website editor.
Next