Sports: The Unassuming Karate Champion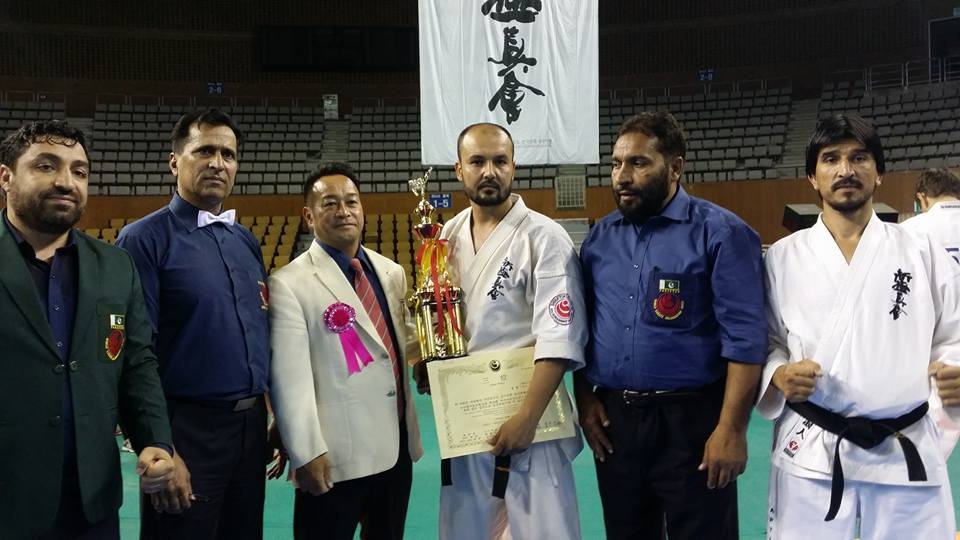 Ghani Khan Shinwari,  is a daily wage clearance agent at the Torkham border, some seven kilometers  from Landikotal bazaar in FATA. He spends his days loading vehicles at the Pak-Afghan border. But there is more to this unassuming young man than meets the eye. Shinwari recently secured third position in the 16th Asian Full Contact Karate Tournament in Bosan, South Korea. He defeated the Korean contestant, then the Malaysian and lastly an Afghan player at the tournament in the 85.5 kg category. This win also qualifies him for the Karate World Cup scheduled in 2017 in Kazakhstan.
"It was late afternoon and I was engaged in my routine clearance work when I received a phone call informing me that I had been selected for the tournament," recalls Ghani who was one of four players who represented Pakistan in the tournament. Ghani reveals that when he got the call to go and arrange for a visa to Korea, he did not have enough money to make a passport or buy sports equipments let alone  a ticket to Korea. "I borrowed a sports uniform from a player in Peshawar," he recalls. "Then my teacher and friend, Farhad Shinwari, a Coach of the Pakistan Karate Team, paid for the other requirements  from his own pocket and supported me at all levels."
Ghani's win at the tournament made it all worthwhile. "What gave me the greatest happiness was the encouragement and support of Pakistani nationals at the tournament. They acted like my coaches,  guiding me through the competition. I'm so glad I managed to win third place, as I would hate to disappoint them."
However, when Ghani returned to Pakistan after winning laurels, not a single  sports officials nor any other relevant authority came forward  to welcome him or offer any encouragement. "I was taunted by my friends and family members, who urged me to leave the game since I got zero response or encouragement from the FATA  Sports Secretariat."  But Ghani is determined to continue with the sport. "I have been associated with Karate for the last six years,  playing at the muddy grounds of Landikotal bazaar. I won't give up now."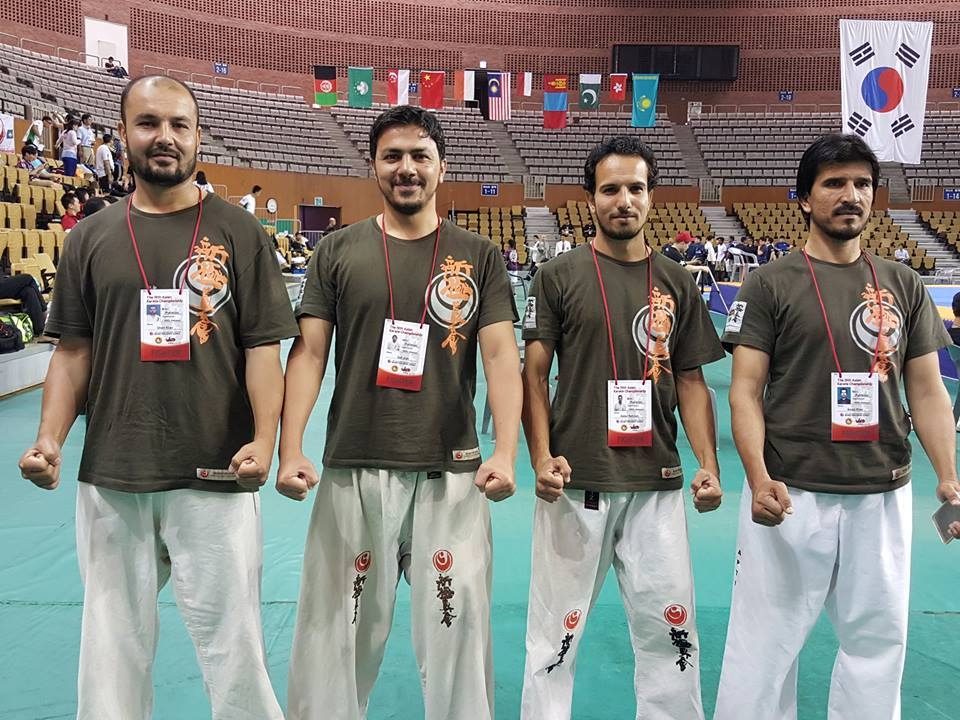 Ghani Khan became interested in Karate through friends. The sports hall in Landikotal Bazaar is the hub of all athletic activity in this region. "Sports enthusiasts, players and coaches run this sports hall with funds from their own pockets. There is no state patronage," says Ghani. " I was trained by fighter Noor Aslam, who represented Pakistani at the  international level in Japan in 2007." "But I had to leave the game in 2006 because of financial difficulties," continues Ghani. "Then I was able to take it up again in 2010."
Ghani, who earns Rs 10,000 to Rs 15,000 a month, is the sole breadwinner for his family and can hardly afford sporting activities. Nevertheless, he is committed to putting Pakistan in the spotlight in the forthcoming World Cup. Unfortunately, the other players who accompanied Ghani to the Korean tournament were unable to secure medals.
"It's very difficult to field players at tournaments without any sponsorship or official patronage," says coach Farhad Shinwari, who is registered with the World Karate Organization (WKO) Japan Shin Kyokushin as a Branch Chief from Pakistan. "The sports federations in Sindh and Punjab offer some help but there is nothing forthcoming in Khyber Pakhtunkhwa. There is an allocation in the federal budget for sports related activities in tribal areas but no one seems to know where the sports directorate FATA utilizes the money."
Farhad adds that  "Beside, FATA Secretariat, there is a considerable fund with the Khyber Agency political administration for sports activities. However, sportsmen like Ghani Khan Shinwari do not see a single paisa of this. Only cricket and to some extent hockey is promoted by the federal government."
The federal and provincial governments would do well to sponsor sporting activities in this region and encourage its athletes who can present a softer image of the tribal areas to the rest of the country as well as to an international audience.
Farid Shinwari is a Peshawar and FATA-based journalist who writes for a number of leading publications.
Next