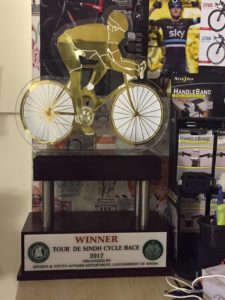 "Everyone in Lyari is sports crazy," says Naeem. Hunched over a sleek-looking cycle he is busy repairing, Naeem is himself a formidable cyclist who won the Tour de Sindh race organized last April.
The unassuming, soft-spoken cycle mechanic and athlete is a true denizen of Lyari. "The level of talent and interest here is tremendous," he says with quiet pride. "Pick any sport and promote it in Lyari and within a few years you will be amazed at the result. But the area is so notorious now,  boys from Lyari find it hard to get a job anywhere."
Naeem deems himself amongst the more fortunate ones who had the chance to pursue a career in cycling.  "My elder brother used to cycle but he had to give it up and get a job because we were very poor. So when I wanted to cycle, my family encouraged me. They didn't want me to give it up like my brother had to."
Naeem and a group of Lyari boys were chosen to form a six-member team at the sponsored by the Sui Southern Gas Company. "They gave us a monthly stipend and paid for our training," recalls Naeem. "We competed in many national level races and won. They even sent us to Malaysia to train and compete." But because of personal rivalries, the coach began to pick on Naeem and the team's performance began to decline. Finally, they were all dismissed.
"I stopped cycling then and started working as a cycle mechanic at Jackson Market," says Naeem. Here he ran into members of the cycling group Critical Mass Karachi. Naeem not only honed his skills as a cycle mechanic on the high end bikes they were riding,  but supported by the group, he also started cycling again. One of the group members, Shoaib Nizami, offered Naeem a job at his newly opened cycle shop in Karachi's upmarket DHA, Bikestan. Bikestan is, in fact, not just a shop but a hub of sorts for cycling enthusiasts. They have also organized several races, like the Bikestan League, providing training and opportunity for cyclists to compete at the provincial level.
"These people are cyclists themselves so they know what it involves," says Naeem. The Tour de Sindh Race, held after many years, became possible when the Sindh Sports Minister, Muhammad Bux Khan Mehar, threw his weight behind the scheme. In fact, the prize money awarded to the winners was not only the highest ever awarded but was paid on stage as the winners were announced – government bodies are notorious for announcing but not paying up prize money.  "The Pakistan Sports Federation, however, was very unhappy and wanted the prize money reduced because it puts pressure on them to raise their standards."
The Tour de Sindh was a 15 day, 1600 kilometre race. "Each day we cycled around 110 to 120 km," says Naeem. 'At the end of each day, a winner was declared and awarded points. And based on those points, an overall winner was declared." Naeem finished first in the overall race while the second and third positions were also taken by cyclists from Critical Mass Karachi.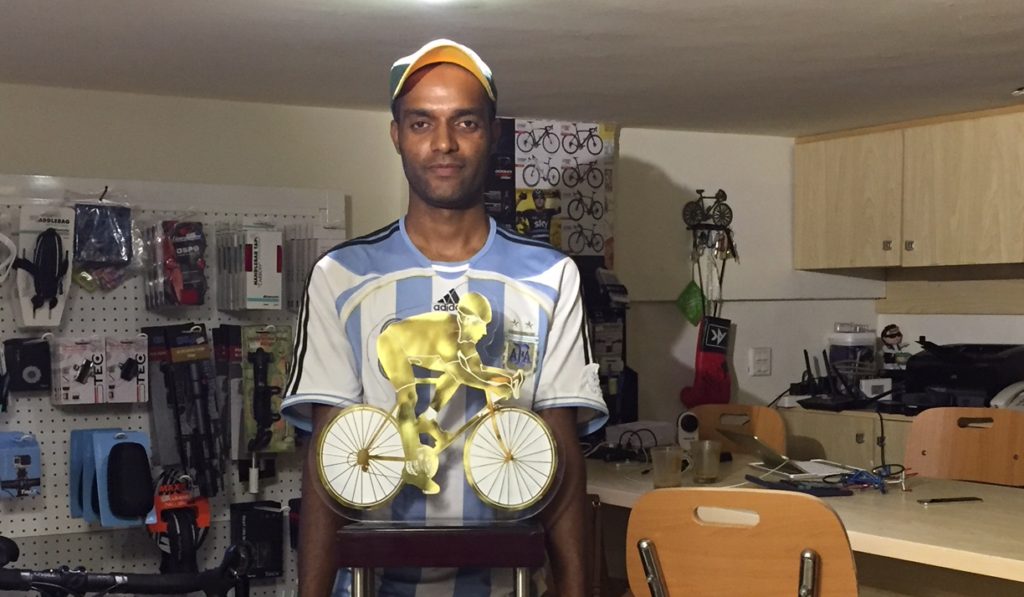 However, Pakistani officials being what they are, despite the wholehearted backing of the Sports Minister, the conditions during the race where less than satisfactory. "After cycling over a hundred kilometres each day, we were given a mattress and told to bunk in empty government schools or other  buildings. Most of them were very dirty, there were no fans, we were plagued by mosquitoes… and I don't even want to talk about the bathroom facilities or lack of."
"The minister kept his word but the organizers perhaps didn't know what an athlete needs or didn't care," says Naeem. "Food also consisted of greasy biryanis or badly cooked parathas and chana…not the diet a sportsman needs."
Having won the race, what lies ahead? "If we seriously start putting an effort into this sport, Pakistan can have  a team to represent it at the international level in 5 years," says Naeem.  "What have I won now? Who did I compete against? The real competition is abroad."
"Winning all the time is not good. The real learning comes from losing. It's okay to fail many times. You will pick yourself up again, analyze what happened and improve. If you only win, you will have no idea how to handle adversity."
Naeem has two small daughters. Will he let them cycle if they want to or take up any other sport of their choosing? "Of course I will. I would never hold them back. Why would I? I want them to prosper and succeed rather than hold them back and  incur their ill will."
Zahra Chughtai has worked and written for Pakistan's leading publications. She is currently Newsline's website editor.
Next